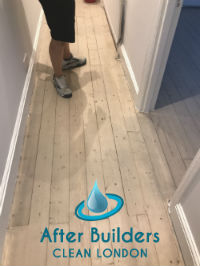 You finally saved enough money do to the home renovation of your dreams? Bear in mind that if you your renovated property isn't cleaned accordingly, it'll never meet your visions (unless your visions are dusty, cluttered home crammed with building rubbish).
As you probably know, renovation is always accompanied with dust. Dust will completely fill your home, accumulating on furniture, carpets and even walls. Cleaning all that is time and effort consuming.
Stupefying performance-price ratios
Domestic Cleaning Prices
After Builders Cleaning
One Off Cleaning
Deep Cleaning
Regular Cleaning
from £23
£22
£22
£20
Why should you even bother cleaning when you can have a sparkling clean home without even lifting a finger? Contact us today and book our professional after builders cleaning services, applicable exclusively in Wimbledon.
After Builders Cleaning vs Deep Cleaning: What's the Difference?
Deep cleaning and after builders cleaning may appear to be identical, but they are not, as you are about to find out. The deep cleaning service comprises washing and disinfecting all areas of the property including corners and hidden surfaces that are easily missed. The post-renovation cleaning service focuses on eliminating fine dust and industrial waste left behind by the cleaning staff, which may cause allergies, irritations or even breathing issues. Another important difference is the procedures used for both services. Deep cleaning entails using powerful cleaning solutions to dissolve buildup and filth, whereas after builders cleaning necessitates the use of professional quality tools to properly remove any waste, stains, grime, and debris that prohibit you from enjoying your home.
Our Professional After Builders Cleaning Process
We guarantee the excellent quality of the services we provide and try hard to exceed our clients' expectations. To guarantee that each stage is accomplished, we follow a rigorous and sophisticated process. Furthermore, we employ a variety of specific equipment, procedures, and cleaning solutions which help us improve the quality of the final results.
Scrubbing, polishing, and disinfecting all surfaces around the property, dust and grime removal, special surface cleaning, floor care, and other chores related to this sort of cleaning are all part of the comprehensive cleaning of your property following renovations. Here are some of the basic duties that will be performed:
Our cleaning crew will thoroughly evaluate your property; stains and specific materials will be handled with appropriate cleaning methods and solutions. This ensures optimum effectiveness without inflicting any harm.
All rubbish and industrial waste left behind will be collected and disposed of.
Various surfaces and furniture pieces will be thoroughly cleaned using high-quality cleaning products that will not be harmful to the materials.
If there is a large amount of fine industrial dust, we will use special devices to eliminate all of it.
Paint, grout, concrete, and other stains will be properly removed from all surfaces.
All wooden items in the house will be cleaned and polished using appropriate materials.
All grime and filth will be eliminated from hard surfaces in the bathroom and kitchen.
Floor cleaning, vacuuming and mopping. Including all carpets, rugs and even upholstery.
The cleaners will prepare the home for you and finish the service by thorough disinfection.
Request a Custom Cleaning Service quote
You can request and receive a personalised price quote over the phone. Our customer service professionals will estimate it for you by taking all cleaning activities as well as the size of the house into account. A complete bill will be supplied to you once the price has been estimated. Everything will be listed, and you will be aware exactly how much and for what you are being charged for. There will be no further costs added to your statement.
Book My Cleaning Today
We offer a wide variety of deep cleaning services included in our after builders cleaning service, but if you have any additional demands – just say and leave the rest to us.
Our after builders cleaning services have appealing performance-price ratios. The price you pay for our service is nothing compared to the results you get in the end.
We deliver only the best services in SW19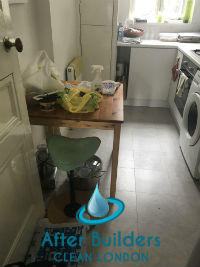 We are supplied with ultramodern cleaning gear with which we can clean your walls and windows, carpets and floors, appliances and furniture. We won't leave a single inch of your property untreated, guaranteed. We are able to eliminate any paint stains, too. We will de-line and de-scale kitchen and bathroom tiles thoroughly.
We are especially proud of our cleaning technicians. They have clean criminal records and are experienced in the field of after builders cleaning. They have a working knowledge on how to quickly eliminate all building marks from your property. Choose our professional after builders cleaning services and you won't regret it, we're working in Wimbledon.
"You, guys, definitely helped me a lot with your after builders cleaning services. I had so many troubles, related to that construction that the last thing I needed is cleaning job. Thanks to you I had perfectly sanitised atmosphere at home in a flash. For the first time I had peace of mind. Really appreciate it! – Paola"
Flexibility and availability
If you choose our professional after builders cleaning services, we'll meet all of your demands, we promise. We'll perform our checklist of cleaning activities, ensuring that your home has been properly taken care of, and you're free to add any additional cleaning tasks.
"I just wanted to say thanks for your after builders cleaning services, which you delivered me on Saturday. Your cleaning techs really managed with all the stains and not a sign of having a builders at home was left. You provided everything necessary for the cleaning and did your excellent job in a flash. Super! – Amanda"
Our after builders cleaning service is available throughout the week, including on bank holidays. We're affordable and our service has a 48-hour guarantee. Contact us and book today, we're available in SW19.