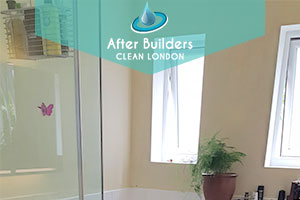 A deep and thorough cleaning is essential for after building or renovating. The workers performing the renovation or the construction on your property care less about the mess they make while doing so. Their job is to build and repair and not to clean, this is partially why professional help is to be desired after such circumstances.
Our office is located in London. We are available for all the residents who wouldn't mind outsourcing the after building cleaning to us. We have plenty of experience in this line of work and we guarantee nothing but outstanding cleaning results, thanks to the precision and care of our diligent employees.
Why is it essential for you to employ a professional cleaning to handle the after cleaning mess
While the building is taking place, and people are working on your property dirt, dust and all sorts of debris are likely to contaminate the whole area. You know very well that most of it is invisible to the naked way, but most assuredly it is there.
For years people of London have been enjoying the splendid effect of our after building cleaning service. We have won the people's trust by providing only high quality results, they have witnessed our magic and how well we exterminate all the unwanted dirt and clutter.
After Builders Cleaning vs Deep Cleaning: What's the Difference?
Even though the cleaning after renovations and the deep cleaning services are similar and readily confused, they are not the same. While the key objective of both is to clean and disinfect all places and surfaces properly, the thorough cleaning involves corners that are sometimes overlooked, whereas the post-renovation cleaning is more concerned with proper removal of industrial waste and dust, as well as toxic material that may be causing allergic responses or irritations.
Another significant distinction is the equipment and products utilised in both jobs. To eradicate dust, mould, germs, and other contaminants, high grade non-toxic materials will be used throughout the deep cleaning service. When completing the after builders cleaning service, our cleaning professionals will utilise specialised equipment to remove debris and dust.
Domestic Cleaning Prices
After Builders Cleaning
One Off Cleaning
Deep Cleaning
Regular Cleaning
from £23
£22
£22
£20
Our Professional After Builders Cleaning Process
We generate thorough task lists with all chores that should be performed as part of the service. Our cleaning technicians carefully follow them to ensure the successful completion of everything. That way we are able to guarantee that the process is successful – the service is complex and involves a lot of different tasks.
We will pick the most suitable team and provide them with everything they will need in order to eliminate all dust and grime.You may rest assured that stains, paint, and waste will be removed from all corners and surfaces of the property. We have provided you with a list of the basic chores that will take place as part of your project.
To be able to deliver high quality results, ur cleaning experts will inspect the situation. The most suitable methods, tools and products will be picked for the issues at hand. That way, everything will be left immaculate.
The cleaners will gather and dispose of all waste and particles that are too big for the vacuum cleaner.
To clean all surfaces and furnishings, the cleaning professionals will use effective professional grade cleaning materials.
The large amount of fine dust left behind all over your property will be eliminated with powerful devices.
Stains left behind by concrete, grout, glue, paint, or other materials will be removed from all surfaces.
We will clean and polish all wooden surfaces in your property without causing damage.
Surfaces in the bathroom and kitchen (tile, metal, plastic or concrete) will be cleaned.
Carpets and upholstery will be vacuum cleaned with a special professional vacuum cleaner. The entire floor will be mopped.
All areas of the property will be disinfected and left immaculate for your arrival.
Request a Custom Cleaning Service quote
A personalised price will be estimated for you. It will be determined by the demands of your project and the state of your property. You will be given a free pricing quotation over the phone, as well as a thorough bill outlining everything you are charged for. You will know precisely what you are paying for and can rest certain that there will be no hidden charges and that you will only have to pay for what you chose to receive.
What makes us more efficient than all the other services in London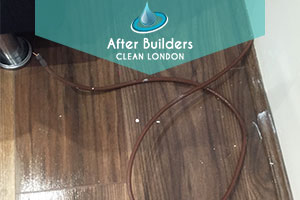 Our team of cleaning technicians are all trained professionals with years of experience. Better than anybody, they understand how dirt and dust find their way around your house. Thanks to the cleaning equipment we have supplied them with it is highly unlikely that you will be left disappointed with their end of cleaning results.
We have been closely monitoring the situation in London and the desperate need of more professional and precise after building cleaning services. Not only will we provide you with the best cleaning services available but we will also bring our own materials and cleanings solutions. You don't have to worry about anything, while we are there, working on your property. All the unwanted dirt, dust and debris will be gone in a few hours and you will be able to enjoy the cleanliness in your home once again.