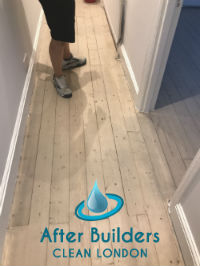 Whether old or new, your home need a renovation sooner or later. Repainting is the most common home renovation service, but it's far from the only one.
Whatever the level of reconstruction, cleaning up after home reconstruction is not only advisable – it's a must. As any building site, your home, too, will be crammed with dirt, dust and building rubbish which must be eliminated in order for you to relax in your renovated home.
After builders cleaning can be incredibly time-consuming if it's not delivered by means of professional cleaning tools and materials. If you want to be able to enjoy the new look of your property as soon as the renovating process is over, call us.
All building rubbish eliminated
Domestic Cleaning Prices
After Builders Cleaning
One Off Cleaning
Deep Cleaning
Regular Cleaning
from £23
£22
£22
£20
We offer professional after builders cleaning services at affordable prices exclusively in Earlsfield. Our company is a leader in the after building cleaning services in SW18, we have experience and motivation. Call us and book our services today.
After Builders Cleaning vs Deep Cleaning: What's the Difference?
The after-builder cleaning service can at times be confused with the thorough cleaning service. However, there are important distinctions between the two, which we will get into for you. During the deep cleaning service, your property will be completely cleaned and disinfected (this includes hidden places that are sometimes overlooked). When it comes to post-renovation cleaning, expect the cleaning staff to efficiently remove any industrial waste, fine dust, and other filth. The specialists will use specialised tools and procedures to remove all dirt that prevents you from enjoying your newly refurbished house. Strong solutions that dissolve grease and dirt are used during the deep cleaning procedure – they are different from the ones used during the post renovation service, making this another significant difference.
Our Professional After Builders Cleaning Process
We provide high-quality cleaning services that include a wide range of activities and methods. To assure their high quality, we supply our cleaning professionals with comprehensive work lists that they must adhere to during the job. Everything will be completed properly – strong cleaning chemicals and high-quality equipment will be utilised. You will receive fantastic outcomes.
We will remove all hazardous material, dust, and garbage that the restoration staff has left behind. The room's furniture and different surfaces will be polished and cleaned. All of the basic duties that are included in your service are outlined here.
Our cleaning professionals will assess the issue in order to provide high-quality outcomes. The best methods, tools, and goods for the job will be chosen. Everything will be spotless.
Our professionals will collect and dispose of industrial waste pieces, as well as large debris that cannot be vacuumed.
To clean all surfaces and furnishings, the cleaning professionals will use effective professional grade cleaning materials.
Industrial fine dust will be cleaned using high-quality cleaning equipment.
No signs of stains will be left behind, by paint or concrete, on any of your surfaces.
We will clean and polish all wooden surfaces in your property without causing damage.
All tile, metal, and glass surfaces will be thoroughly cleaned and polished.
Carpets and upholstery will be cleaned using a professional vacuum cleaner. The floor will be thoroughly washed.
The property will be prepared for your arrival and all door handles, remotes and light switches will be sanitised.
Request a Custom Cleaning Service quote
Once you have established the exact service you would like to receive and have personalised it, we will estimate a custom price estimate for you based on the different tasks you added, as well as the size of the property. All details will be mentioned in your bill and you will be able to see exactly what you are being charged for. The final price will be unique and personally generated for you and you may rest assured that no additional charges will occur.
Book My Cleaning Today
We have professional cleaning tools and equipment and we swear up and down that our after builders cleaning service is the quickest and most thorough of all in Earlsfield. Our equipment is exclusively made in order to serve the needs of households that recently underwent renovation.
Moreover, our cleaning products are Eco-friendly and their bottles are completely biodegradable – booking our services won't cause any damage to the environment, we promise.
Builders Cleaning during all days of the week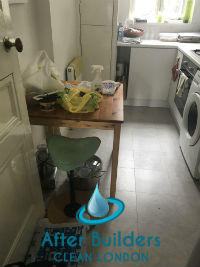 We know how dull it is to have to wait as much as a whole month depending on the level of reconstruction before you can move back in your home. And if builders leave the site uncleaned, your renovated property may never fit your dreams.
Don't worry, we're here to help. Take advantage of our quick and thorough after builders cleaning services, we're available in Earlsfield, SW18. If you choose us, you won't regret it, we guarantee.
"I must admit that thanks to your after builders cleaning services we could enjoy the newly refurbished atmosphere at home immediately. The mess after the builders was so great, that probably I had to clean even now. But your cleaners were so organised and flawless and at the end, the results were breathtaking! – Mona"
Quick and thorough cleaning
If you book our after builders cleaning services, you'll enjoy your renovated property in just a couple of hours. We deliver professional and efficient after builders cleaning services, just call us and book today. We have the best performance-price ratios.
"I am definitely more than pleased with your after builders cleaning services . Your cleaning techs were absolutely punctual and fully prepared to clean my newly reconstructed home. Thanks to you, I could enjoy the clean environment in my home, without any annoying reminiscence of the construction. I recommend you! – Kim"