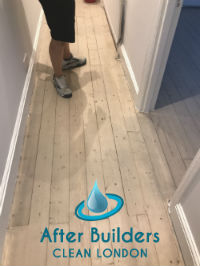 We are sure that everybody finds it difficult to deal with the after builders cleaning. It is not a job for non-specialists, so we can help you solve this problem.
Our company offers perfect after builders cleaning results which you could take advantage of if you live in Whitechapel.
How do we work?
Domestic Cleaning Prices
After Builders Cleaning
One Off Cleaning
Deep Cleaning
Regular Cleaning
from £23
£22
£22
£20
We work with the help of the latest cleaning machines and the best eco products, which we trust for a very long time. Our workers know every little secret in cleaning, so be sure they will make miracles with your property.
After Builders Cleaning vs Deep Cleaning: What's the Difference?
A lot of people mistake the after the builders cleaning service for a deep cleaning one. Despite the fact that they both entail thorough cleaning of all areas and surfaces of the property, they serve completely distinct functions. The thorough cleaning is intended to restore the cleanliness of the home by cleaning and disinfecting hard-to-reach regions. The goal of the after builders cleaning solution is to remove industrial waste, dust, and stains from the property and prepare it for your return. Furthermore, the procedures and goods employed throughout these treatments will be very different. The products are all non-toxic and biodegradable, but during the post-renovation service, our cleaning professionals will use specific, professional grade instruments to make sure that everything that may cause irritations has been thoroughly removed.
Our Professional After Builders Cleaning Process
Our cleaners will undertake a variety of cleaning jobs in order to supply you with high-quality results. They will adhere to task lists to ensure that everything is completed successfully and no duties are neglected. High-quality tools and supplies will enable them to deliver flawless results and leave your entire house beautiful and ready for you.
Furniture, as well as all surfaces, window and door frames, as well as other areas, will be wiped down and polished. Dust and rubbish will be removed totally. Find a list of basic activities that are going to be performed as part of the service you will receive from us.
The cleaning specialists will thoroughly evaluate the area before beginning the cleaning process. They will choose the finest cleaning products and procedures for the stains you have at home.
The cleaning procedure starts once the skilled professionals have removed all rubbish, industrial debris, and other dirt.
Furniture and other surfaces will be thoroughly cleaned. The cleaners will use cleaning agents that are appropriate for the items.
The cleaners will use high quality cleaning devices to remove all fine industrial dust left behind.
Every surface with stains will be scrubbed and left spotless.
All wooden items in the home will be cleaned and polished with suitable products.
Hard surfaces such as tile, concrete, metal or plastic will be scrubbed and polished.
A professional device will be used to vacuum the upholstery and carpets. The hard floors will also be vacuumed, then mopped.
To finish the service and prepare the property for you, our cleaners will disinfect every item and surface.
Request a Custom Cleaning Service quote
A custom price will be estimated for you. It will be based on the tasks of your project, and the condition of your property. You will be provided with a free price quote over the phone, as well as a detailed bill with everything you are charged for. You will know exactly what you are paying for and may rest assured that no hidden charges will occur and you will only have to pay for what you receive.
We guarantee that there will not be any place missed in cleaning, because we want to reach more than perfect results. Our cleaners work fast and efficiently, which will help you have your property cleaned as fast as possible.
What we offer?
We offer to our clients the best after builders cleaning services in Whitechapel they could get. Our prices are budget-friendly and we also offer discounts for loyal clients. Our cleaning firm provides additional services like carpet cleaning or end of tenancy cleaning and etc.
Our cleaning team is big enough to deal with all the orders we have for the day, which means you are free to call us whenever you need us. Re-cleaning is possible 3 days after using our services if there is some kind of problem, but we do not think something like this is possible to happen.
"Our refurbished bedroom needed thorough and well cleaning after replacing the wallpapers. The staff who provided the cleaning used effective tools, detergents and machines with which they sanitised the furniture, lighting fixtures and floor. We are very pleased with their work. The price we paid was reasonable.- Lola"
When and where?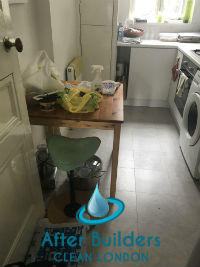 When and where is up to you within the bounds of Whitechapel. Call or email us and give us exact date, time and address and we will come. Be sure that when you want to get in touch with us, we will respond immediately. Also, we can send our cleaners to you in the same day you call us.
"We decided to make some repairs and changes in our bathroom and had to clean the dirt and debris from the room after completing the work. We had your company recommended by a neighbour and ordered the after builders cleaning you offer. Your cleaners implemented excellent work which ensured the functional and nice condition of our bathroom. – Christopher"
We have all the equipment needed, so there is only one thing you can help us with – just take some rest for a couple of hours and forget about the chores. Just leave everything to us and enjoy the results after that!