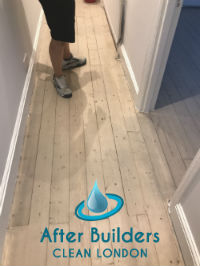 If all of your excitement after renovating your house has vanished once you saw the mess the builders left behind, don't worry, you can always call the best cleaning company in Walthamstow. We offer amazing after builders cleaning service. Once we are done with your place you will be able to enjoy the lovely atmosphere of your newly remodeled home.
Our company can offer you the most hard-working cleaning experts in the entire Walthamstow. We are always making sure to listen to all of the needs of our clients and we are working hard to fulfill their desires. Our professional cleaners are using the cleaning tools and products which have proven to be the most efficient ones.
Flexible working hours
Domestic Cleaning Prices
After Builders Cleaning
One Off Cleaning
Deep Cleaning
Regular Cleaning
from £23
£22
£22
£20
Since we know that our customers have busy schedules and not everyone can book our services during the workdays, we are available during the weekends, too. We are trying to be as flexible as possible with our work time in order to be of help to our customers whenever it is most convenient for them.
After Builders Cleaning vs Deep Cleaning: What's the Difference?
Even though the cleaning after renovations and the deep cleaning services are similar and readily confused, they are not the same. While the key objective of both is to clean and disinfect all places and surfaces properly, the thorough cleaning involves corners that are sometimes overlooked, whereas the post-renovation cleaning is more concerned with proper removal of industrial waste and dust, as well as toxic material that may be causing allergic responses or irritations. Another significant distinction is the equipment and products utilised in both jobs. To eradicate dust, mould, germs, and other contaminants, high grade non-toxic materials will be used throughout the deep cleaning service. When completing the after builders cleaning service, our cleaning professionals will utilise specialised equipment to remove debris and dust.
Our Professional After Builders Cleaning Process
To ensure that we deliver high quality results, we provide our cleaners with thorough lists containing all steps that they should take when performing a service. That way, you may rest assured that nothing has been neglected and overlooked. We will use all our skills and knowledge, as well as professional tools and products to eliminate all signs of dust, grime and stains from every corner of your property.
The cleaning service includes dust and stain removal, vacuuming of carpets and upholstery, polishing and disinfection of various surfaces (wooden and glass), disinfection and organisation. The home will be ready for your arrival. Here is what to expect:
Your property will be carefully inspected and the most suitable products and tools will be used to treat the particular stains you have at home. You may rest assured that the best outcomes will be provided.
All trash and industrial waste will be collected and disposed of at the very beginning of the cleaning service.
Furniture and other dusty surfaces will be wiped down and thoroughly cleaned with suitable solutions.
The cleaners will use high quality cleaning devices to remove all fine industrial dust left behind.
Stains left behind by concrete, grout, glue, paint, or other materials will be removed from all surfaces.
All surfaces and furniture made of wood will be cleaned and polished using appropriate cleaning solutions.
Glass and tile surfaces in the kitchen and bathroom will be cleansed and polished.
Carpets and upholstery will be vacuum cleaned with a special professional vacuum cleaner. The entire floor will be mopped.
The property will be prepared for your arrival and all door handles, remotes and light switches will be sanitised.
Request a Custom Cleaning Service quote
To customise the service even further, we will also provide you with a price estimate that has been customised for you. You may rest assured that you will know exactly what you are being charged for. We will estimate the cost of the service based on the size of your property, as well as the many different tasks you chose to include as part of your project. No hidden charges will be further placed on your bill.
Book My Cleaning Today
If you decide to hire us we will help you to enjoy your renovated home, no matter what day it is.
Enjoy some me-time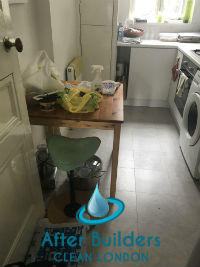 There is no need to worry while we are taking care of your home. Instead you can enjoy some time for yourself and forget about the whole stress of renovating and cleaning afterwards.
We promise you that you can have some rest from your busy schedule and enjoy great results at the same time. If you decide to book the after builders cleaning service of the best company in E17, you will not be disappointed.
"The after builders cleaning services you provide are absolutely terrific! Your cleaning team was so nice and friendly. Without losing any time they started with the work and everything was sparkling in almost no time. Not a trail was left after the mess of the builders. Definitely recommend you! – George"
No other company has such a high-quality service
We are proud to say that there is no other company in Walthamstow which provides such high quality cleaning services. It is all thanks to our wonderful professional cleaners and the cleaning tools and products that they use.
Our company has many years of experience in the after builders cleaning and we know how to achieve only the best results in order to provide our customers with the comfort they need.
"The renovation of a house may turn your life upside down and so your house. But thanks to your after builders cleaning services my home was in its best condition, which it has ever been. I am really glad that I booked with you, because you were so accurate and honest. Excellent job! – Bran"