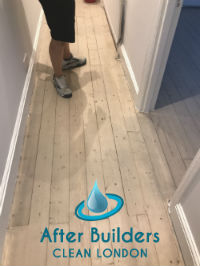 A deep overall cleaning is the final step of every renovation project, even if it goes about just a simple refreshing. If not cleaned properly the dust may cause health issues to the people dwelling in the renovated property.
When it comes to sanitising a house, flat or an office that has just undergone a refurbishment, our skilful cleaners can do a great job.
Our company was established several years ago in Totteridge and ever since then we've been working hard to win the trust of our customers. Today we are famous for our reliability all over the region. More and more people ask for our professional help, which couldn't be the other way round because we are a cleaning company committed to quality.
Comprehensive after builders cleaning for individuals and businesses in Totteridge
Domestic Cleaning Prices
After Builders Cleaning
One Off Cleaning
Deep Cleaning
Regular Cleaning
from £23
£22
£22
£20
As cleaning post builders demands a profound cleaning knowledge and skills, we have gathered in a team and trained professionally many hard-working and experienced specialists. With them you are guaranteed to have your whole property cleaned up to scratch.
After Builders Cleaning vs Deep Cleaning: What's the Difference?
The after-builder cleaning service can at times be confused with the thorough cleaning service. However, there are important distinctions between the two, which we will get into for you. During the deep cleaning service, your property will be completely cleaned and disinfected (this includes hidden places that are sometimes overlooked). When it comes to post-renovation cleaning, expect the cleaning staff to efficiently remove any industrial waste, fine dust, and other filth. The specialists will use specialised tools and procedures to remove all dirt that prevents you from enjoying your newly refurbished house. Strong solutions that dissolve grease and dirt are used during the deep cleaning procedure – they are different from the ones used during the post renovation service, making this another significant difference.
Our Professional After Builders Cleaning Process
In order to provide you with high quality results, our cleaners will perform a number of cleaning tasks. They will be following task lists which will ensure that everything has been successfully performed and no jobs have been overlooked. The high quality tools and products will help them provide you with perfect results and leave your entire property immaculate and spotless.
Furniture will be wiped down and polished, as well as all surfaces, window and door frames and other areas. Dust and waste will be completely eliminated. Find a list of activities that will take place at your property as part of the service.
The first step of the cleaning service is the thorough inspection of the property and its condition. That will help the cleaners select a suitable and efficient cleaning method that will help them achieve fantastic outcomes.
All trash and industrial waste will be collected and disposed of at the very beginning of the cleaning service.
All furniture pieces and other surfaces will be cleaned. The cleaners will use suitable cleaning products for the materials at hand.
To remove all fine dust from all sections of the property, high-quality instruments will be employed.
The cleaners will scrape off and remove any stains (paint, concrete, glue, and so on).
Using proper cleaning products, all wood surfaces and furniture will be cleaned and polished.
Glass and tile surfaces in the kitchen and bathroom will be cleansed and polished.
Vacuuming of carpets and upholstery, followed by sweeping and mopping the entire floor.
The cleaners will prepare the home for you and finish the service by thorough disinfection.
Request a Custom Cleaning Service quote
To further personalise the service, we will also present you with a pricing estimate that has been personalised for you. You may be confident that you will be aware of exactly what you are being charged for. We will estimate the cost of the service based on the size of your property and the numerous chores you have chosen to include in your project. There will be no further charges added to your statement once the cost has been determined.
For customer's peace of mind, our qualified cleaners are supplied with up to date cleaning equipment, which allows them to eliminate efficiently building residue such as paint marks, glue stains, etc.
What is included in our service?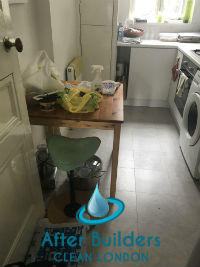 During the cleaning session, every room will undergo a thorough cleaning. Door frames and window ledges will be polished, internal windows will be washed, dust will be removed from all surfaces and much more. Our after builders cleaning package covers absolutely every area of a renovated property.
Customers are always welcome, however, to specify any priority areas in advance or supply us with a to-do list. This will only accelerate the cleaning process and help us provide the individual cleaning solution that we strive to.
"We had some painters at home and we needed someone to remove the paint marks from the floor and walls. We are more than happy with your after builders cleaning. The cleaners came on time and got to work directly. After their performance, there was not even a single sign of paint. – Jeremy"
Quick assistance in the entire Totteridge
If you have no idea how to deal with the chaos left by the builders, save your troubles by booking our professional after builders cleaning. We will send our comprehensive cleaners to make your home livable again and bring you peace of mind. Hurry up and give us a call, we are certain that you will find our rates really reasonable.
"Yesterday I used your after builders cleaning and I have no words to describe how happy I am with the cleaners you sent. Disciplined and hard working experts who eliminated the dust from every nook of my renovated home. Great performance! I highly recommend your services to everyone! – Gaby"