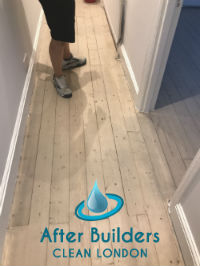 When the renovation project in your property is finally done you should start to think about the big cleaning which is also waiting to be done. Save yourself the bother and benefit from our excellent after builders cleaning services, available in and around Archway.
Our crew of diligent and neat-fingered technicians will eliminate all building leftovers from your home in no time, providing you with more free time for yourself and your favourite activities.
Our company has spent great years in this cleaning industry and due to our vast experience, we are able to complete the preferences of every single customer and ensure the great quality of cleaning performance.
Premium after builders cleaning service in Archway
Domestic Cleaning Prices
After Builders Cleaning
One Off Cleaning
Deep Cleaning
Regular Cleaning
from £23
£22
£22
£20
Seize the opportunity and book with us. We can amaze with our high levels of sparkle we will deliver to your home. We believe that everybody deserves to live in a tidy and neat environment, that is why we aim to give you such for an affordable price.
After Builders Cleaning vs Deep Cleaning: What's the Difference?
You may think that post renovations cleaning services and deep cleaning services are pretty much the same thing. However, they are not and we are about to tell you why. The main difference between the two is the main purpose – post renovations cleaning will eliminate industrial waste, debris, grime and dust and prepare your home for your arrival. Specialised tools and equipment will be used for the particular waste type. Meanwhile, the deep cleaning targets hidden corners that are usually overlooked, leaving the entire property immaculate and disinfected. When performing it, the cleaning experts on our team will use efficient, high quality cleaning solutions that will ensure 100% grease, buildup, mould and general grime removal.
Our Professional After Builders Cleaning Process
To ensure that we deliver high quality results, we provide our cleaners with thorough lists containing all steps that they should take when performing a service. That way, you may rest assured that nothing has been neglected and overlooked. We will use all our skills and knowledge, as well as professional tools and products to eliminate all signs of dust, grime and stains from every corner of your property.
The cleaning service includes dust and stain removal, vacuuming of carpets and upholstery, polishing and disinfection of various surfaces (wooden and glass), disinfection and organisation. The home will be ready for your arrival. Here is what to expect:
Our cleaning professionals will assess the issue in order to provide high-quality outcomes. The best methods, tools, and goods for the job will be chosen. Everything will be spotless.
All rubbish and industrial waste left behind will be collected and disposed of.
Furniture throughout the room will be thoroughly cleaned inside and out with suitable cleaning products.
The large amount of fine dust left behind all over your property will be eliminated with powerful devices.
Stains will be completely eliminated. No paint, grout or glue will be left behind on ay of the surfaces at your property.
All wooden items in the home will be cleaned and polished with suitable products.
Deep cleaning of glass, metal and tile areas throughout the property.
Vacuuming and mopping the floor. This includes all carpets, rugs, and upholstery.
Faucets, light switches and door handles will be disinfected and the home will be ready for you.
Request a Custom Cleaning Service quote
Receive a custom price quote over the phone. Our customer service representatives will estimate it for you and will be taking all cleaning tasks, as well as the size of the property into consideration. Once the price has been estimated, a detailed bill will be provided to you. Everything will be listed on there and you will know exactly what you are being charged for. No additional charges will be placed on your bill.
Book My Cleaning TodayWe have hired cleaning teams consisting of cleaners who are highly motivated and skilled, possessing the necessary talent and abilities to deliver competent post builders clean ups.
They are fully trained and provided with the most advanced cleaning materials and products and will put as many efforts as need to turn your home into a spotless and grime-free environment for you to live in.
The highest quality of after builders cleaning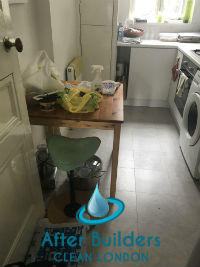 You can absolutely rely on us to clean your home after remodelling or renovation works. We understand your cleaning needs best and that is why we want to provide you with immaculate cleanliness.
"I highly recommend this company to everyone who needs post builders cleaning. Their cleaners are disciplined and clean everything very precisely. They cleaned my home a couple of weeks ago and made me very happy. I am glad I gave it a try. This is what I call a reliable company!" – Michael"
Do not waste any more time and get in touch with us to book an appointment. We work hard to make you satisfied with the reached level of cleanliness you deserve.
Post builders cleaning services for the win
Our company is always ready to assist you whenever you need a reputable post builders clean ups. You can find our headquarters in the entire Archway or if it is more convenient for you, you can simply reach us through a phone. We are waiting to hear from you.
"A couple of days ago we finished with the overhaul and a friend of mine recommended your company. Your after builders cleaning services turned to be the best solution for our home. Your cleaners were very polite and tactful. They cleaned deeply absolutely every area in our house. – Gerry"