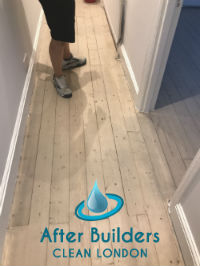 When the builders do their job and leave a big pile of trash, you need someone to clean up their mess. After builders cleaning service wins the hears of hundreds of clients. We work hard and make sure that every single client who choses us, is left completely satisfied with the final results.
Our team is made up of people who are professionally trained to provide high quality service and complete this job with by checking off all high expectations. Some members of the team also have previous experience in the Stratford industry as well.
The first part of our service
Domestic Cleaning Prices
After Builders Cleaning
One Off Cleaning
Deep Cleaning
Regular Cleaning
from £23
£22
£22
£20
We accept orders every day of the week. Our costumer support introduces the after builders cleaning service to all of the new clients, they get all of the info that they need to know about the service and our team makes sure not to miss a single detail.
After Builders Cleaning vs Deep Cleaning: What's the Difference?
A lot of people mistake the after the builders cleaning service for a deep cleaning one. Despite the fact that they both entail thorough cleaning of all areas and surfaces of the property, they serve completely distinct functions. The thorough cleaning is intended to restore the cleanliness of the home by cleaning and disinfecting hard-to-reach regions. The goal of the after builders cleaning solution is to remove industrial waste, dust, and stains from the property and prepare it for your return. Furthermore, the procedures and goods employed throughout these treatments will be very different. The products are all non-toxic and biodegradable, but during the post-renovation service, our cleaning professionals will use specific, professional grade instruments to make sure that everything that may cause irritations has been thoroughly removed.
Our Professional After Builders Cleaning Process
We provide detailed task lists that include all tasks that must be completed as part of the service. Our cleaning professionals closely follow them to guarantee that everything is completed successfully. We can ensure the process's success by doing so because the service is complicated and comprises several jobs. We will choose the most suited crew and supply them with everything they will require to remove any dust and filth.
You may be confident that stains, paint, and garbage will be removed from all corners and surfaces of the property. We have provided you with a list of the basic tasks that will be performed as part of your project. Find it below.
The cleaning service begins with a comprehensive evaluation of the property and its condition. This will assist the cleaners in selecting an appropriate and effective cleaning approach that will allow them to accomplish outstanding results.
The cleaning procedure starts once the skilled professionals have removed all rubbish, industrial debris, and other dirt.
Various surfaces and furniture pieces will be thoroughly cleaned using high-quality cleaning products that will not be harmful to the materials.
All of the industrial dust will be removed from every corner of the property with the help of high quality cleaning tools.
Every surface with stains will be scrubbed and left spotless.
Appropriate substances will be used to polish wooden furniture, tables, skirting boards, as well as door and window frames.
All hard surfaces, including glass tile and metal, will be cleansed and polished.
Hard floors will be thoroughly swept and mopped. Carpets and upholstery will be professionally vacuum cleaned.
Faucets, light switches and door handles will be disinfected and the home will be ready for you.
Request a Custom Cleaning Service quote
All of the cleaning tasks, as well as the size and condition of the property, will impact the price of your service. You will receive a free price estimate and will also be given a bill. That way, you'll know precisely what you need to pay for. There will be no additional expenses added to your bill once you receive the quote, and you can be confident that you will only have to pay for the jobs you obtain.
After Builders Cleaning vs Deep Cleaning: What's the Difference?
You may think that post renovations cleaning services and deep cleaning services are pretty much the same thing. However, they are not and we are about to tell you why. The main difference between the two is the main purpose – post renovations cleaning will eliminate industrial waste, debris, grime and dust and prepare your home for your arrival. Specialised tools and equipment will be used for the particular waste type. Meanwhile, the deep cleaning targets hidden corners that are usually overlooked, leaving the entire property immaculate and disinfected. When performing it, the cleaning experts on our team will use efficient, high quality cleaning solutions that will ensure 100% grease, buildup, mould and general grime removal.
Our Professional After Builders Cleaning Process
We provide high-quality cleaning services that include a wide range of activities and methods. To assure their high quality, we supply our cleaning professionals with comprehensive work lists that they must adhere to during the job. Everything will be completed properly – strong cleaning chemicals and high-quality equipment will be utilised. You will receive fantastic outcomes.
We will remove all hazardous material, dust, and garbage that the restoration staff has left behind. The room's furniture and different surfaces will be polished and cleaned. All of the basic duties that are included in your service are outlined here.
The cleaning experts will carefully inspect the entire property and its condition. They will select the most suitable cleaning methods that will resolve all problems in the best way possible.
First, the cleaners will remove any rubbish and bigger debris from the premises in order to prepare the area for the actual cleaning.
Various surfaces and furniture pieces will be carefully wiped down with high quality cleaning solutions.
The cleaners will use high-quality cleaning equipment to eliminate all of the fine industrial dust from the entire home.
Every surface with stains will be scrubbed and left spotless.
All surfaces and furniture made of wood will be cleaned and polished using appropriate cleaning solutions.
All tile, metal, and glass surfaces will be thoroughly cleaned and polished.
Carpets and upholstery will be cleaned using a professional vacuum cleaner. The floor will be thoroughly washed.
All commonly touched items will be disinfected and everything will be organised for when you arrive.
Request a Custom Cleaning Service quote
You can request and receive a personalised price quote over the phone. Our customer service professionals will estimate it for you by taking all cleaning activities as well as the size of the house into account. A complete bill will be supplied to you once the price has been estimated. Everything will be listed, and you will be aware exactly how much and for what you are being charged for. There will be no further costs added to your statement.
If the client happens to have any questions, our costumer support team makes sure they provide any answer around the Stratford field. We make sure that our clients know what they are paying for and that there is no confusion.
The getting to the client part of the service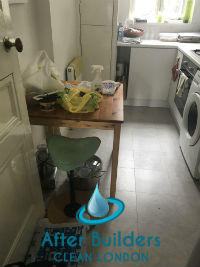 After the client hires our after builders cleaning service, we notify our cleaners and they make sure to arrive at the client's home right on time. Client's make appointments with us, and our cleaners follow their appointments very strictly.
When the cleaners arrive, they expect that the client or anyone from the household to be there to welcome them. If there is no one, they will have no other choice but to turn around and lave.
"I booked your after builders cleaning services and they just left my house. I was eager to express my opinion and my amazement by your brilliant job. Your cleaners popped up just on the dot, fully equipped and put every effort to leave my house in spick and span condition. Absolutely pleased with you! – Ronald"
Arriving at the client's home and cleaning
Upon the arrival of our cleaners, they will set up their equipment, get ready, and go to work. They will start off by cleaning every single room individually. They will not proceed to the next room until the one they are working on is 100 percent clean.
"I decided to renovate the basement, because all the mess really annoyed me. I thought that there will be no mess after that, since it was just partly. But when I saw the house covered with dust I felt really bad. Thanks to your after builders cleaning services my home was again in top condition! – Owen"
The cleaning products used by our cleaners are completely Green, healthy and safe. We do not expose our employees to harsh fumes which would hinder their health. All products used by our cleaners are selected as the best choice in the Stratford market.