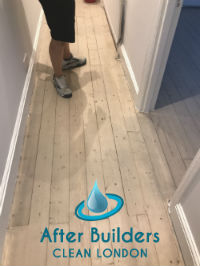 Our company's after builders cleaning services are specially designed to cope with the mess and clutter that remains in our homes after some renovation project. Our services can perfectly complete your needs if you have done some installation, refurbishment, new extension, kitchen fitting or some small repairs.
Book with us and we will get you rid of all the dust and dirt left behind. Our administrative headquarters are located on the whole territory of Southgate plus nearby areas.
No matter whether there is some big overhaul or just a small refreshment, there is always a certain amount of debris, grime, plaster or rubble which remain in our home.
Let us handle the post builders cleaning
Domestic Cleaning Prices
After Builders Cleaning
One Off Cleaning
Deep Cleaning
Regular Cleaning
from £23
£22
£22
£20
In addition to all this, there are paint marks, glue stains and splashes which are hard to be removed without the necessary equipment and knowledge. For this purpose, we offer you to take advantage of our after builders cleaning services and our economical prices.
After Builders Cleaning vs Deep Cleaning: What's the Difference?
The after the builders cleaning service seems similar to the deep cleaning one, but it is not the same. There are several distinctions that include critical components of each service. Starting off, deep cleaning focuses on managing areas that usually go unnoticed during the regular cleaning process, but after-construction cleaning is vital for the cleanliness of the property following renovations when a lot of dust, filth, and garbage cause health issues and prevent you from moving back in. Another critical aspect is the assortment of tools and items that will be employed throughout each project. Our cleaning personnel will utilise high-quality tools and solutions specialised for the complete removal of all dangerous chemicals, dust, and other dirt that may have accumulated throughout the refurbishment process.
Our Professional After Builders Cleaning Process
We generate thorough task lists with all chores that should be performed as part of the service. Our cleaning technicians carefully follow them to ensure the successful completion of everything. That way we are able to guarantee that the process is successful – the service is complex and involves a lot of different tasks. We will pick the most suitable team and provide them with everything they will need in order to eliminate all dust and grime.
You may rest assured that stains, paint, and waste will be removed from all corners and surfaces of the property. We have provided you with a list of the basic chores that will take place as part of your project.
To obtain the finest end results, our cleaning professionals will carefully choose the tools and solutions that will be used during the operation based on the stains and the materials of your furniture.
All trash and industrial waste will be collected and disposed of at the very beginning of the cleaning service.
Various surfaces and furniture pieces will be carefully wiped down with high quality cleaning solutions.
If there is a large amount of fine industrial dust, we will use special devices to eliminate all of it.
Every surface with stains will be scrubbed and left spotless.
Using proper cleaning products, all wood surfaces and furniture will be cleaned and polished.
Glass and tile surfaces in the kitchen and bathroom will be scrubbed and left immaculate.
Carpets and upholstery will be vacuum cleaned with a special professional vacuum cleaner. The entire floor will be mopped.
To finish the service and prepare the property for you, our cleaners will disinfect every item and surface.
Request a Custom Cleaning Service quote
To customise the service even further, we will also provide you with a price estimate that has been customised for you. You may rest assured that you will know exactly what you are being charged for. We will estimate the cost of the service based on the size of your property, as well as the many different tasks you chose to include as part of your project. No hidden charges will be further placed on your bill.
We are professionals and we always know which treatment will give the best outcome to your property. When you call us to book and an appointment, we will send as many cleaners as needed to your home to bring back the sparkle.
For a couple of hours they will complete all the job you have prepared for them. We fully equip them with the necessary supplies to restore the living environment at your home.
Outstanding after builders cleaning services in Southgate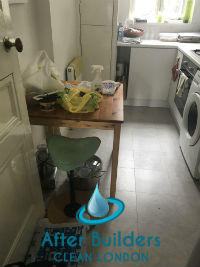 To complete the post construction service, our specialists bring their own materials and products to get the cleaning done in the most efficient way.
They will remove stains of any nature by usage of specialised detergents.
The entire property will be hoovered, the windows will be washed, all surfaces will be polished. Give us a call and we will take care of everything.
"I accidentally came across your company when I needed someone to take care of the mess after the builders at home. The cleaners you sent me did a great job. I am extremely satisfied with their work. If I need after builders cleaning services in the future, I will turn to you again. – Cynthia"
Southgate-based cleaning company and its after builders cleaning services
Save yourself the trouble of cleaning all this mess after a renovation project and book with our after builders cleaning services. We can promise you perfect results and perfect cleanliness. You can count on us.
"When the builders finished with the renovations at home I didn't have time for cleaning and decided to use your professional after builders cleaning services. You guys really saved me a lot of troubles. It's great that I can count on you. Your services are impeccable and I would use them again with pleasure. – Becky"