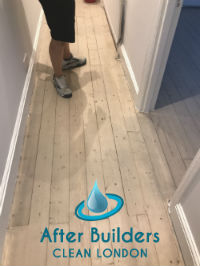 Having your home renovated or repaired can be such milestone in our lives since it is not something that happens so frequently. However, have you thought about the big cleaning which is unalterable part of all this refurbishment project?
Well, unfortunately this is the other side of the coin and you have to get the cleaning done in order to enjoy your home's new appearance to the fullest.
Would you waste all of your time and energy on cleaning and scrubbing or would you seek for some professional help? The ball is on your court, however, we are here to make your life easier and offer you the best of all worlds.
Far cry from the others
Domestic Cleaning Prices
After Builders Cleaning
One Off Cleaning
Deep Cleaning
Regular Cleaning
from £23
£22
£22
£20
We are happy to present to you our company. It is well established cleaning supplier based in and around Palmers Green and its cleaning services are always at your disposal. We take pride in our after builders cleaning services because they are one of the most booked and preferred cleaning services.
After Builders Cleaning vs Deep Cleaning: What's the Difference?
Even though the cleaning after renovations and the deep cleaning services are similar and readily confused, they are not the same. While the key objective of both is to clean and disinfect all places and surfaces properly, the thorough cleaning involves corners that are sometimes overlooked, whereas the post-renovation cleaning is more concerned with proper removal of industrial waste and dust, as well as toxic material that may be causing allergic responses or irritations. Another significant distinction is the equipment and products utilised in both jobs. To eradicate dust, mould, germs, and other contaminants, high grade non-toxic materials will be used throughout the deep cleaning service. When completing the after builders cleaning service, our cleaning professionals will utilise specialised equipment to remove debris and dust.
Our Professional After Builders Cleaning Process
To be able to deliver excellent results to all our customers, we offer complex cleaning solutions involving many steps and tasks. We generate a task list for all cleaning teams which they follow throughout the entire cleaning process. That way, no chores are left overlooked or ignored and we are certain that the best outcomes have been provided to our customers. All dust and grime will be removed from the entire property.
We offer dust, stain and grime removal from various surfaces such as carpets, upholstery, wooden and glass items, as well as organising, vacuum cleaning and disinfection of every corner of the property. Your home will be clean and ready for your arrival.
Our cleaning professionals will assess the issue in order to provide high-quality outcomes. The best methods, tools, and goods for the job will be chosen. Everything will be spotless.
Industrial rubbish and large debris that cannot be vacuumed will be collected and disposed of by our specialists.
The cleaners will wipe down all furniture using suitable cleaning products that will not damage the materials.
If there is a large amount of fine industrial dust, we will use special devices to eliminate all of it.
The cleaners will scrape off and remove any stains (paint, concrete, glue, and so on).
Using proper cleaning products, all wood surfaces and furniture will be cleaned and polished.
Scrub and polish hard surfaces such as tile, concrete, metal, or plastic.
Vacuum cleaning of all carpets, rugs and upholstery, as well as mopping of the entire floor.
All items that are handled on a daily basis will be thoroughly disinfected in time for your arrival.
Request a Custom Cleaning Service quote
To customise the service even further, we will also provide you with a price estimate that has been customised for you. You may rest assured that you will know exactly what you are being charged for. We will estimate the cost of the service based on the size of your property, as well as the many different tasks you chose to include as part of your project. No hidden charges will be further placed on your bill.
We are different from the other companies because we place great importance on the customers' needs and opinion. We are always ready to complete your requests and to leave you satisfied. For us, our customer's happiness matters.
The best after builders cleaning services in Palmers Green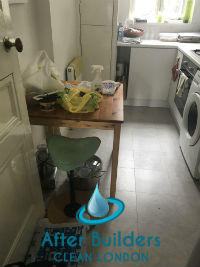 We offer you to consider the idea of booking with our after builders cleaning services if your home has undergone some repairs.
Our cleaners are trained to deal with various cleaning tasks thanks to their extensive experience in Palmers Green. They can get you rid of all post builders waste, leftovers, pain spills, glue stains, anything. You can absolutely trust them when ensuring your home in their hands and they will not let you down.
"We booked your after builders cleaning service when we needed someone to remove all the building waste from our renovated property. The team you sent did a great job. They worked fast and efficiently. Thank you! You really helped us! – Martin"
Your best option
Our friendly advice is to not bite off more than you can chew. If you feel like you cannot do all the cleaning chores on your own in the most successful way, just turn to our company and our after builders cleaning services. We can make your home sparkle again. Give us a ring today and get free estimate.
"My husband and I needed someone to clean our flat after the renovation project at home last week and we booked your after builders cleaning services. We really liked the team you sent, very polite and well-mannered cleaners. It was pleasure to have them in our home. We highly recommend the services of this company. – Kate"