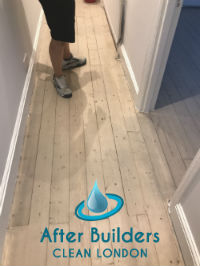 Doing a home renovation consists of two activities – the building process itself and the all-important cleaning afterwards. You've seen how building sites look like, right? Your home will look exactly the same when builders leave.It doesn't matter if you renovate your entire home or just one room, the building rubbish and dirt are inevitable.
You should also know that if your home hasn't been properly cleaned, your home might not look as you imagined it, unless the home of your dreams is filled with dust, rubbish and stains.
Leaders in the field
Domestic Cleaning Prices
After Builders Cleaning
One Off Cleaning
Deep Cleaning
Regular Cleaning
from £23
£22
£22
£20
After builders cleaning shouldn't be done by home owners, they should opt for professional help instead. Professionals have more experience and are familiar with the proper techniques to eliminate paint stains and the like.
After Builders Cleaning vs Deep Cleaning: What's the Difference?
The after the builders cleaning service is often confused with the deep cleaning one. However, there are significant differences between the two and we are about to tell you about them. Your property will be thoroughly cleaned and disinfected during the deep cleaning service ( that includes hidden areas that are usually missed). When it comes to the post renovation cleaning service, expect all industrial waste, fine dust and other grime to be efficiently removed by the cleaning crew. The professional experts will be using specialised tools and methods in order to eliminate all filth that prevents you from enjoying your freshly renovated property. This is another important difference since during the deep cleaning service powerful solutions that dissolve grease and grime and are different from the ones mentioned above will be used.
Our Professional After Builders Cleaning Process
We generate thorough task lists with all chores that should be performed as part of the service. Our cleaning technicians carefully follow them to ensure the successful completion of everything. That way we are able to guarantee that the process is successful – the service is complex and involves a lot of different tasks. We will pick the most suitable team and provide them with everything they will need in order to eliminate all dust and grime.
You may rest assured that stains, paint, and waste will be removed from all corners and surfaces of the property. We have provided you with a list of the basic chores that will take place as part of your project.
To be able to deliver high quality results, ur cleaning experts will inspect the situation. The most suitable methods, tools and products will be picked for the issues at hand. That way, everything will be left immaculate.
The cleaning process will begin when the professional experts get rid of all waste, large industrial debris and others.
Furniture and other surfaces will be thoroughly cleaned. The cleaners will use cleaning agents that are appropriate for the items.
If there is a lot of fine industrial dust, we will utilise special equipment to get rid of it entirely.
All surfaces will be freed of stains left behind by concrete, grout, glue, paint or other materials.
Wooden furniture, tables, skirting boards and door and window frames will be polished with a suitable product.
Glass and tile surfaces in the kitchen and bathroom will be cleansed and polished.
Carpets and upholstery will be vacuum cleaned with a special professional vacuum cleaner. The entire floor will be mopped.
All items that are handled on a daily basis will be thoroughly disinfected in time for your arrival.
Request a Custom Cleaning Service quote
The customer service representative you are working with will provide you with a price estimate for your cleaning service. The total price will be calculated for you depending on the many cleaning activities that you want to book as part of the project. We will also provide you with a bill to ensure that you understand precisely what you are paying for. Everything you will be charged for will be listed there. There will be no additional costs.
Book My Cleaning Today
When it comes to after builders cleaning, you should use our help. Our professional after builders cleaning services are applicable throughout the week and even on bank holidays. We are experienced and our services are affordable. Choose our help and you'll have a brand spanking new property in no time.
Trustworthy Builders Cleaning Services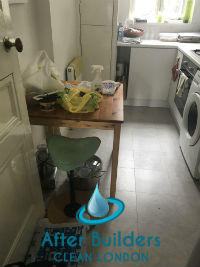 Our professional after builders cleaning services are preferred by construction firms and homeowners alike because we are more diligent and more experienced than others in Raynes Park. Included in our service is a checklist of cleaning activities we perform to ensure that all building marks are erased from your property.
Our professional after builders cleaning services are available exclusively in Raynes Park throughout the week and you can book us even on bank holidays.
Whenever you decide to do a home renovation, be sure to book us for the cleaning afterwards. We are experienced professionals and we're ready to clean your entire home top to bottom, left to right.
"The ideal atmosphere at home after the builders looked like a dream, because everything was covered with dust and paint stains. But I found your after builders cleaning services and I must admit that I am far more than pleased. You are just awesome, guys! You removed every stain and even used non-toxin cleaning approach! – Betty"
All you need is a phone
You can have a spic and span home without doing more than lifting a finger. Just call us and book our services and we'll erase all building rubbish, dust, paint stains, grout, etc. With us you'll have a clean renovated property in no time.
"Your after builders cleaning services are definitely worth it every penny! My refurbishment project was over and I expected that I can have finally my home back. But sadly I found everything in a mess and it made me feel upset. But you definitely helped me a lot- you responded immediately and provided flawless results in a flash! – Vanessa"
Contact us and book our professional after builders cleaning service, we're available exclusively in SW20.