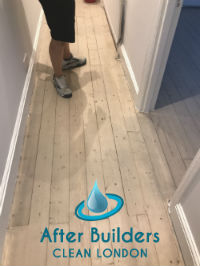 Usually, when the builders finish their job, they leave another one for the homeowner – the sanitation of the property. If you have no desire to deal with this post-construction chaos, leave it to our highly qualified cleaning personnel. Our company offers you professional after builders cleaning at a reasonable price.
You can book appointments with us 7 days per week in the entire SW15 and we guarantee that our cleaners will meet all of your initial expectations. They have been cleaning post builders for several years already, delivering high standards of cleanliness and total customer satisfaction.
Professional after builders cleaning for individuals and business contractors in Putney
Domestic Cleaning Prices
After Builders Cleaning
One Off Cleaning
Deep Cleaning
Regular Cleaning
from £23
£22
£22
£20
Our effective cleaning solutions worked out for hundreds of people already. We are able to clean post major renovation projects, small repairs, home or office refurbishment, etc. Our cleaners are competent enough to satisfy every individual need.
After Builders Cleaning vs Deep Cleaning: What's the Difference?
A lot of people mistake the after the builders cleaning service for a deep cleaning one. Despite the fact that they both entail thorough cleaning of all areas and surfaces of the property, they serve completely distinct functions. The thorough cleaning is intended to restore the cleanliness of the home by cleaning and disinfecting hard-to-reach regions. The goal of the after builders cleaning solution is to remove industrial waste, dust, and stains from the property and prepare it for your return. Furthermore, the procedures and goods employed throughout these treatments will be very different. The products are all non-toxic and biodegradable, but during the post-renovation service, our cleaning professionals will use specific, professional grade instruments to make sure that everything that may cause irritations has been thoroughly removed.
Our Professional After Builders Cleaning Process
To be able to deliver excellent results to all our customers, we offer complex cleaning solutions involving many steps and tasks. We generate a task list for all cleaning teams which they follow throughout the entire cleaning process. That way, no chores are left overlooked or ignored and we are certain that the best outcomes have been provided to our customers. All dust and grime will be removed from the entire property.
We offer dust, stain and grime removal from various surfaces such as carpets, upholstery, wooden and glass items, as well as organising, vacuum cleaning and disinfection of every corner of the property. Your home will be clean and ready for your arrival.
Your property will be thoroughly examined, and the best chemicals and techniques will be utilised to cure the stains you have at home. You may be confident that the best results will be delivered.
The cleaners will gather and dispose of all waste and particles that are too big for the vacuum cleaner.
To clean all surfaces and furnishings, the cleaning professionals will use effective professional grade cleaning materials.
The cleaners will use high-quality cleaning equipment to eliminate all of the fine industrial dust from the entire home.
Stains left behind by concrete, grout, glue, paint, or other materials will be removed from all surfaces.
Wooden furniture, tables, skirting boards and door and window frames will be polished with a suitable product.
Deep cleaning of glass, metal and tile areas throughout the property.
Vacuum all carpets, rugs and upholstery, as well as mop the whole surface of the floor.
To ensure that the property is ready for your arrival, we will sanitise every corner of it.
Request a Custom Cleaning Service quote
Once you have established the exact service you would like to receive and have personalised it, we will estimate a custom price estimate for you based on the different tasks you added, as well as the size of the property. All details will be mentioned in your bill and you will be able to see exactly what you are being charged for. The final price will be unique and personally generated for you and you may rest assured that no additional charges will occur.
Book My Cleaning Today
With them your property is in safe hands. All our representatives undergo specialised training. This enables them to apply specialised cleaning methods and ensure high standards of hygiene. In addition to this, we regularly renew their cleaning equipment, so that our operatives are always armed with the latest cleaning solutions.
Our after builders cleaning package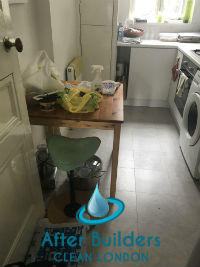 In order to deliver adequate cleaning solutions, we have developed a service that includes all must do cleaning duties after a renovation project. Once in your home, our dedicated cleaners will clean deeply every room, hoover and wash the floors, sanitise the bathroom, eliminate the thick layers of dust, etc.
As only you are familiar with the specifications of your property, we invite you to share any priority areas with us in advance. This will help us to optimise the cleaning process and deliver you a cleaning solution in relation to your individual needs.
"Your results and rates are just unbeatable! Guys, these are the best after builders cleaning services, which one can find. I have my personal experience and I am definitely fascinated by the thorough cleanliness and the friendly approach. The rates are absolutely complied and this is probably the most reliable company. – Ronald"
Ready for action 7 days per week
Our qualified cleaners have already accomplished numerous after builders cleaning projects in Putney. We take pride in their ability to deliver excellent customer service and pristine levels of cleanliness.
Give us a call and they will be at your doorstep at the most convenient time. Grab the phone and contact our friendly customer care agents.
"My flat was renovated and everything was left as if my home is a thrash bin. But thanks to your after builders cleaning services my home returned ts top-notch condition. I'm really satisfied by your results and if I need such services in the future, I will go for you again. – Darren"