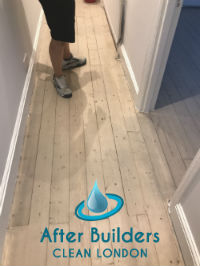 When workers finish their job, they usually leave a mess for you to clean up, but when you have cleaners who can take care of the job, there is no need for you to worry about it.
Our company provides after builders cleaning service, we deliver excellent quality and make sure that the final results are satisfying.
The people providing this service are trained for this exact purpose and have previous experience in the Mortlake industry.
Process of service
Domestic Cleaning Prices
After Builders Cleaning
One Off Cleaning
Deep Cleaning
Regular Cleaning
from £23
£22
£22
£20
Everything begins with the call of a client, from there, we provide them with details about the after builders cleaning service.
We make sure that they are informed of how the service works from the hiring to its completion. An oblivious client paying for something they are not sure of is the thing we avoid.
After Builders Cleaning vs Deep Cleaning: What's the Difference?
You may believe that post-renovation cleaning services and deep cleaning services are interchangeable. They are, however, not, and we are going to explain why. The key difference between the two is the aim – post-renovation cleaning will remove industrial waste, debris, filth, and dust from your property and prepare it for your arrival. For the particular waste type, specialised tools and equipment will be utilised. Meanwhile, the deep cleaning focuses on regularly-overlooked places ensuring that every inch of the home is in pristine condition. Our cleaning professionals will use effective, high-quality cleaning solutions to ensure complete removal of grease, buildup, mildew, and general filth during the deep cleaning process.
Our Professional After Builders Cleaning Process
The cleaning crew will come to your place fully prepared with all equipment and supplies necessary to produce high-quality results. They will adhere to thorough task lists that include all jobs that must be completed as part of the service. They will accomplish excellent results thanks to the strong cleaning solutions and professional quality tools and gadgets.
Dust cleaning and stain removal will be performed, as well as complete cleansing and disinfecting of all furniture, floors and surfaces. The following is a list of the basic duties that will be performed throughout your service:
Your property will be carefully inspected and the most suitable products and tools will be used to treat the particular stains you have at home. You may rest assured that the best outcomes will be provided.
The cleaners will gather and dispose of all waste and particles that are too big for the vacuum cleaner.
All furniture and surfaces in the home will be cleaned down and dusted. Products that are appropriate for the materials in question will be utilised.
Industrial fine dust will be cleaned using high-quality cleaning equipment.
No stains from paint or concrete will be left on any of the surfaces at your home.
All wooden items in the home will be cleaned and polished with suitable products.
All tile, metal, and glass surfaces will be thoroughly cleaned and polished.
Vacuum all carpets, rugs and upholstery, as well as mop the whole surface of the floor.
All areas of the property will be disinfected and left immaculate for your arrival.
Request a Custom Cleaning Service quote
To further personalise the service, we will also present you with a pricing estimate that has been personalised for you. You may be confident that you will be aware of exactly what you are being charged for. We will estimate the cost of the service based on the size of your property and the numerous chores you have chosen to include in your project. There will be no further charges added to your statement once the cost has been determined.
Book My Cleaning Today
After all of the details are given to them, if they still have questions about the Mortlake area, we make sure to provide them with the answers they need.
If our service gets hired, we make sure to get to the client right on time. The client shouldn't wait when they have made an appointment with us. When we arrive, we expect the client to be home, if there is no one, we are going to leave.
Our services are reliable and cheap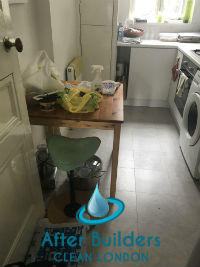 We don't expect from the client to start giving us cleaning supplies. We are already equipped with everything we need which is also the perfect choice in the SW14 Mortlake field.
When we come into the client's home, we set up and get down to work right away. Every square inch will be thoroughly cleaned from one end to the other and from top to bottom.
"You left me speechless at the sight of my sparkling, newly-renovated home! You cleaned everything in a flash: vacuum cleaned, mopped, disinfected, get rid of stain and etc. Your immaculate after builders cleaning services are definitely masterful. You gave a word that everything will be flawless and you stick to it. – Cortney"
History of our service
The after builders cleaning service became part of the company many years ago. Over that time, the people who have made up the team for it have only become better and better at their job. From the beginning till now, they are ever so eager to impress every new client.
"I'd like to express my astonishment from your after builders cleaning services. Your cleaning techs are really devoted to their work and they asked me at last if I'm pleased with their results. I must admit that you exceeded all of my expectations and at affordable price. You supplied every single detergent, so that is one worry-free cleaning! – Jackson"
Thanks to our team's hard work, we have received the endorsement from hundreds of clients who trusted us and we left them with very satisfying results.