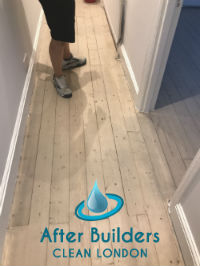 Need a change? Instead of cutting your hair, why don't you try doing a home renovation? It's proven that people who change their haircut don't feel as satisfied as those who do as little as shift furniture in their living room. So, the next time you feel you need a change, start renovating your home.
When you opt to change the appearance of your home, you need to remember that renovating isn't the only thing you need to do – it's also very important to clean up afterwards. Toxic dust specks, building rubbish, etc. spread throughout your home like a disease after a renovation and if untreated, they can cause both mental and physical problems.
That's why, whenever you do a home renovation, you should rely on us for the cleaning process afterwards. Our after builders cleaning services are professional and affordable. We operate in Friern Barnet exclusively. Book our cleaning services and you'll have a sparkling clean property at all times, we guarantee.
We won't stop until we please you
Domestic Cleaning Prices
After Builders Cleaning
One Off Cleaning
Deep Cleaning
Regular Cleaning
from £23
£22
£22
£20
Our after builders cleaning service is nothing like regular cleaning – our cleaning process is more thorough and is delivered by means of professional cleaning tools and materials.
After Builders Cleaning vs Deep Cleaning: What's the Difference?
You may believe that post-renovation cleaning services and deep cleaning services are interchangeable. They are, however, not, and we are going to explain why. The key difference between the two is the aim – post-renovation cleaning will remove industrial waste, debris, filth, and dust from your property and prepare it for your arrival. For the particular waste type, specialised tools and equipment will be utilised. Meanwhile, the deep cleaning focuses on regularly-overlooked places ensuring that every inch of the home is in pristine condition. Our cleaning professionals will use effective, high-quality cleaning solutions to ensure complete removal of grease, buildup, mildew, and general filth during the deep cleaning process.
Our Professional After Builders Cleaning Process
To be able to deliver excellent results to all our customers, we offer complex cleaning solutions involving many steps and tasks. We generate a task list for all cleaning teams which they follow throughout the entire cleaning process. That way, no chores are left overlooked or ignored and we are certain that the best outcomes have been provided to our customers. All dust and grime will be removed from the entire property.
We offer dust, stain and grime removal from various surfaces such as carpets, upholstery, wooden and glass items, as well as organising, vacuum cleaning and disinfection of every corner of the property. Your home will be clean and ready for your arrival.
Our cleaning crew will thoroughly evaluate your property; stains and specific materials will be handled with appropriate cleaning methods and solutions. This ensures optimum effectiveness without inflicting any harm.
All trash and industrial waste will be collected and disposed of at the very beginning of the cleaning service.
All furniture and surfaces in the home will be cleaned down and dusted. Products that are appropriate for the materials in question will be utilised.
The cleaners will use high-quality cleaning equipment to eliminate all of the fine industrial dust from the entire home.
Paint, grout, concrete, and other stains will be properly removed from all surfaces.
Efficient cleaning products safe for wood will be used to clean all wooden furniture and surfaces.
Tile, metal and glass surfaces will be deep cleaned and left immaculate.
Floor cleaning, vacuuming and mopping. Including all carpets, rugs and even upholstery.
Faucets, light switches and door handles will be disinfected and the home will be ready for you.
Request a Custom Cleaning Service quote
A custom price will be estimated for you. It will be based on the tasks of your project, and the condition of your property. You will be provided with a free price quote over the phone, as well as a detailed bill with everything you are charged for. You will know exactly what you are paying for and may rest assured that no hidden charges will occur and you will only have to pay for what you receive.
We won't simply tidy up, as it's unacceptable for us. Instead, we'll take our time to clean every room in your property thoroughly in order to make it sparkling clean. Call us and book our professional after builders cleaning services today.
Clean is always green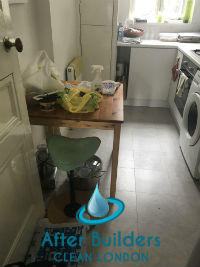 We're using only Eco-friendly cleaning products to deliver highest quality of cleaning service. That's not all – the bottles of our detergents are completely biodegradable.
Booking our professional after builders cleaning services won't damage the environment. Choose us now.
" Your company is great at providing cleaning services I had your team just yesterday clean the kitchen after the repair I had. They were very diligent and thorough. Everything was cleaned to a high standard and the best part is that the price I paid was not expensive as I thought it would be. Thanks for everything. -Ross"
Amazing availability
Our company is entirely customer satisfaction oriented. We'll stay as long as we have to and we won't stop cleaning until we've made sure your property is in a spic and span condition. Book our professional after builders cleaning services today, we're available exclusively in Friern Barnet throughout the week, including on bank holidays.
"I want to thank this company and their employees for helping me make my home redecoration much easier and less stressful job. I hired the after builders cleaning service and the team was very properly equipped and did a great job. They cleaned every detail in my home and left it spotless. I could not thank them enough. – Amelia"
Choosing us to do an end of tenancy cleaning is choosing the best cleaning company in Friern Barnet, guaranteed.