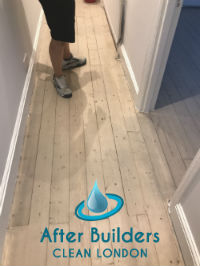 Renovating is a hassle no matter how you handle it. You may breathe a sigh of relief when the builders leave your home but you will be completely ready only after every area is free of construction waste. Do yourself a favour and call in the after builders cleaning experts in East Sheen.
Our company is able to provide you with a professional cleaning service that ensures a high level of hygiene and saves you time and efforts. With us you are guaranteed to receive a reliable cleaning solution at a price that you can actually afford.
Competent and experienced cleaners who bring you peace of mind
Domestic Cleaning Prices
After Builders Cleaning
One Off Cleaning
Deep Cleaning
Regular Cleaning
from £23
£22
£22
£20
As cleaning a renovated property requires a profound knowledge, all our operatives undergo comprehensive training. This allows them to deal with all types of building leftovers in a prompt and efficient manner. Expect nothing but exceptional standard of cleanliness because our representatives are supplied with the most modern cleaning equipment.
After Builders Cleaning vs Deep Cleaning: What's the Difference?
Deep cleaning and after builders cleaning may appear to be identical, but they are not, as you are about to find out. The deep cleaning service comprises washing and disinfecting all areas of the property including corners and hidden surfaces that are easily missed. The post-renovation cleaning service focuses on eliminating fine dust and industrial waste left behind by the cleaning staff, which may cause allergies, irritations or even breathing issues. Another important difference is the procedures used for both services. Deep cleaning entails using powerful cleaning solutions to dissolve buildup and filth, whereas after builders cleaning necessitates the use of professional quality tools to properly remove any waste, stains, grime, and debris that prohibit you from enjoying your home.
Our Professional After Builders Cleaning Process
We guarantee the excellent quality of the services we provide and try hard to exceed our clients' expectations. To guarantee that each stage is accomplished, we follow a rigorous and sophisticated process. Furthermore, we employ a variety of specific equipment, procedures, and cleaning solutions which help us improve the quality of the final results.
Scrubbing, polishing, and disinfecting all surfaces around the property, dust and grime removal, special surface cleaning, floor care, and other chores related to this sort of cleaning are all part of the comprehensive cleaning of your property following renovations. Here are some of the basic duties that will be performed:
Our cleaning team will carefully inspect your home, the stains and the particular materials will be treated with suitable cleaning methods and solutions. That way, maximum efficiency is guaranteed without causing any damage.
All industrial trash and debris will be removed and disposed of, leaving the property free and clear for the service.
Furniture and other dusty surfaces will be wiped down and thoroughly cleaned with suitable solutions.
The cleaners will use high-quality cleaning equipment to eliminate all of the fine industrial dust from the entire home.
No signs of stains will be left behind, by paint or concrete, on any of your surfaces.
Efficient cleaning products safe for wood will be used to clean all wooden furniture and surfaces.
Surfaces in the bathroom and kitchen (tile, metal, plastic or concrete) will be cleaned.
Carpets and upholstery will be cleaned using a professional vacuum cleaner. The floor will be thoroughly washed.
The property will be prepared for your arrival and all door handles, remotes and light switches will be sanitised.
Request a Custom Cleaning Service quote
To customise the service even further, we will also provide you with a price estimate that has been customised for you. You may rest assured that you will know exactly what you are being charged for. We will estimate the cost of the service based on the size of your property, as well as the many different tasks you chose to include as part of your project. No hidden charges will be further placed on your bill.
Book My Cleaning Today
Being detail-oriented and consistent, they always carry out a sufficient after builders clean up, making sure that even hidden places are free of grime. After their performance, every area of your renovated property will be well sanitised.
About our after builders cleaning package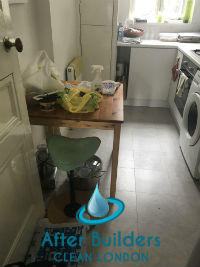 The service that we offer is available all over East Sheen and includes all required cleaning duties after a renovation project. You can count on our team to clean deeply every room, remove dust from surfaces, doors and window frames, hoover the carpets, wash the hard floors and much more.
We understand that every property has its own specifications, so feel free to alter the package according to your individual needs. Our responsive cleaners would always go the extra mile and deliver you a service of great value.
"The reconstruction of the bedroom was finished, but I knew that after that I would have a lot of work. That's why I booked your after builders cleaning services and this was one of my best choices all my life. The mess was turned into sparkling cleanliness and order in no time and the rates were absolutely normal! – Pamela"
A reliable cleaning contractor only at one phone call away in SW14
Instead of spending your free time cleaning, act smart and take advantage of our professional after builders cleaning. With us you are always on the safe side. We possess the necessary manpower and professional equipment to meet every requirement.
"Fantastic job! You managed to deal with the horrifying mess, left by the builders. Thanks to your after builders cleaning services I could enjoy my home even on the same day. You cleaned practically everything and even disinfected. The chemical-free detergents were important for me, because of my kids. Thank you! – Darma"
Hurry up and contact our friendly call centre agents. They are anytime available to listen to your request and provide you with a cleaning solution accordingly.