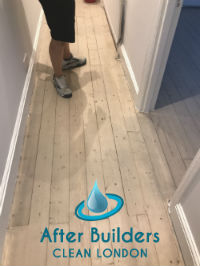 After having builders at your home, renovating or simply bringing something down to build up something new and more exciting, a huge mess is to be expected. Builders do not really pay attention to how much dust, dirt and debris they leave after themselves.
Do no burden yourself with cleaning all of that all by yourself, we are a professional after builders service located in Mill Hill and we would gladly take this cleaning chore off your hands and provide you with excellent, top notch end cleaning results.
After builders cleaning requires special care and attention
Domestic Cleaning Prices
After Builders Cleaning
One Off Cleaning
Deep Cleaning
Regular Cleaning
from £23
£22
£22
£20
We have specialized in removing dirt, dust, stains, debris etc from after builders. Nowhere in Mill Hill will you find such devoted and precise cleaning service. We know best how to exert all the unwanted dirt that was left there by the builders.
After Builders Cleaning vs Deep Cleaning: What's the Difference?
Do you think that the deep cleaning service and the after the builders one are practically the same? You are wrong. While these two services are very similar, they are also very different. The main difference is that the methods and products used during the services are different. During the post renovation service, specialised high quality tools and products will be utilised to ensure the proper elimination of all industrial filth and dust. Another important difference is the purpose of both solutions. The deep cleaning is performed in order to ensure the thorough cleanliness of your entire place, including hidden or easily neglected areas. The main focus of the after the builders cleaning service is to eliminate industrial waste and dust and prepare the property for your arrival.
Our Professional After Builders Cleaning Process
The cleaning team that will be performing at your property will arrive fully equipped with all tools and products that will help them achieve high quality results. They will be following detailed task lists which contain all tasks that need to take place as part of the service. The powerful cleaning solutions and professional grade tools and devices will help them achieve great results.
Expect dust and stain removal, as well as thorough scrubbing and disinfection of all furniture, wooden, glass and tile surfaces. Find a list of the basic chores that will be performed during your service below:
To achieve the best final results, our cleaning experts will carefully pick the tools and products that will be used during the procedure based on the stain origins and the materials of your furniture.
To prepare your home for the service, our cleaners will remove waste and debris from the entire property.
The property's items of furniture and surfaces will be cleaned down and dusted. Materials that are compatible with the materials will be used.
The fine dust left behind all over your property will be eliminated using special high quality tools.
Paint, grout, concrete, and other stains will be properly removed from all surfaces.
Using proper cleaning products, all wood surfaces and furniture will be cleaned and polished.
Surfaces in the bathroom and kitchen (tile, metal, plastic or concrete) will be cleaned.
Vacuuming of carpets and upholstery, followed by sweeping and mopping the entire floor.
The property will be disinfected, organised and prepared for when you are ready to move back in.
Request a Custom Cleaning Service quote
To further personalise the service, we will also present you with a pricing estimate that has been personalised for you. You may be confident that you will be aware of exactly what you are being charged for. We will estimate the cost of the service based on the size of your property and the numerous chores you have chosen to include in your project. There will be no further charges added to your statement once the cost has been determined.
After Builders Cleaning vs Deep Cleaning: What's the Difference?
A lot of people mistake the after the builders cleaning service for a deep cleaning one. Despite the fact that they both entail thorough cleaning of all areas and surfaces of the property, they serve completely distinct functions. The thorough cleaning is intended to restore the cleanliness of the home by cleaning and disinfecting hard-to-reach regions. The goal of the after builders cleaning solution is to remove industrial waste, dust, and stains from the property and prepare it for your return. Furthermore, the procedures and goods employed throughout these treatments will be very different. The products are all non-toxic and biodegradable, but during the post-renovation service, our cleaning professionals will use specific, professional grade instruments to make sure that everything that may cause irritations has been thoroughly removed.
Our Professional After Builders Cleaning Process
We guarantee the high quality of all services delivered by us and work hard to keep up with our customers' expectations. We follow a detailed and complex process to ensure that each step has been completed. What is more, we utilise a number of specialised tools, techniques and cleaning solutions that help us increase the quality of the final outcomes.
The thorough cleaning of your property after renovations involves thorough scrubbing, polishing and disinfection of all surfaces around the property, dust and grime elimination, special surface cleaning, floor care and other tasks that are specific for this type of cleaning. Here are a few of the basic tasks that will take place:
The first step of the cleaning service is the thorough inspection of the property and its condition. That will help the cleaners select a suitable and efficient cleaning method that will help them achieve fantastic outcomes.
The cleaning process will begin when the professional experts get rid of all waste, large industrial debris and others.
Furniture and other dusty surfaces will be wiped down and thoroughly cleaned with suitable solutions.
The cleaners will use high quality cleaning devices to remove all fine industrial dust left behind.
All stains will be removed – paint, grout, concrete or others ( includes all surfaces).
Using proper cleaning products, all wood surfaces and furniture will be cleaned and polished.
Glass and tile surfaces in the kitchen and bathroom will be scrubbed and left immaculate.
Vacuum cleaning of all carpets, rugs and upholstery, as well as mopping of the entire floor.
Items, such as light switches, door handles, remote controls and faucets will be sanitised.
Request a Custom Cleaning Service quote
We will estimate a specific pricing quote for you based on the different chores you specified, as well as the size of the home, as soon as you have determined which particular service you are interested in and customise it. Your bill will include all relevant details, and you will be able to see precisely what you are being charged for. The final pricing will be unique and produced specifically for you. It is important to know that there will be no extra costs.
Cleaning after builders can be tricky, all sorts of debris fly around and get stuck in even the smallest of holes. They will remain there forever if not taken care of properly, just like we will if you give us a chance!
What makes us better than the competition in Mill Hill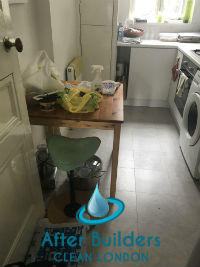 Unlike other cleaning services located in NW7, we employ only real professionals. They have been specially trained and licensed to handle all sorts of dirt. They can remove any stain no matter the content or how long it has been there.
Thanks to the special equipment our company has supplied them with, we are more than sure that we are the best choice to undertake the after builders cleaning.
"My bedroom was in a disastrous condition when my small repair in the bathroom was over. I do not know how the builders did it but they covered the entire floor in dust and debris. I would not have been able to clean in it on my own. I am very happy that I found this company and that their after builders cleaning service is so affordable. – Janice"
The most reliable after builders cleaning service in Mill Hill, NW7
We have earned a reputation of a trustworthy, reliable and very precise cleaning service. Over a hundred houses have been handled by our technicians every week. They have never been late for a scheduled cleaning, they bring their own special equipment and cleaning materials which, by the way, consist no chemicals whatsoever.
"I enjoyed using this post builders cleaning service a lot. The booking process was very simple, they did not want a deposit and the price was great. And of course the cleaners who were sent to clean my apartment left me with satisfactory results. I could not have wished for more! – Adam"
By employing our after builders cleaning service you secure yourself time and energy, also we guarantee that after we are done you will be totally amazed by the results and how well we have handled the cleaning at your home.