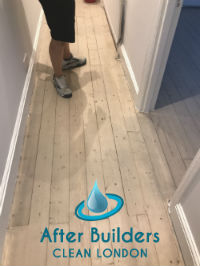 A job well done from the builders. Your home got the transformation you planned for, for such a long time. You are absolutely smitten, but now you have to do some cleaning up, or leave that to a few professionals to handle.
If you decide that we are the after builders cleaning service for you, then you should get ready to be impressed by that choice.
We have a trained team of people for this job who are ready to deliver excellent quality, very satisfying results and all of that on a very affordable price. It's going to be a striking impression in the Kilburn industry.
You can hire our service while laying in bed or while on a walk
Domestic Cleaning Prices
After Builders Cleaning
One Off Cleaning
Deep Cleaning
Regular Cleaning
from £23
£22
£22
£20
Whenever you call us, our team will be there to answer. For all of the new clients, our team starts off by introducing them to the after builders cleaning service. There won't be a single detail left behind that you need to know.
After Builders Cleaning vs Deep Cleaning: What's the Difference?
Deep cleaning and after builders cleaning may appear to be the same thing, but they are not, and we will explain why. The deep cleaning service includes cleaning and disinfection of all corners of the property (particularly those that are frequently disregarded during the normal cleaning schedule). The post-renovation cleaning service concentrates on removing fine dust and industrial debris that the cleaning crew has left behind that may cause allergies or other health issues. Another notable distinction is the techniques employed for both services. Deep cleaning involves the use of powerful cleaning solutions that dissolve buildup and filth, whereas after the builders cleaning requires the use of professional grade instruments to efficiently remove any rubbish, stains, grime, and debris that prevent you from enjoying your home.
Our Professional After Builders Cleaning Process
We guarantee the high quality of all services delivered by us and work hard to keep up with our customers' expectations. We follow a detailed and complex process to ensure that each step has been completed. What is more, we utilise a number of specialised tools, techniques and cleaning solutions that help us increase the quality of the final outcomes.
The thorough cleaning of your property after renovations involves thorough scrubbing, polishing and disinfection of all surfaces around the property, dust and grime elimination, special surface cleaning, floor care and other tasks that are specific for this type of cleaning. Here are a few of the basic tasks that will take place:
The inspection of the property will help our cleaning technicians select the best tools and products and achieve fantastic results. The surfaces will be deep cleaned and no damage will occur.
All industrial waste and debris will be collected and disposed of, leaving the property clear and ready for the service.
The cleaning experts will ensure that all furniture is wiped down and cleaned using the proper cleaning supplies that will not cause damage.
The cleaners will use high quality cleaning devices to remove all fine industrial dust left behind.
All surfaces will be freed of stains left behind by concrete, grout, glue, paint or other materials.
Wooden furniture, window sills, skirting boards and other areas will be wiped down and polished.
Tile, metal and glass surfaces will be deep cleaned and left immaculate.
Hard floors will be scrubbed and mopped thoroughly. Carpets and upholstery will be thoroughly vacuumed.
Faucets, light switches and door handles will be disinfected and the home will be ready for you.
Request a Custom Cleaning Service quote
To customise the service even further, we will also provide you with a price estimate that has been customised for you. You may rest assured that you will know exactly what you are being charged for. We will estimate the cost of the service based on the size of your property, as well as the many different tasks you chose to include as part of your project. No hidden charges will be further placed on your bill.
If there are any questions you need to ask, don't hesitate. Our team is ready to provide all of the answers around the Kilburn area. We won't have any clients who are left confused or uncertain for something they have to pay for.
Our cleaners will get to your home no matter what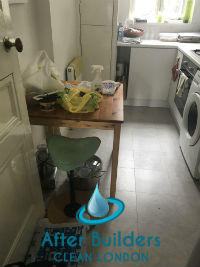 There are very few reasons that will stop our cleaners from getting to you right on time but otherwise, you will have made an appointment with us, and they follow that appointment very strictly.
When they arrive, it is expected that you or anyone appropriate from the household is there to welcome them. If not, our cleaners will turn around and leave.
"Last week the builders finished the renovation project in our house and we needed professional after builders cleaning services. Our neighbour is a client of yours and we also decided to give it a try. Your cleaners cleaned everything so precisely and we couldn't be happier. You saved us a lot of efforts! – Ron"
Our cleaners don't just clean, they perform
When our cleaners are in your home, they will start moving from room to room like a touring Broadway show. It is going to be spectacular.
They are not going to move to the next room until the one they are working on is one-hundred percent clean. Just like that, in about two or three hours, your entire home will be spotless.
All cleaning supplies that we have provided our cleaners with are Green, healthy and a best choice in the Kilburn industry.
"Your team has just left and I am impatient to share with you how satisfied I am with your after builders cleaning. Friendly and hard working cleaners, who carried out a profound cleaning in every room. It is great to see my home clean and sanitised again. I will definitely use your services again! – Vivian"