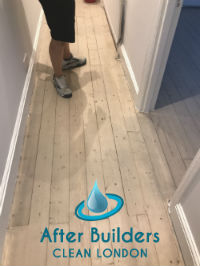 Have you ever dealt with the problem of having one vision in your mind for the way your home should look and then the reality is nothing like the idea you had? In most cases it is the mess after the builders and the painters that prevents you from seeing the final result from the renovation you have made. This is why the best solution is to hire professional cleaners to help.
If you live in Mile End and hire our company's after builders cleaning service we can help you to clean all the dirty traces from the builders. Our professional cleaners can polish the floors, wipe the windows, clean the tiles in the kitchen and bathroom or do a deep clean. We offer all of these and many more services which can help you to see an amazing final result.
See the positive change
Domestic Cleaning Prices
After Builders Cleaning
One Off Cleaning
Deep Cleaning
Regular Cleaning
from £23
£22
£22
£20
The main purpose of the renovations is for them to meet your expectations and the preconceived ideas you had for how your home should look. If you hire our after builders cleaning service we will make sure to get rid of all the dirt that is distracting you from seeing the positive changes of your property.
After Builders Cleaning vs Deep Cleaning: What's the Difference?
Even though the cleaning after renovations and the deep cleaning services are similar and readily confused, they are not the same. While the key objective of both is to clean and disinfect all places and surfaces properly, the thorough cleaning involves corners that are sometimes overlooked, whereas the post-renovation cleaning is more concerned with proper removal of industrial waste and dust, as well as toxic material that may be causing allergic responses or irritations. Another significant distinction is the equipment and products utilised in both jobs. To eradicate dust, mould, germs, and other contaminants, high grade non-toxic materials will be used throughout the deep cleaning service. When completing the after builders cleaning service, our cleaning professionals will utilise specialised equipment to remove debris and dust.
Our Professional After Builders Cleaning Process
We guarantee the excellent quality of the services we provide and try hard to exceed our clients' expectations. To guarantee that each stage is accomplished, we follow a rigorous and sophisticated process. Furthermore, we employ a variety of specific equipment, procedures, and cleaning solutions which help us improve the quality of the final results.
Scrubbing, polishing, and disinfecting all surfaces around the property, dust and grime removal, special surface cleaning, floor care, and other chores related to this sort of cleaning are all part of the comprehensive cleaning of your property following renovations. Here are some of the basic duties that will be performed:
To achieve the best final results, our cleaning experts will carefully pick the tools and products that will be used during the procedure based on the stain origins and the materials of your furniture.
All waste and particles that are too large for the vacuum cleaner will be collected and disposed of by the cleaners.
The property's items of furniture and surfaces will be cleaned down and dusted. Materials that are compatible with the materials will be used.
Industrial fine dust will be cleaned using high-quality cleaning equipment.
Stains left behind by paint, grout or other materials will be scraped off and thoroughly removed.
Using proper cleaning products, all wood surfaces and furniture will be cleaned and polished.
All tile, metal, and glass surfaces will be thoroughly cleaned and polished.
Carpets and upholstery will be cleaned using a professional vacuum cleaner. The floor will be thoroughly washed.
All commonly touched items will be disinfected and everything will be organised for when you arrive.
Request a Custom Cleaning Service quote
The price for the service you receive will be estimated personally for you. All cleaning tasks that you decided to add to your service, and the size of your property will affect the cost of your project. A bill will be generated for you and you will know exactly what you are paying for. Once you receive the price estimate, the number will be final.
Book My Cleaning Today
If you decide to trust us we will not let you down.
The company with the best quality in Mile End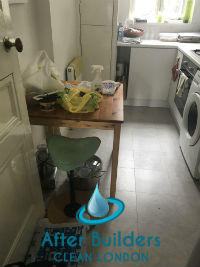 All of our professional cleaners are well-experienced and they are highly competent in the after builders cleaning field. They use the most efficient equipment and cleaning tools in order to achieve the best condition of your property.
We have very flexible working schedule so that we can help our customers whenever they need us. We will be more than happy to help you.
"We hired the cleaners in your company to help us put out flat in order after a large renovation project. The staff implemented thorough and effective sanitising of the rooms, cleaned the furniture, fixtures, floors, walls and doors from the stains, plaster and paint splashes. The after builders cleaning we received was the best we have had. – Dominic"
Very inexpensive cleaning service
If your live in Mile End we can assure you that you won't be able to find more affordable professional after builder cleaning service. What we offer is excellent result, amazing staff of cleaners with many years of experience in the cleaning business and a very affordable price.
Make sure to call us and book our service and we promise you that you won't regret this decision.
"Our property, which we let out, required the implementing of several repairs and decorating changes. We hired professionals to do the work and used the after builders cleaning provided by this company. The cleaners did the work very effectively and well. We had the property refreshed and improved significantly. – Noah"