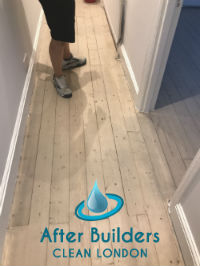 If you are having your home renovated and you want to quickly enjoy the new changes you can cal our company and we will provide you with the best after builder cleaning service in entire Chingford. Our cleaners will make sure to get rid of all the dirt which is left behind the builders. We will present you with the best condition of your property.
It is hard to enjoy the new interior of your house if there is dirt and dust all over the place. This is why you need a professional help with the cleaning and we can definitely offers you our service which has high level quality and it is very affordable.
Flexible working time
Domestic Cleaning Prices
After Builders Cleaning
One Off Cleaning
Deep Cleaning
Regular Cleaning
from £23
£22
£22
£20
We try to do our best in order to satisfy the needs of our customers. If you decide to hire us, you won't be disappointed.
Because we know that our clients have different working schedules we are offering our services seven days a week, so that you will be able to book our after builders cleaning service whenever it is most convenient for you.
After Builders Cleaning vs Deep Cleaning: What's the Difference?
The after-builder cleaning service can at times be confused with the thorough cleaning service. However, there are important distinctions between the two, which we will get into for you. During the deep cleaning service, your property will be completely cleaned and disinfected (this includes hidden places that are sometimes overlooked). When it comes to post-renovation cleaning, expect the cleaning staff to efficiently remove any industrial waste, fine dust, and other filth. The specialists will use specialised tools and procedures to remove all dirt that prevents you from enjoying your newly refurbished house. Strong solutions that dissolve grease and dirt are used during the deep cleaning procedure – they are different from the ones used during the post renovation service, making this another significant difference.
Our Professional After Builders Cleaning Process
To be able to deliver excellent results to all our customers, we offer complex cleaning solutions involving many steps and tasks. We generate a task list for all cleaning teams which they follow throughout the entire cleaning process. That way, no chores are left overlooked or ignored and we are certain that the best outcomes have been provided to our customers. All dust and grime will be removed from the entire property.
We offer dust, stain and grime removal from various surfaces such as carpets, upholstery, wooden and glass items, as well as organising, vacuum cleaning and disinfection of every corner of the property. Your home will be clean and ready for your arrival.
Your property will be carefully inspected and the most suitable products and tools will be used to treat the particular stains you have at home. You may rest assured that the best outcomes will be provided.
The cleaners will gather and dispose of all waste and particles that are too big for the vacuum cleaner.
Next, all furniture will be wiped down and cleaned with appropriate cleaning materials and methods.
To remove all fine dust from all sections of the property, high-quality instruments will be employed.
Paint, grout, concrete, and other stains will be properly removed from all surfaces.
Appropriate substances will be used to polish wooden furniture, tables, skirting boards, as well as door and window frames.
Surfaces in the bathroom and kitchen (tile, metal, plastic or concrete) will be cleaned.
The cleaners on our team will mop your floor after vacuuming all carpets and rugs using a special vacuum cleaner.
All items that are handled on a daily basis will be thoroughly disinfected in time for your arrival.
Request a Custom Cleaning Service quote
Your booking agent will estimate a price for your cleaning service. The final price will be estimated personally for you based on the various different cleaning tasks that you decide to book as part of the project. To make sure that you know exactly what you are being charged for, we will also supply you with a bill. Everything you will be paying for will be there. No additional charges will occur.
Using only the best equipment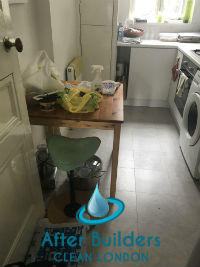 Being able to help our clients whenever they need us is a big part of why so many people consider us as the best cleaning company in Chingford and we are happy to prove our quality to our customers/
You don't have to worry about cleaning products and tools. Our company uses our own cleaning equipment and solutions which have proven to be the most effective when it comes to after builders cleaning. We always want to achieve the best result in order to satisfy the needs of our clients.
"Our flat had to be cleaned thoroughly and well after replacing of the wallpapers and plastering the ceilings. We are very pleased with the work of the cleaners which ensured the liveable and impeccable condition of the rooms. The price we paid for the after builders cleaning was fair. – Ella"
Pleasing the clients
If you live in Chingford you should definitely hire our service and see for yourself what a wonderful work our cleaners can do.
What is most important for us is to make our customers happy. We want to help you see the great results after your home renovation. We always pay special attention to every request our clients make. We hope that you will decide to trust us and hire our after builders cleaning service.
"We decided to use the professional cleaning services provided by this company to ensure the removal of dust, stains, plaster and grime from our refurbished loft. The cleaning which the staff implemented was timely, detailed and had excellent results. We will definitely use your cleaning services again in the future. – Elise"