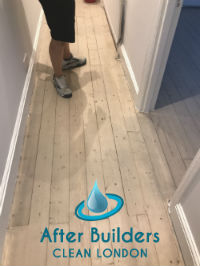 Renovations are always associated with lots of fun, paint, cement and… a real lot of dust. In fact, no other process known to man causes more toxic dust than home renovation.
However well you did your home renovation, you need to know that if you don't properly clean your whole place after the renovation is done, you can have serious health problems. Paint and cement stains are not dangerous to the health, of course, but they are really ugly. And the toxic dust that's left after a renovation is all you need to inhale to get a serious breathing problem.
Clean, cleaner, cleanest
Domestic Cleaning Prices
After Builders Cleaning
One Off Cleaning
Deep Cleaning
Regular Cleaning
from £23
£22
£22
£20
We can help you eliminate the toxic dust from your property, erase all stains and declutter your property after you've renovated it – just call us and book our professional after builders cleaning services. We're available throughout the week, even on bank holidays and we cover Lewisham, call us now.
After Builders Cleaning vs Deep Cleaning: What's the Difference?
You may think that post renovations cleaning services and deep cleaning services are pretty much the same thing. However, they are not and we are about to tell you why. The main difference between the two is the main purpose – post renovations cleaning will eliminate industrial waste, debris, grime and dust and prepare your home for your arrival. Specialised tools and equipment will be used for the particular waste type. Meanwhile, the deep cleaning targets hidden corners that are usually overlooked, leaving the entire property immaculate and disinfected. When performing it, the cleaning experts on our team will use efficient, high quality cleaning solutions that will ensure 100% grease, buildup, mould and general grime removal.
Our Professional After Builders Cleaning Process
To guarantee that we offer high-quality outcomes, we provide our cleaners with detailed lists outlining all of the processes they must take when executing a service. That way, you can be confident that nothing has been forgotten or ignored. We will utilise all of our expertise and experience, as well as professional tools and materials, to remove all traces of dust, filth, and stains from all areas of your house.
The cleaning service comprises dust and stain removal, vacuuming of carpets and upholstery, polishing and disinfecting of various surfaces, whether they are made of wood or glass, disinfection, and organising. The house will be ready for your arrival. Here's what to expect:
The cleaning experts will carefully inspect the entire property and its condition. They will select the most suitable cleaning methods that will resolve all problems in the best way possible.
All rubbish and industrial waste left behind will be collected and disposed of.
Furniture throughout the room will be thoroughly cleaned inside and out with suitable cleaning products.
All of the industrial dust will be removed from every corner of the property with the help of high quality cleaning tools.
The cleaners will scrape off and remove any stains (paint, concrete, glue, and so on).
Our cleaning experts will clean and wipe down all wooden surfaces using high quality products suitable for wood.
Tile, metal and glass surfaces will be deep cleaned and left immaculate.
Floor cleaning, vacuuming and mopping. Including all carpets, rugs and even upholstery.
To ensure that the property is ready for your arrival, we will sanitise every corner of it.
Request a Custom Cleaning Service quote
We will estimate a specific pricing quote for you based on the different chores you specified, as well as the size of the home, as soon as you have determined which particular service you are interested in and customise it. Your bill will include all relevant details, and you will be able to see precisely what you are being charged for. The final pricing will be unique and produced specifically for you. It is important to know that there will be no extra costs.
With our professional after builders cleaning services your home will be the cleanest in SE13, guaranteed. We're using professional cleaning machines and a set of Eco-friendly cleaning products in our cleaning routines with which we can completely disinfect your property, guaranteed.
We aim to perfection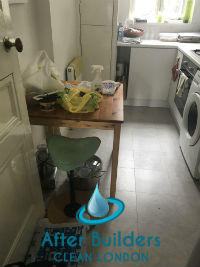 We have a checklist of tasks perform in each room to ensure maximum dirt, dust and bacteria elimination from your renovated property. Book us if you want your renovated property to look as good as you deserve it to be, we can be booked in SE13, Lewisham.
For us, simply tidying up is unacceptable. We'll stay as long as we have to and we'll take our time to thoroughly wipe all surfaces in your renovated property. When we finish, your whole home will shine bright, and you'll be able to enjoy the renovation without fear of dust.
"I am one of your regular clients and last week I used your after builders cleaning for the first time. I have no words to describe how satisfied I am with the cleaners you sent me. Diligent and friendly fellows, who made my renovated home clean and sanitised. – Maria"
Availability is the key
We are preferred to other cleaning companies in Lewisham because we're available throughout the week and even on bank holidays. We work solely in order to meet your demands and we'll do anything to make you happy. Rely on us to clean your property after a renovation, we can be booked in Lewisham.
"Your cleaners have just cleaned my home and I need to admit that everything is spotless. No more thick layers of dust and paint marks on the floor. Thank you very much for sending them, they really helped me a lot. There is no doubt that I will contact you again. – Nicole"