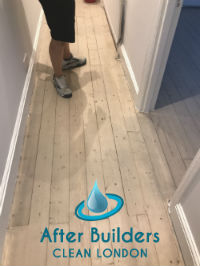 Since it's a much more thorough process than regular cleaning (and we all know why), it's best to leave after builders cleaning to professionals. If you think that you'll save money by not booking professional cleaning services after you renovate your home –you're wrong. If you try to clean your home yourself you sacrifice two things – your health and your time, and those two are far more important than money, don't you think?
After builders cleaning is incredibly time-consuming because all renovations, however big or small, cause dust, dirt and clutter which completely fills your home and is almost impossible to eliminate.
What's more, dust left after renovation is proven to be 50 times more toxic than domestic dust. And if it's not completely eliminated, it can cause serious health problems.
We declare war on toxic dust
Domestic Cleaning Prices
After Builders Cleaning
One Off Cleaning
Deep Cleaning
Regular Cleaning
from £23
£22
£22
£20
We advise you not to waste your time and energy cleaning your property after a renovation – you've spent too much of those for the renovation process anyway. Rely on our professional after builders cleaning services instead. We're a leading after builders cleaning company in Lee, we're affordable and available throughout the week.
After Builders Cleaning vs Deep Cleaning: What's the Difference?
You may believe that post-renovation cleaning services and deep cleaning services are interchangeable. They are, however, not, and we are going to explain why. The key difference between the two is the aim – post-renovation cleaning will remove industrial waste, debris, filth, and dust from your property and prepare it for your arrival. For the particular waste type, specialised tools and equipment will be utilised. Meanwhile, the deep cleaning focuses on regularly-overlooked places ensuring that every inch of the home is in pristine condition. Our cleaning professionals will use effective, high-quality cleaning solutions to ensure complete removal of grease, buildup, mildew, and general filth during the deep cleaning process.
Our Professional After Builders Cleaning Process
To ensure that we deliver high quality results, we provide our cleaners with thorough lists containing all steps that they should take when performing a service. That way, you may rest assured that nothing has been neglected and overlooked. We will use all our skills and knowledge, as well as professional tools and products to eliminate all signs of dust, grime and stains from every corner of your property.
The cleaning service includes dust and stain removal, vacuuming of carpets and upholstery, polishing and disinfection of various surfaces (wooden and glass), disinfection and organisation. The home will be ready for your arrival. Here is what to expect:
The cleaning experts will carefully inspect the entire property and its condition. They will select the most suitable cleaning methods that will resolve all problems in the best way possible.
All waste and particles that are too large for the vacuum cleaner will be collected and disposed of by the cleaners.
The property's items of furniture and surfaces will be cleaned down and dusted. Materials that are compatible with the materials will be used.
High quality tools will be used in order to remove all fine dust from all areas of the property.
Paint, grout, concrete, and other stains will be properly removed from all surfaces.
Using proper cleaning products, all wood surfaces and furniture will be cleaned and polished.
Glass and tile surfaces in the kitchen and bathroom will be cleansed and polished.
After vacuuming all carpets and rugs using a special vacuum cleaner, the experts on our team will mop your floor.
Faucets, light switches and door handles will be disinfected and the home will be ready for you.
Request a Custom Cleaning Service quote
When on the phone with our customer support representative, provide them with information about the service you would like to receive. You will be provided with a custom price quote that will be estimated for you based on all the additional services you booked, as well as the size and condition of your property. We will also provide you with a bill. That way, you will be able to see everything you are being charged for.
We promise that with our professional cleaning machines and our ultramodern cleaning products you won't have to worry about any dust or dirt left in your property.
Customer satisfaction is a must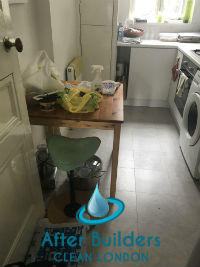 If the renovation doesn't meet your dream visions, just wait until we've finished cleaning your property – we'll make your home a dream come true. Contact us and book our professional after builders cleaning services today, we're available in Lee only.
We aim to please our clients at all costs. That's why our after builders cleaning services are customizable – we assure you we can clean anything in the world, just say it.
"When the builders left our home we were exhausted and decided to use a professional company to bring our renovated home in order. A friend said that your cleaners are real specialists at after builders cleaning. I called you and on the next day I saw the high results of your work for myself. – Sam"
Eradicate the building site from your home
We'll go room by room through your property and we'll vacuum, polish, dust and declutter every inch without exceptions.
When we finish, not only the renovated are will look brand spanking new, but your entire property, too. Contact us today and book our professional after builders cleaning services. We can be found in Lee.
"I heard about your company from someone, who is very satisfied with your after builders cleaning. I am glad I gave it a try because your cleaners saved me a lot of efforts. It would have taken me days to accomplish what they did just for a couple of hours. – Robert"