Our professional after builders cleaning service is located in Kingsbury and we are available for all its residents. Do not burden yourself with cleaning all the mess by yourself, you probably won't get it all off. After builders cleaning requires special care and attention, we know where to look for the dirt and how to clean it properly as well as disinfect your home and premise.
We believe our diligent team of technicians possess the needed qualifications to completely and thoroughly clean and sanitize your property. With us you do not have to worry that your property might still be dirty or contaminated from the work the builders at your home have done.
Why are we the best after builders cleaning service in Kingsbury
Domestic Cleaning Prices
After Builders Cleaning
One Off Cleaning
Deep Cleaning
Regular Cleaning
from £23
£22
£22
£20
We believe we are the most qualified of all cleaning services to effectively carry out all the cleaning at your place. All of our cleaning technicians have underwent special training and background checks.
After Builders Cleaning vs Deep Cleaning: What's the Difference?
A lot of people mistake the after the builders cleaning service for a deep cleaning one. Despite the fact that they both entail thorough cleaning of all areas and surfaces of the property, they serve completely distinct functions. The thorough cleaning is intended to restore the cleanliness of the home by cleaning and disinfecting hard-to-reach regions. The goal of the after builders cleaning solution is to remove industrial waste, dust, and stains from the property and prepare it for your return. Furthermore, the procedures and goods employed throughout these treatments will be very different. The products are all non-toxic and biodegradable, but during the post-renovation service, our cleaning professionals will use specific, professional grade instruments to make sure that everything that may cause irritations has been thoroughly removed.
Our Professional After Builders Cleaning Process
To be able to deliver excellent results to all our customers, we offer complex cleaning solutions involving many steps and tasks. We generate a task list for all cleaning teams which they follow throughout the entire cleaning process. That way, no chores are left overlooked or ignored and we are certain that the best outcomes have been provided to our customers. All dust and grime will be removed from the entire property.
We offer dust, stain and grime removal from various surfaces such as carpets, upholstery, wooden and glass items, as well as organising, vacuum cleaning and disinfection of every corner of the property. Your home will be clean and ready for your arrival.
Our cleaning team will carefully inspect your home, the stains and the particular materials will be treated with suitable cleaning methods and solutions. That way, maximum efficiency is guaranteed without causing any damage.
All trash and industrial waste will be collected and disposed of at the very beginning of the cleaning service.
Various surfaces and furniture pieces will be carefully wiped down with high quality cleaning solutions.
High quality tools will be used in order to remove all fine dust from all areas of the property.
Every surface with stains will be scrubbed and left spotless.
Our cleaning professionals will polish all wooden surfaces in the house with appropriate materials.
Hard surfaces such as tile, concrete, metal or plastic will be scrubbed and polished.
Carpets and upholstery will be vacuum cleaned with a special professional vacuum cleaner. The entire floor will be mopped.
To finish the service and prepare the property for you, our cleaners will disinfect every item and surface.
Request a Custom Cleaning Service quote
To customise the service even further, we will also provide you with a price estimate that has been customised for you. You may rest assured that you will know exactly what you are being charged for. We will estimate the cost of the service based on the size of your property, as well as the many different tasks you chose to include as part of your project. No hidden charges will be further placed on your bill.
We are very serious about what we do, we would never employ somebody with a criminal record or somebody who is not a real, trained professional in the cleaning business.
Our diligent technicians coupled with the best cleaning equipment on the market is a sure credential for efficient, outstanding cleaning results.
No danger of contaminating your property with chemicals used in the cleaning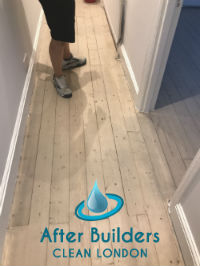 In order to keep you safe and your home chemicals free, we use only environment friendly cleaning materials. They are a special blend that we have chose specially because it does not contain any chemicals or pathogens that can represent danger to you, your family and your home.
The cleaning materials that we use, being completely chemicals free are just as effective as the regular chemicals based ones. The only difference is that ours will not in any way bring harm to you or the environment.
"I enjoyed the results this post builders cleaning service gave me. I paid a very reasonable amount of money and I was a bit surprised when they came. They were fully equipped and cleaned carefully and when they left my house was sparkling clean. I will recommend them to friends. – Julie"
Fast and easy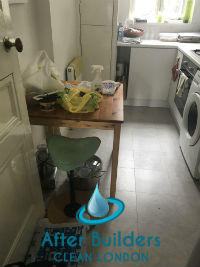 By hiring our team to carry out the after builders cleaning duties at your home you gain more free time for yourself, you save lots of energy and nerves and the most important thing is you receive top notch, excellent and impeccable cleaning results like nowhere else in Kingsbury.
"I have already recommended this service to some friends. I was very pleased with the results they gave me. I had a renovation in the upstairs bathroom and they managed to clean the entire second floor and staircase. Everything was great and the price for the after builders cleaning service was very fair. -Nick"