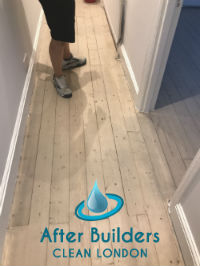 Renovating and cleaning go always hand in hand. In case you have some builders work done in your home or office recently, our company is here to provide you with the professional post-builders clean up that you need. Regardless of the size of the construction project, for us the work in never too less or too much.
We have been cleaning post builders for several years already. This experience helped to gain a profound knowledge in the area as well as better understanding of what our customers in Kentish Town actually need. Today we are able to offer you a cleaning solution in relation to your individual needs and 100 per cent customer satisfaction.
A service of great value for every client
Domestic Cleaning Prices
After Builders Cleaning
One Off Cleaning
Deep Cleaning
Regular Cleaning
from £23
£22
£22
£20
In order to deliver adequate cleaning solutions to our valued customers, we have developed a cleaning package that includes a profound cleaning of absolutely every area in a renovated property.
During the cleaning session, all room will undergo a top to bottom cleaning. Plus, overall removal of dust and construction debris will take place.
After Builders Cleaning vs Deep Cleaning: What's the Difference?
If you think that the deep cleaning service and the post renovations one are quite similar, you are mistaken. Even though both of them include thorough cleaning of all areas and surfaces of the property, they have very different purposes. The deep cleaning aims to revive the cleanliness of the home by cleaning and disinfecting hidden and easy to miss areas. The after builders cleaning solution's purpose is to eliminate industrial waste, dust and stains from the property and prepare it for your return. What is more, the techniques and products that will be used during both services will be completely different. All of them are non-toxic and biodegradable, however, during the post-renovation service, our cleaning experts will utilise special, professional grade tools to be able to get rid of all hard to remove dust and grime.
Our Professional After Builders Cleaning Process
To guarantee that we offer high-quality outcomes, we provide our cleaners with detailed lists outlining all of the processes they must take when executing a service. That way, you can be confident that nothing has been forgotten or ignored. We will utilise all of our expertise and experience, as well as professional tools and materials, to remove all traces of dust, filth, and stains from all areas of your house.
The cleaning service comprises dust and stain removal, vacuuming of carpets and upholstery, polishing and disinfecting of various surfaces, whether they are made of wood or glass, disinfection, and organising. The house will be ready for your arrival. Here's what to expect:
Your property will be carefully inspected and the most suitable products and tools will be used to treat the particular stains you have at home. You may rest assured that the best outcomes will be provided.
All industrial waste and debris will be collected and disposed of, leaving the property clear and ready for the service.
To clean all surfaces and furnishings, the cleaning professionals will use effective professional grade cleaning materials.
Powerful machines will be used to remove all of the fine dust that has been left all over your property.
Stains will be completely eliminated. No paint, grout or glue will be left behind on ay of the surfaces at your property.
Our cleaning professionals will clean and wipe down any wooden surfaces with wood-safe solutions.
Scrub and polish hard surfaces such as tile, concrete, metal, or plastic.
Floor cleaning, vacuuming and mopping. Including all carpets, rugs and even upholstery.
The property will be disinfected, organised and prepared for when you are ready to move back in.
Request a Custom Cleaning Service quote
The price for the service you receive will be estimated personally for you. All cleaning tasks that you decided to add to your service, and the size of your property will affect the cost of your project. A bill will be generated for you and you will know exactly what you are paying for. Once you receive the price estimate, the number will be final.
In case any areas of your home require more attention, we invite you to share them with us. We believe that every property demands a unique cleaning approach and it is our mission to ensure it. With us you are guaranteed to receive personal attention and after builders cleaning in accordance with the highest quality.
About our highly qualified cleaning personnel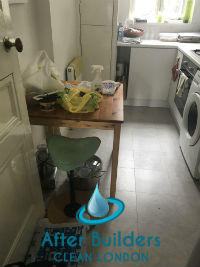 Especially for the needs of our clients in Kentish Town, we have gathered in a team plenty of hard-working and knowledgeable individuals. For client's peace of mind, all of them are professionally trained and armed with up to date cleaning equipment.
Once in your property, they will get to work and clean in detail every area for several hours. We are certain that you will find working with our qualified representatives really beneficial.
"Your cleaners have just finished with the after builders cleaning in our house and I am excited to share with you how satisfied I am with their work. Now there are no thick layers of dust and paint marks at home. Thanks to their efficient cleaning, everything is spotless. – Miriam"
Smart cleaning solutions for individuals and business contractors in Kentish Town
Why do you need to spend days scrubbing building residue if our dedicated cleaners can clean deeply your whole property in a prompt and efficient manner? You can book after builders cleaning with us 7 days per week and we promise that our team will be on your doorstep at the first convenient time for you.
"The builders finished the renovation project in our house and everything was covered with dust. My brother recommended you and I book your after builders cleaning services. Your cleaners made a wonderful performance. All the building waste was removed from my home fast and efficiently. Well done! – Wendy"