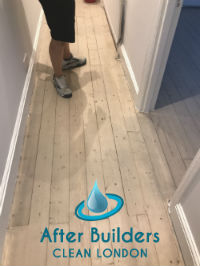 Doing a home renovation is the perfect way to move houses without actually moving houses. By simple renovation, you can enhance the appearance of your home greatly and fit it to your necessities and preferences.
However positive and nice doing a home renovation is, turning your home into a building site isn't. Even if you're renovating just a small corner of your property, you'll still face a lot of dirt and clutter that needs cleaning.
Experienced and professional
Domestic Cleaning Prices
After Builders Cleaning
One Off Cleaning
Deep Cleaning
Regular Cleaning
from £23
£22
£22
£20
Did you know that your home is filled with 50 times more toxic elements after a home renovation than it is prior to spring cleaning?You should know that you'll be unable to clean all dirt yourself, too.
Because dirt and clutter won't stay in a corner, but spread throughout your property and cleaning it will require time and knowledge.
After Builders Cleaning vs Deep Cleaning: What's the Difference?
A lot of people mistake the after the builders cleaning service for a deep cleaning one. Despite the fact that they both entail thorough cleaning of all areas and surfaces of the property, they serve completely distinct functions. The thorough cleaning is intended to restore the cleanliness of the home by cleaning and disinfecting hard-to-reach regions. The goal of the after builders cleaning solution is to remove industrial waste, dust, and stains from the property and prepare it for your return. Furthermore, the procedures and goods employed throughout these treatments will be very different. The products are all non-toxic and biodegradable, but during the post-renovation service, our cleaning professionals will use specific, professional grade instruments to make sure that everything that may cause irritations has been thoroughly removed.
Our Professional After Builders Cleaning Process
The cleaning crew will come to your place fully prepared with all equipment and supplies necessary to produce high-quality results. They will adhere to thorough task lists that include all jobs that must be completed as part of the service. They will accomplish excellent results thanks to the strong cleaning solutions and professional quality tools and gadgets.
Dust cleaning and stain removal will be performed, as well as complete cleansing and disinfecting of all furniture, floors and surfaces. The following is a list of the basic duties that will be performed throughout your service:
Our cleaning team will carefully inspect your home, the stains and the particular materials will be treated with suitable cleaning methods and solutions. That way, maximum efficiency is guaranteed without causing any damage.
To prepare your home for the service, our cleaners will remove waste and debris from the entire property.
Various surfaces and furniture pieces will be carefully wiped down with high quality cleaning solutions.
To remove all fine dust from all sections of the property, high-quality instruments will be employed.
All surfaces will be freed of stains left behind by concrete, grout, glue, paint or other materials.
We will clean and polish all wooden surfaces in your property without causing damage.
Scrub and polish hard surfaces such as tile, concrete, metal, or plastic.
The cleaners on our team will mop your floor after vacuuming all carpets and rugs using a special vacuum cleaner.
The property will be disinfected, organised and prepared for when you are ready to move back in.
Request a Custom Cleaning Service quote
To further personalise the service, we will also present you with a pricing estimate that has been personalised for you. You may be confident that you will be aware of exactly what you are being charged for. We will estimate the cost of the service based on the size of your property and the numerous chores you have chosen to include in your project. There will be no further charges added to your statement once the cost has been determined.
Book My Cleaning Today
Whenever you do a home renovation, don't miss to book our services for the cleaning process afterwards. We are the best after builders cleaning company in Hornsey. Call us now.
After Builders Cleaning for the following area Hornsey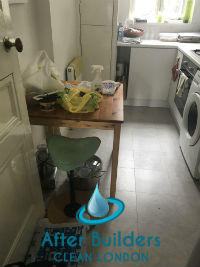 All the years we've been working side by side with building companies have taught us exactly which areas are left dirtiest when builders leave and we take extra care cleaning those. We will make sure that not a single speck of dust stays on your carpet, we'll eliminate paint stains, building rubbish and we'll also sanitize your bathrooms.
"This service was recommended to me by a dear friend and I was very ecstatic when I saw the result they gave me. They did a very nice job deep cleaning my apartment after I had the bathroom and the kitchen renovated. Now everything looks perfect. -George"
We'll eradicate the building site from your home and let you enjoy your new, modernized space. Call us now and book, we're available in Hornsey.
The greatest cleaning enthusiasts in N8
Our team is made up of the greatest cleaning enthusiasts in Hornsey. Each of them has more than three years of experience in the field of after builders cleaning. They aren't able to simply clean your home, but sanitize it completely without exceptions.
Timely service
Amazing thoroughness
Use of ultramodern tools only
Guaranteed elimination of all building rubbish
"I could not thank your company enough for your great after builders cleaning service. I just had my house cleaned by your cleaners and they did a splendid job. They were very thorough and helped me greatly. My house looks spotless now thanks to their hard work. Thanks for everything. – Daria"
Contact us today and book our professional after builders cleaning services if you want to have a clean and fresh home as soon as the renovation process ends. We won't disappoint you, we promise.