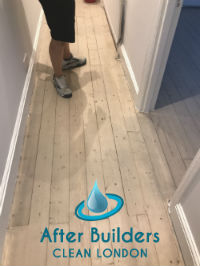 Repainting and shifting furniture surely brings a new look to your home, but even such simple things lead to dusty and cluttered property. And when you're doing a thorough renovation of your home, the all-important cleaning afterwards becomes truly necessary.
If you book our professional after builders cleaning services, however, you won't have to worry about any building rubbish or dirt in your property. We'll remove all rubbish and clutter quickly and efficiently from your home. We offer professional after builders cleaning services throughout the week, only in Barnsbury. We have more than five years of experience in the field of after builders cleaning and we guarantee perfect results without exceptions
We'll make your renovated property shine
Domestic Cleaning Prices
After Builders Cleaning
One Off Cleaning
Deep Cleaning
Regular Cleaning
from £23
£22
£22
£20
If your property hasn't been properly cleaned after a renovation, it won't fit your dream vision even if you modernized it exactly as you wished. What's more, cleaning up after builders isn't only important for the enhancement of your home, but also for its purification.
After Builders Cleaning vs Deep Cleaning: What's the Difference?
While deep cleaning of the property and cleaning after renovations are similar and can be easily mistaken, they are very different. The main idea is to thoroughly clean and disinfect all areas and surfaces. However, the deep cleaning involves corners that are often neglected while the post renovations cleaning is more about the proper removal of industrial waste and dust, as well as toxic debris that may be causing allergic reactions or irritations. The other big difference is the tools and products used in both of those tasks. DUring the deep cleaning service, high quality non-toxic products will be used to eliminate dust, mould, bacteria and others. When performing the after builders cleaning service our cleaning experts will use specific devices that will get rid of all fine dust and industrial debris.
Our Professional After Builders Cleaning Process
The cleaning crew will come to your place fully prepared with all equipment and supplies necessary to produce high-quality results. They will adhere to thorough task lists that include all jobs that must be completed as part of the service. They will accomplish excellent results thanks to the strong cleaning solutions and professional quality tools and gadgets.
Dust cleaning and stain removal will be performed, as well as complete cleansing and disinfecting of all furniture, floors and surfaces. The following is a list of the basic duties that will be performed throughout your service:
The cleaning experts will carefully inspect the entire property and its condition. They will select the most suitable cleaning methods that will resolve all problems in the best way possible.
The cleaning procedure starts once the skilled professionals have removed all rubbish, industrial debris, and other dirt.
Furniture throughout the room will be thoroughly cleaned inside and out with suitable cleaning products.
High quality professional cleaning devices will be used for the proper removal of fine dust.
The cleaners will scrape off and remove any stains (paint, concrete, glue, and so on).
All surfaces and furniture made of wood will be cleaned and polished using appropriate cleaning solutions.
All hard surfaces, including glass tile and metal, will be cleansed and polished.
Vacuuming of carpets and upholstery, followed by sweeping and mopping the entire floor.
The property will be disinfected, organised and prepared for when you are ready to move back in.
Request a Custom Cleaning Service quote
Share details about the service you want to obtain when you call our customer service agent that will be assisting you. You will be given a custom pricing quotation that is based on all of the additional services you have ordered, as well as the size and condition of your property. We will also issue you a bill. You'll be able to view everything you're being charged for. Once you receive your custom price estimate, the number will stay the same. No hidden charges will occur.
Sanding, for example, leads to really bad indoor air quality and most building rubbish is highly toxic. If left uncleaned, it will undoubtedly lead to health problems.
Affordable After Builders Cleaning Services in N7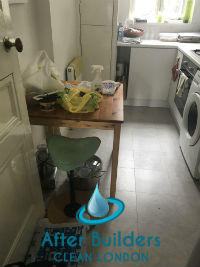 We will help you clean your property, just call us and book as soon as builders leave. We have experience and our technicians are professional.
Each of them has experience in the building and cleaning business and we guarantee not only efficient cleaning of your property, but also elimination of any building errors such as paint stains on flooring. Contact us and book today, we're available in Barnsbury.
"I used this after builders cleaning service last month when I had my bedroom renovated and I can say that this company and their service deserve the highest ratings. They are quick, prompt, reliable and have affordable rates which is why I chose them. I recommend them! – Michael"
Customer-satisfaction oriented
We aim to please our clients at all costs and we want to be available whenever you need us. And that's why we're working throughout the week, including on bank holidays.
Appealing performance-price ratio
Elimination of all building rubbish
Use of professional equipment and detergents
Availability throughout the week and even on bank holidays
Deep cleaning of your entire property, not only the renovated area
"My kitchen was recently redecorated and I was in shock when I saw how dirty it was when everything was over. I booked this after builders cleaning service right away and they were very prompt and helpful. The team was soon at my doorstep and cleaned my home to a high standard. – Lily"
Alleviate yourself of our professional after builders cleaning services. We're based in Barnsbury and we won't disappoint you, guaranteed.