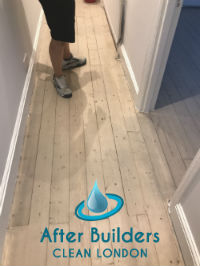 We're sure you know what you should do after you finish renovating your property – clean it.
It doesn't matter if you're the one renovating your property or you're booking professionals for it – dirt and dust is inevitable. You've seen building sites, right? Your home will look exactly the same – dirt, dust and even mud in all corners of, building rubbish everywhere, and just one person to clean it all – you.
No more toxic dust
Domestic Cleaning Prices
After Builders Cleaning
One Off Cleaning
Deep Cleaning
Regular Cleaning
from £23
£22
£22
£20
It doesn't have to be that way. You can have a spotless home if you just book our services as soon as the renovation process is over. Our company offers the best after builders cleaning services in Edmonton.
After Builders Cleaning vs Deep Cleaning: What's the Difference?
The after-builder cleaning service can at times be confused with the thorough cleaning service. However, there are important distinctions between the two, which we will get into for you. During the deep cleaning service, your property will be completely cleaned and disinfected (this includes hidden places that are sometimes overlooked). When it comes to post-renovation cleaning, expect the cleaning staff to efficiently remove any industrial waste, fine dust, and other filth. The specialists will use specialised tools and procedures to remove all dirt that prevents you from enjoying your newly refurbished house. Strong solutions that dissolve grease and dirt are used during the deep cleaning procedure – they are different from the ones used during the post renovation service, making this another significant difference.
Our Professional After Builders Cleaning Process
We provide detailed task lists that include all tasks that must be completed as part of the service. Our cleaning professionals closely follow them to guarantee that everything is completed successfully. We can ensure the process's success by doing so because the service is complicated and comprises several jobs. We will choose the most suited crew and supply them with everything they will require to remove any dust and filth.
You may be confident that stains, paint, and garbage will be removed from all corners and surfaces of the property. We have provided you with a list of the basic tasks that will be performed as part of your project. Find it below.
The cleaning professionals will thoroughly check the entire house and its condition. They will choose the most appropriate cleaning procedures to tackle any problems without causing damage.
All waste and particles that are too large for the vacuum cleaner will be collected and disposed of by the cleaners.
Furniture throughout the room will be thoroughly cleaned inside and out with suitable cleaning products.
If there is a lot of fine industrial dust, we will utilise special equipment to get rid of it entirely.
Every surface with stains will be scrubbed and left spotless.
Wooden furniture, tables, skirting boards and door and window frames will be polished with a suitable product.
Glass and tile surfaces in the kitchen and bathroom will be cleansed and polished.
Vacuum all carpets, rugs and upholstery, as well as mop the whole surface of the floor.
Thorough disinfection of all surfaces will take place at the end of the cleaning service.
Request a Custom Cleaning Service quote
When on the phone with our customer support representative, provide them with information about the service you would like to receive. You will be provided with a custom price quote that will be estimated for you based on all the additional services you booked, as well as the size and condition of your property. We will also provide you with a bill. That way, you will be able to see everything you are being charged for.
Maybe you've heard the words 'toxic dust' but do you know what they mean? Toxic dust are all microscopic dust particles which contain allergens or other toxic particles.
Professional Builders Cleaning Services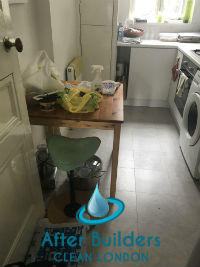 Although very small, those can cause serious health problems. Toxic dust is inevitable when renovation is in progress and that's why you make sure that the after builders cleaning company you're booking is able to eliminate it.
Our long experience has taught us that toxic dust accumulates not only on all surfaces in your home, but also in the air. That's why our ultramodern cleaning gear includes special tools for cleaning of air vents and the like – we'll purify the air in your property at all times.
"I had my entire house cleaned by this company's after builders cleaning service. I had builders on the second floor but they managed to drag dirt and dust all over the house. The team was great. The major renovation was in the bathroom and it was the dirtiest place but the team left it immaculate. – Robert"
We'll eliminate toxic dust from your property once and for all. Rely on our help and you won't regret it, we operate in Edmonton.
Reliable cleaning services
Rely on us to deliver a deep cleaning of your entire property as soon as builders leave your property. Our technicians are experienced and capable. We promise nothing but perfect results.
If we fail to deliver the professional service we offer, within 48 hours we'll return and re-clean your entire property, free of charge.
Mind-blowing performance-price ratios
Availability throughout the week
Use of adequate tools
Professionalism
Always on time
"My after builders cleaning service was also very fairly priced and I would like to recommend this company as well. They are helpful and the team was very prompt and detailed in their work. They paid much more attention to details than I would have. Great service! -Paola"
Rely on us to eliminate all building marks from your property quickly and efficiently. Our professional after builders cleaning service is available in Edmonton only.