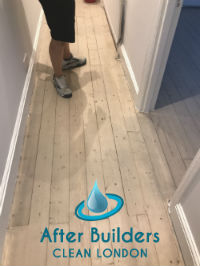 Every renovation project is linked with a certain amount of dust. Even if it goes about a simple refreshing. The most reliable way to sanitise your refurbished property is by hiring a professional cleaner and this is where our company can help you. We have been serving individuals and business contractors in Harringay for years.
Be it just a small painting project or a serious overhaul, we have the necessary manpower and professional equipment to sanitise every renovated property. What we offer our valued customers is a service that includes deep cleaning of every room and ensures a high level of hygiene.
Peace of mind and 100 per cent customer satisfaction
Domestic Cleaning Prices
After Builders Cleaning
One Off Cleaning
Deep Cleaning
Regular Cleaning
from £23
£22
£22
£20
We are fully aware of the fact that by booking a professional after builders cleaning clients expect scrupulous cleanliness. For this reason, all our representatives undergo indoor training. This enables them to use specialised cleaning methods and eliminate quickly all types of builders leftovers.
After Builders Cleaning vs Deep Cleaning: What's the Difference?
The after the builders cleaning service is often confused with the deep cleaning one. However, there are significant differences between the two and we are about to tell you about them. Your property will be thoroughly cleaned and disinfected during the deep cleaning service ( that includes hidden areas that are usually missed). When it comes to the post renovation cleaning service, expect all industrial waste, fine dust and other grime to be efficiently removed by the cleaning crew. The professional experts will be using specialised tools and methods in order to eliminate all filth that prevents you from enjoying your freshly renovated property. This is another important difference since during the deep cleaning service powerful solutions that dissolve grease and grime and are different from the ones mentioned above will be used.
Our Professional After Builders Cleaning Process
To be able to deliver excellent results to all our customers, we offer complex cleaning solutions involving many steps and tasks. We generate a task list for all cleaning teams which they follow throughout the entire cleaning process. That way, no chores are left overlooked or ignored and we are certain that the best outcomes have been provided to our customers. All dust and grime will be removed from the entire property.
We offer dust, stain and grime removal from various surfaces such as carpets, upholstery, wooden and glass items, as well as organising, vacuum cleaning and disinfection of every corner of the property. Your home will be clean and ready for your arrival.
The first step of the cleaning service is the thorough inspection of the property and its condition. That will help the cleaners select a suitable and efficient cleaning method that will help them achieve fantastic outcomes.
To prepare your home for the service, our cleaners will remove waste and debris from the entire property.
The property's items of furniture and surfaces will be cleaned down and dusted. Materials that are compatible with the materials will be used.
The cleaners will use high quality cleaning devices to remove all fine industrial dust left behind.
Our experts will clean all surfaces, eliminating paint or other product stains.
Using proper cleaning products, all wood surfaces and furniture will be cleaned and polished.
Tile, metal and glass surfaces will be deep cleaned and left immaculate.
using a professional vacuum cleaner, our experts will hoover all carpets and rugs. The floor will be mopped.
Thorough disinfection of all surfaces will take place at the end of the cleaning service.
Request a Custom Cleaning Service quote
Your booking agent will estimate a price for your cleaning service. The final price will be estimated personally for you based on the various different cleaning tasks that you decide to book as part of the project. To make sure that you know exactly what you are being charged for, we will also supply you with a bill. Everything you will be paying for will be there. No additional charges will occur.
In addition to this, our qualified cleaners are supplied with the latest cleaning solutions, which adds to the high results of their work. After their performance, every nook and cranny of your renovated property will be completely free of grime.
First class after builders cleaning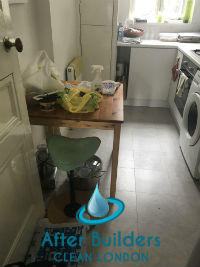 Especially for the needs of our clients in Harringay, we have developed a service that includes comprehensive cleaning of all rooms in a property, thorough hoovering, washing hard floors, overall removal of building leftovers such a paint marks, glue stains, etc.
"We ordered the after builders cleaning provided this company to ensure the habitable and dust-free condition of our renovated bathroom and hallway. The cleaners who came did effective sanitising which made the rooms spotless and ready to be used. They saved us the time and efforts which brought the best possible results. – Oliver"
As every property requires a different cleaning approach, we invite you to share any priority areas with us in advance. This will only help us deliver you a cleaning solution in relation to your individual needs.
Reliable cleaning solutions available all over Harringay
Our after builders cleaning proves to be suitable for every need and it couldn't be the other way round because our clients deserve nothing but a service of value and this is what we give them.
"We repainted our house's external walls and the doors of some of the rooms. After we completed the work there were paint splatters everywhere inside and outside the house. We used your after builders cleaning which had impressive results and made the property spotless and impeccable in a few hours. – Riley"
If you also want to see the high results of our work, don't miss to give us a call. We have the necessary manpower and cleaning arsenal to handle any post-construction cleaning project.