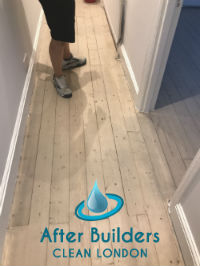 We offer you unequalled after builders cleaning service. Our company is based in Finchley and we are proud the be the most booked cleaning firm in the entire region. Whenever you need a professional assistance with your post builders cleaning services, you can always choose us.
We have been around for considerate amount of years and we have rich experience in cleaning dirt and stains of any nature.
The cleaners who work for us are specialists and have passed training courses to enable them to cope with any task and challenge quickly and in the best possible way. They are provided with the most modern specialised equipment and have specially selected powerful supplies which are nature friendly and toxin-free. You can rest assured because they are absolutely safe for you and for your premise.
Experts in the after builders cleaning
Domestic Cleaning Prices
After Builders Cleaning
One Off Cleaning
Deep Cleaning
Regular Cleaning
from £23
£22
£22
£20
We are fully aware of the massive chaos that is usually waiting to be eliminated after a refurbishment or some installation. Sometimes it can be so difficult to clean it as paint spills or glue stains, for example, need special treatment. To make your life better and easier, book with our highly professional after builders cleaning services.
After Builders Cleaning vs Deep Cleaning: What's the Difference?
Deep cleaning and after builders cleaning may appear to be the same thing, but they are not, and we will explain why. The deep cleaning service includes cleaning and disinfection of all corners of the property (particularly those that are frequently disregarded during the normal cleaning schedule). The post-renovation cleaning service concentrates on removing fine dust and industrial debris that the cleaning crew has left behind that may cause allergies or other health issues. Another notable distinction is the techniques employed for both services. Deep cleaning involves the use of powerful cleaning solutions that dissolve buildup and filth, whereas after the builders cleaning requires the use of professional grade instruments to efficiently remove any rubbish, stains, grime, and debris that prevent you from enjoying your home.
Our Professional After Builders Cleaning Process
We guarantee the excellent quality of the services we provide and try hard to exceed our clients' expectations. To guarantee that each stage is accomplished, we follow a rigorous and sophisticated process. Furthermore, we employ a variety of specific equipment, procedures, and cleaning solutions which help us improve the quality of the final results.
Scrubbing, polishing, and disinfecting all surfaces around the property, dust and grime removal, special surface cleaning, floor care, and other chores related to this sort of cleaning are all part of the comprehensive cleaning of your property following renovations. Here are some of the basic duties that will be performed:
Before the actual cleaning begins, the cleaning experts will carefully inspect the area. They will pick the best cleaning solutions and methods that will work best for the type of stains and grime you have at home.
All industrial waste and debris will be collected and disposed of, leaving the property clear and ready for the service.
Furniture and other dusty surfaces will be wiped down and thoroughly cleaned with suitable solutions.
The large amount of fine dust left behind all over your property will be eliminated with powerful devices.
Stains will be completely eliminated. No paint, grout or glue will be left behind on ay of the surfaces at your property.
All wood furniture, window sills, skirting boards, and other surfaces will be cleaned and polished.
All hard surfaces, including glass tile and metal, will be cleansed and polished.
Our specialists will hoover all carpets and rugs using a professional vacuum cleaner. The floor will be washed.
The property will be prepared for your arrival and all door handles, remotes and light switches will be sanitised.
Request a Custom Cleaning Service quote
When on the phone with our customer support representative, provide them with information about the service you would like to receive. You will be provided with a custom price quote that will be estimated for you based on all the additional services you booked, as well as the size and condition of your property. We will also provide you with a bill. That way, you will be able to see everything you are being charged for.
Since we have created these services, there is no more need to worry about anything. We can guarantee for exceptional results and flawless cleanliness after our cleaners are done performing their miracles.
Customisable after builders cleaning services in Finchley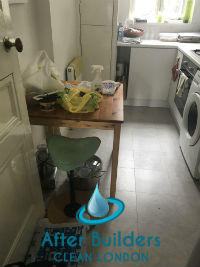 For us it does not matter if just a single room has undergone some repairs or the entire property, we will apply proper cleaning either ways. If you have special requests, we ready to meet them because our customers' opinion and needs always come first.
"We used this company's services to ensure the hygienic and spotless condition of our extended house. The new rooms were cleaned of the dust, cement and construction leftovers by your staff who used specialised and effective preparations and machines for this purpose. We are very happy with their cleaning work.- Ryan"
Hundreds of customers in Finchley already made us their cleaning supplier and even recommend us through the area. We want to prove to you as well that we are the best after builders cleaning supplier.
Make the right choice and book with us
We are flexible with working hours and dates so whenever you need our services, feel free to give us a call and book an appointment. You can count on us.
"We needed professional help with the cleaning of our living room after replacing the wallpapers and fixing the leak in the radiators. The after builders cleaning we received from your staff was cost-effective and ensured the spotless and habitable condition of the room. Your cleaners removed the dust, wastes and dirt from the room. – Hayden"