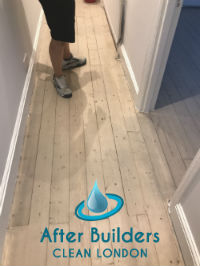 Sanitising a renovated property is a difficult activity especially if it goes about a major construction project, so better leave it to the experts. Our company is able to provide you with a professional after builders cleaning in the entire Finsbury and we are certain that you will be really pleased with the final result.
What we offer is a high-quality cleaning service that saves you time and efforts. We will send you a mobile team of capable cleaning experts to implement the job in a prompt and efficient manner. After their performance, every area of your renovated home will be completely free of dust
Personal attention and customised cleaning solutions in Finsbury
Domestic Cleaning Prices
After Builders Cleaning
One Off Cleaning
Deep Cleaning
Regular Cleaning
from £23
£22
£22
£20
With us you don't need to worry about results because our after builders cleaning package is comprehensive enough to ensure a high level of hygiene. During the cleaning session, every room will be deeply cleaned and rid of building waste. All floors will be thoroughly hoovered and washed as well as dust will be removed from every hidden area.
After Builders Cleaning vs Deep Cleaning: What's the Difference?
A lot of people mistake the after the builders cleaning service for a deep cleaning one. Despite the fact that they both entail thorough cleaning of all areas and surfaces of the property, they serve completely distinct functions. The thorough cleaning is intended to restore the cleanliness of the home by cleaning and disinfecting hard-to-reach regions. The goal of the after builders cleaning solution is to remove industrial waste, dust, and stains from the property and prepare it for your return. Furthermore, the procedures and goods employed throughout these treatments will be very different. The products are all non-toxic and biodegradable, but during the post-renovation service, our cleaning professionals will use specific, professional grade instruments to make sure that everything that may cause irritations has been thoroughly removed.
Our Professional After Builders Cleaning Process
We offer high quality cleaning services which involve a lot of different tasks and methods. To ensure their high quality, we provide our cleaning experts with detailed task lists which they follow throughout the service. The proper completion of everything is guaranteed – powerful cleaning products and high grade equipment will be used. You will be provided with wonderful results.
We will eliminate all harmful debris, dust and waste left behind by the renovation crew. Furniture and various surfaces in the room will be polished and disinfected. Find all basic tasks included in your service listed below.
Your property will be carefully inspected and the most suitable products and tools will be used to treat the particular stains you have at home. You may rest assured that the best outcomes will be provided.
To prepare your home for the service, our cleaners will remove waste and debris from the entire property.
All furniture pieces and other surfaces will be cleaned. The cleaners will use suitable cleaning products for the materials at hand.
To remove all fine dust from all sections of the property, high-quality instruments will be employed.
Paint, grout, and other substance stains will be scraped off and properly cleaned.
We will clean and polish all wooden surfaces in your property without causing damage.
Bathroom and kitchen hard surfaces will be thoroughly cleaned and disinfected.
using a professional vacuum cleaner, our experts will hoover all carpets and rugs. The floor will be mopped.
The property will be prepared for your arrival and all door handles, remotes and light switches will be sanitised.
Request a Custom Cleaning Service quote
When on the phone with our customer support representative, provide them with information about the service you would like to receive. You will be provided with a custom price quote that will be estimated for you based on all the additional services you booked, as well as the size and condition of your property. We will also provide you with a bill. That way, you will be able to see everything you are being charged for.
As a customer focused company, we give you the possibility to alter the package according to your individual needs. Our cleaners are always ready to leave their way of working aside and adapt to yours. After all, only you are aware of the specifications of your property.
After builders cleaning provided by trustworthy and hard-working cleaning experts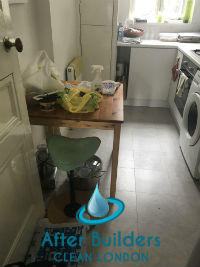 In order to deliver quality to our clients in Finsbury, we select individually the cleaners in our team, making sure they understand the importance of professional after builders cleaning.
Once in our team, all of them undergo comprehensive cleaning. This enables our operatives to eliminate all types of building waste in a prompt and efficient manner.
"We improved the condition of our basement by doing the necessary repairs and changes we had planned long time ago. Since we didn't want to bother ourselves with the cleaning of the place used your cleaning service which turned out to be highly effective and professional.- Christopher"
Being fully committed to their job, our cleaners always delegate the work in a sufficient manner and ensure exceptional standard of cleanliness. We guarantee that you also will find their cleaning methods pretty efficient.
A cleaning company of repute
There are many reasons why people prefer working with us. With us they don't need to worry about a single thing. We are open 7 days per week and reply quickly to every request. Plus, our prices are suitable for every taste.
"Our converted loft had to be cleaned of the dust, plaster and construction wastes left in it by the workers. Thanks to the trustworthy after builders cleaning we received from your company the place was sanitised from top to bottom and now is in perfect condition. We are very grateful to your cleaners for the professional work. – Ava"