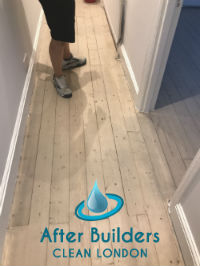 Cleaning a renovated property can be a real hassle, especially if it goes about a serious overhaul. Now, homeowners and business contractors in Hackney can count on our dedicated cleaning experts for that. We are a well-established cleaning company with vast experience in after builders cleaning.
With us you don't need to worry about a single thing. We are open also during the weekend and our prices are suitable for every budget. Share your expectations with our responsive office assistants and we will send you a mobile team of capable and hard-working cleaners to implement the job in a prompt and sufficient manner.
A cleaning service of high quality
Domestic Cleaning Prices
After Builders Cleaning
One Off Cleaning
Deep Cleaning
Regular Cleaning
from £23
£22
£22
£20
Especially for the needs of our customers in Hackney, we have created a professional service that ensures a high level of hygiene and saves time and efforts. During the cleaning session, our dedicated operatives will cover all must perform cleaning duties in a renovated property.
After Builders Cleaning vs Deep Cleaning: What's the Difference?
Even though the cleaning after renovations and the deep cleaning services are similar and readily confused, they are not the same. While the key objective of both is to clean and disinfect all places and surfaces properly, the thorough cleaning involves corners that are sometimes overlooked, whereas the post-renovation cleaning is more concerned with proper removal of industrial waste and dust, as well as toxic material that may be causing allergic responses or irritations. Another significant distinction is the equipment and products utilised in both jobs. To eradicate dust, mould, germs, and other contaminants, high grade non-toxic materials will be used throughout the deep cleaning service. When completing the after builders cleaning service, our cleaning professionals will utilise specialised equipment to remove debris and dust.
Our Professional After Builders Cleaning Process
Our cleaning services are comprehensive and include a wide range of cleaning jobs. To ensure that no cleaning duties are neglected, we supply our cleaning specialists with detailed work lists that they will adhere to during the cleaning surface. High-quality tools and supplies will be used, and you will receive the highest-quality final outcomes and your home will be prepared for you.
Fine dust and industrial debris will be removed from every nook and cranny of the room. Everything will be cleansed and the furniture will be shined. A list of all essential cleaning activities that will be included in your project is provided below.
To obtain the finest end results, our cleaning professionals will carefully choose the tools and solutions that will be used during the operation based on the stains and the materials of your furniture.
The cleaning process will begin when the professional experts get rid of all waste, large industrial debris and others.
All furniture pieces and other surfaces will be cleaned. The cleaners will use suitable cleaning products for the materials at hand.
High quality tools will be used in order to remove all fine dust from all areas of the property.
We will clean all materials removing stains left by paint or other products.
Appropriate substances will be used to polish wooden furniture, tables, skirting boards, as well as door and window frames.
All hard surfaces will be scrubbed and polished including glass tile and metal.
Vacuuming and mopping the floor. This includes all carpets, rugs, and upholstery.
The entire home will be organised, disinfected and ready for you to move back in.
Request a Custom Cleaning Service quote
Your booking agent will estimate a price for your cleaning service. The final price will be estimated personally for you based on the various different cleaning tasks that you decide to book as part of the project. To make sure that you know exactly what you are being charged for, we will also supply you with a bill. Everything you will be paying for will be there. No additional charges will occur.
They will eliminate the building leftovers, remove the thick layers of dust, wash the internal windows and much more.
In case you have any special requests, don't hesitate to share them with us. Our main objective is to satisfy your individual needs and the cleaning crew will always go the extra mile in order to deliver you a service of great value. Your satisfaction is our main priority.
About our cleaning personnel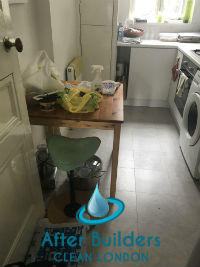 We understand that you as a homeowner would like to know more about the people who will clean your renovated home and rest assured that all cleaners in our team have passed extensive training, which enables them to apply specialised cleaning methods and deal with all types of building waste.
"We converted the rooms in our loft to use them as an extra bedroom and did some repairs in the bathroom as well. After completing the actual work, we were left with a lot of dust, dirt and debris. The after builders cleaning we received from your company had amazing effect. We can use the two rooms now without problems. – Olivia"
In addition, our representatives are using professional cleaning tools and top-quality detergents, which adds to the efficiency of their work. We are certain that you will find their performance excellent.
Your trusted cleaning contractor in Hackney
Book our professional after builders cleaning and have your renovated property cleaned entirely without lifting a finger. There is no need to worry over pricing. Our rates are more than fair. If you want to learn more about us, our friendly call centre representatives are anytime at your disposal. Grab the phone and give them a call.
"Recently I had my property renovated and this is why I booked an after builders service with your company. The cleaners arrived on time and did a great job. I am very delighted with the service your company provided and will definitely recommend you to friends and family. – Jake "