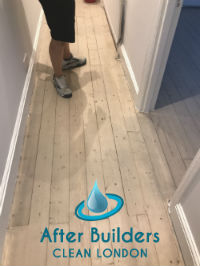 Look for us when you are done renovating. Builders sometimes leave a bigger mess than you can handle so our job is to give a helping hand for those who need it. The after builders cleaning service is available for homes, offices and public spaces.
The team providing this service are all professionally trained to get this job done properly and some of them already have previous experience in the Dalston industry, so it is safe to say that their next client is in safe hands.
The costumer support is outstanding
Domestic Cleaning Prices
After Builders Cleaning
One Off Cleaning
Deep Cleaning
Regular Cleaning
from £23
£22
£22
£20
For everyone who choses this service, they can contact costumer support if they are looking for more information or want to hire the service, they are available any day of the week.
After Builders Cleaning vs Deep Cleaning: What's the Difference?
If you think that the deep cleaning service and the post renovations one are quite similar, you are mistaken. Even though both of them include thorough cleaning of all areas and surfaces of the property, they have very different purposes. The deep cleaning aims to revive the cleanliness of the home by cleaning and disinfecting hidden and easy to miss areas. The after builders cleaning solution's purpose is to eliminate industrial waste, dust and stains from the property and prepare it for your return. What is more, the techniques and products that will be used during both services will be completely different. All of them are non-toxic and biodegradable, however, during the post-renovation service, our cleaning experts will utilise special, professional grade tools to be able to get rid of all hard to remove dust and grime.
Our Professional After Builders Cleaning Process
We guarantee the excellent quality of the services we provide and try hard to exceed our clients' expectations. To guarantee that each stage is accomplished, we follow a rigorous and sophisticated process. Furthermore, we employ a variety of specific equipment, procedures, and cleaning solutions which help us improve the quality of the final results.
Scrubbing, polishing, and disinfecting all surfaces around the property, dust and grime removal, special surface cleaning, floor care, and other chores related to this sort of cleaning are all part of the comprehensive cleaning of your property following renovations. Here are some of the basic duties that will be performed:
Our cleaning professionals will assess the issue in order to provide high-quality outcomes. The best methods, tools, and goods for the job will be chosen. Everything will be spotless.
To prepare your home for the service, our cleaners will remove waste and debris from the entire property.
The cleaning experts will use efficient professional quality cleaning products to clean all surfaces and furniture.
If there is a large amount of fine industrial dust, we will use special devices to eliminate all of it.
Paint, grout, concrete, and other stains will be properly removed from all surfaces.
Wooden furniture, window sills, skirting boards and other areas will be wiped down and polished.
Glass and tile surfaces in the kitchen and bathroom will be cleansed and polished.
Carpets and upholstery will be vacuum cleaned with a special professional vacuum cleaner. The entire floor will be mopped.
Items, such as light switches, door handles, remote controls and faucets will be sanitised.
Request a Custom Cleaning Service quote
The customer service representative you are working with will provide you with a price estimate for your cleaning service. The total price will be calculated for you depending on the many cleaning activities that you want to book as part of the project. We will also provide you with a bill to ensure that you understand precisely what you are paying for. Everything you will be charged for will be listed there. There will be no additional costs.
The team will introduce the callers to the after builders cleaning service from its hiring to the completion without missing a single detail that the caller needs to know.
After Builders Cleaning Services provided by professionals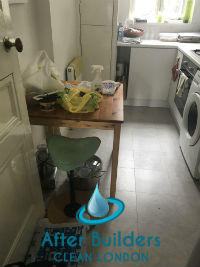 For the callers who have more questions, the team will provide them with any answer around the Dalston area. They make sure that there isn't a client who is unaware and confused of what they are paying for.
When the service gets hired, the cleaners are notified and they make sure to arrive at the client's home right on time. There is an appointment made and the cleaners take the appointments seriously.
The cleaners expect for the client or anyone from their household to be home, otherwise the cleaners have no other choice but to turn around and leave.
"Cleaning after a renovation has taken place is a very diffucult job. All that dust and dirt left by the builders, it was just a mess all over the place. I thought no one will be capable of restoring my property's previous appearance. Luckily, I stumbled upon your company and now my property is spotless. Well done! – Elizabeth "
Every single room is one-hundred percent clean after the cleaners are done
After the cleaners are in the client's home they will get down to work immediately. They will start working on one room and only move to the next one until the one they are in is completely clean.
They make sure to clean every existing thing in a room without missing even the more obscure areas and corners. The final results must be satisfactory.
We have provided our cleaners with the best choice of cleaning supplies in the Dalston market. They only use safe, healthy and Eco friendly products so that they don't put their health in peril and don't invade the client's home with unpleasant fumes.
"It is simply amazing what your company did with my property after the constructional work took place a few weeks ago. Your cleaners came and within a few hours everything was sparkling. I couldn't believe this was my house. I am interested in your other services as well as your prices are just incredible. – Mathew"