We all know that building something new or bringing something down in your house means a lot of cleaning after. Builders usually do not care about the mess they make, it is not their responsibilities to clean it and the task falls to the owners. Some of which do not know how to handle this kind of dirt and dust.
We are a professional after builders service located in Church End. Our main goal is and has always been complete customer satisfaction. We offer you to outsource the cleaning to us and enjoy the impeccable end cleaning results we can provide for you on the same day!
Cleaning with professionalism and style
Domestic Cleaning Prices
After Builders Cleaning
One Off Cleaning
Deep Cleaning
Regular Cleaning
from £23
£22
£22
£20
All of our cleaning technicians are more than qualified to handle the after builders cleaning at your property. We perform way better than any other cleaning service in Church End.
After Builders Cleaning vs Deep Cleaning: What's the Difference?
Deep cleaning and after builders cleaning may appear to be identical, but they are not, as you are about to find out. The deep cleaning service comprises washing and disinfecting all areas of the property including corners and hidden surfaces that are easily missed. The post-renovation cleaning service focuses on eliminating fine dust and industrial waste left behind by the cleaning staff, which may cause allergies, irritations or even breathing issues. Another important difference is the procedures used for both services. Deep cleaning entails using powerful cleaning solutions to dissolve buildup and filth, whereas after builders cleaning necessitates the use of professional quality tools to properly remove any waste, stains, grime, and debris that prohibit you from enjoying your home.
Our Professional After Builders Cleaning Process
In order to provide you with high quality results, our cleaners will perform a number of cleaning tasks. They will be following task lists which will ensure that everything has been successfully performed and no jobs have been overlooked. The high quality tools and products will help them provide you with perfect results and leave your entire property immaculate and spotless.
Furniture will be wiped down and polished, as well as all surfaces, window and door frames and other areas. Dust and waste will be completely eliminated. Find a list of activities that will take place at your property as part of the service.
Our cleaning professionals will assess the issue in order to provide high-quality outcomes. The best methods, tools, and goods for the job will be chosen. Everything will be spotless.
All trash and industrial waste will be collected and disposed of at the very beginning of the cleaning service.
Next, all furniture will be wiped down and cleaned with appropriate cleaning materials and methods.
If there is a large amount of fine industrial dust, we will use special devices to eliminate all of it.
Stains left behind by concrete, grout, glue, paint, or other materials will be removed from all surfaces.
All wooden items in the home will be cleaned and polished with suitable products.
Glass and tile surfaces in the kitchen and bathroom will be cleansed and polished.
A professional device will be used to vacuum the upholstery and carpets. The hard floors will also be vacuumed, then mopped.
The property will be prepared for your arrival and all door handles, remotes and light switches will be sanitised.
Request a Custom Cleaning Service quote
The price for the service you receive will be estimated personally for you. All cleaning tasks that you decided to add to your service, and the size of your property will affect the cost of your project. A bill will be generated for you and you will know exactly what you are paying for. Once you receive the price estimate, the number will be final.
Book My Cleaning Today
Thanks to the latest, high quality equipment in the hands of our technicians, we are more than willing to bring you the cleaning results you deserve.
Impeccable cleaning that present no danger to you or your home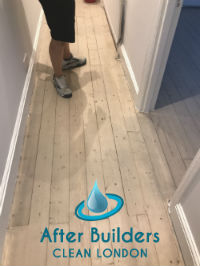 We would never endanger your well being or that of your home. All of our cleaning materials are pure and organic, they do not consist of any chemical substances. This way we clean your home and leave it pathogens free and daisy fresh.
"We moved into a new house and after the main rooms were completed we had to provide the cleaning they needed. We ordered your after builders cleaning which was highly effective and done at a reasonable price. The work of the cleaners was professional and ensured the habitable condition of the rooms. – Luca"
Not many cleaning companies in N3 have adopted this technique. Most of them prefer using chemical based cleaning solutions, because the results come faster, without having to put any additional effort into cleaning. The result of our cleaning is entirely based on hard work and skill.
Do not waste all that time cleaning yourself when you have somebody else to do it for you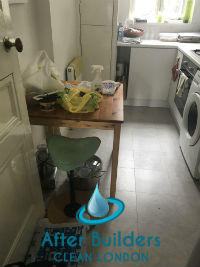 Call our lines now and schedule your after builders cleaning. We will be sure to inspect every small crack and hole in your home, cleaning and disinfecting it properly. Leaving not even the smallest detail behind.
"We hired the cleaners in this company to ensure the spotless and better condition of our renovated basement after a few repairs and maintenance works. The after builders cleaning which we received from this company was trustworthy and done by real professionals. We are more than pleased with their work. – Jordan"
If you are a resident of Church End and you schedule an after builders cleaning with us, we will be sure to arrive as soon as possible(probably on the same day) and carry out the cleaning duties to perfection.