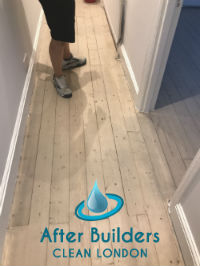 An overall deep cleaning is the final step of every renovation project. Here, at our company, we have enough of hard-working cleaning experts and they are at customers' disposal all week round. In case you are searching for a reliable and cost-effective way to sanitise your renovated property, you are in the right place.
Our company has been specialising in after builders cleaning for several years already and we are currently able to offer you a cleaning package that ensures a high level of hygiene and peace of mind. The good news is that this comfort won't cause you any financial inconvenience. Our prices are unbeatable in the whole East Ham.
After builders cleaning designed to meet all of your initial expectations
Domestic Cleaning Prices
After Builders Cleaning
One Off Cleaning
Deep Cleaning
Regular Cleaning
from £23
£22
£22
£20
The service that we offer you is suitable for every need. Whether it goes about a small refreshing or a serious overhaul, rest assured that every area of your home or office will be cleaned precisely. During the cleaning session, all building leftovers will be eliminated, dust will be removed from all surfaces, the internal windows will be washed, etc.
After Builders Cleaning vs Deep Cleaning: What's the Difference?
A lot of people mistake the after the builders cleaning service for a deep cleaning one. Despite the fact that they both entail thorough cleaning of all areas and surfaces of the property, they serve completely distinct functions. The thorough cleaning is intended to restore the cleanliness of the home by cleaning and disinfecting hard-to-reach regions. The goal of the after builders cleaning solution is to remove industrial waste, dust, and stains from the property and prepare it for your return. Furthermore, the procedures and goods employed throughout these treatments will be very different. The products are all non-toxic and biodegradable, but during the post-renovation service, our cleaning professionals will use specific, professional grade instruments to make sure that everything that may cause irritations has been thoroughly removed.
Our Professional After Builders Cleaning Process
To be able to deliver excellent results to all our customers, we offer complex cleaning solutions involving many steps and tasks. We generate a task list for all cleaning teams which they follow throughout the entire cleaning process. That way, no chores are left overlooked or ignored and we are certain that the best outcomes have been provided to our customers. All dust and grime will be removed from the entire property.
We offer dust, stain and grime removal from various surfaces such as carpets, upholstery, wooden and glass items, as well as organising, vacuum cleaning and disinfection of every corner of the property. Your home will be clean and ready for your arrival.
Our cleaning professionals will assess the issue in order to provide high-quality outcomes. The best methods, tools, and goods for the job will be chosen. Everything will be spotless.
The cleaning procedure starts once the skilled professionals have removed all rubbish, industrial debris, and other dirt.
The cleaning experts will ensure that all furniture is wiped down and cleaned using the proper cleaning supplies that will not cause damage.
To remove all fine dust from all sections of the property, high-quality instruments will be employed.
Stains left behind by concrete, grout, glue, paint, or other materials will be removed from all surfaces.
Our cleaning professionals will polish all wooden surfaces in the house with appropriate materials.
Hard surfaces such as tile, concrete, metal or plastic will be scrubbed and polished.
A professional device will be used to vacuum the upholstery and carpets. The hard floors will also be vacuumed, then mopped.
Faucets, light switches and door handles will be disinfected and the home will be ready for you.
Request a Custom Cleaning Service quote
All of the cleaning tasks, as well as the size and condition of the property, will impact the price of your service. You will receive a free price estimate and will also be given a bill. That way, you'll know precisely what you need to pay for. There will be no additional expenses added to your bill once you receive the quote, and you can be confident that you will only have to pay for the jobs you obtain.
As every property has its own specifications, we invite you to share any priority cleaning areas with us in advance or supply the team with a to-do list. This will accelerate the cleaning process and help us satisfy your individual needs.
A team of highly motivated and diligent professionals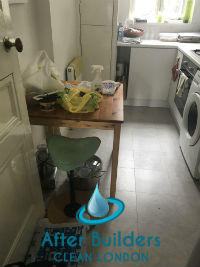 Our after builders cleaning has proved to be a reliable solution for hundreds of people in East Ham. This couldn't be the other way round because we collaborate with trustworthy and knowledgeable individuals. All our operatives undergo specialised training, which enables them to deal with a variety of building residue.
"The kitchen in our house needed a few innovations and repairs which we had implemented by a handyman and a decorator. The cleaning which your employees implemented ensured the removal of dirt and the room was in functioning condition after a few hours. We are very pleased with your end of tenancy cleaning. – Elizabeth"
In order to enhance the high results of their work, we regularly inspect the market for new cleaning solutions. Our skilful cleaners are always armed with the most modern equipment. After their performance, every nook of your home will be well sanitised.
Constant availability in the entire area
Work with our company and you won't be disappointed. We know that you wouldn't like to wait long for our assistance and rest assured that the team will be on your doorstep at the first convenient time. Give us a call and we will tell you also about our free weekend slots and discounted rates.
"We have used the after builders cleaning services which you provide several times and the work of your staff is highly effective and professional. They helped us make our house liveable and rid of dust by implementing timely and qualitative sanitising of the rooms after repairs and refurbishes. – Abigail"