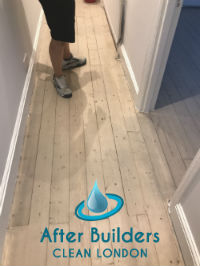 Our company can help you to quickly enjoy the comfort of your home after there has been a renovation of the interior. We know that you want to be able to see the final result of the changes in your house or apartments as soon as possible and the traces of the builders or painters are just standing in the way between your vision and the real look after the builders' work.
If you live in Clapton you must know that our company offers the best after builders cleaning service in town. If you hire the help of our professional workers you will definitely be able to enjoy the new look of your home without having to worry about dealing with the mess that has been left after the builders. We hope that you will trust us with your property.
Much more than a simple cleaning
Domestic Cleaning Prices
After Builders Cleaning
One Off Cleaning
Deep Cleaning
Regular Cleaning
from £23
£22
£22
£20
If you book our after builders cleaning service we can do so much more for you. We can do a professional cleaning for other rooms in your house or apartment and we also offer services such as steam carpet cleaning.
After Builders Cleaning vs Deep Cleaning: What's the Difference?
Deep cleaning and after builders cleaning may appear to be identical, but they are not, as you are about to find out. The deep cleaning service comprises washing and disinfecting all areas of the property including corners and hidden surfaces that are easily missed. The post-renovation cleaning service focuses on eliminating fine dust and industrial waste left behind by the cleaning staff, which may cause allergies, irritations or even breathing issues. Another important difference is the procedures used for both services. Deep cleaning entails using powerful cleaning solutions to dissolve buildup and filth, whereas after builders cleaning necessitates the use of professional quality tools to properly remove any waste, stains, grime, and debris that prohibit you from enjoying your home.
Our Professional After Builders Cleaning Process
Our cleaning services are thorough and involve a wide range of cleaning tasks. To make sure that no cleaning chores have not been overlooked, we provide our cleaning professionals with thorough task lists which they will follow throughout the entire surface. High quality tools and products will be utilised and the best quality final results will be delivered to you.
Fine dust and industrial waste will be eliminated from every corner of the room. Furniture will be polished and everything will be disinfected. Below, you can find a list of all basic cleaning chores that will be included in your project.
Your property will be thoroughly examined, and the best chemicals and techniques will be utilised to cure the stains you have at home. You may be confident that the best results will be delivered.
To prepare your home for the service, our cleaners will remove waste and debris from the entire property.
Various surfaces and furniture pieces will be thoroughly cleaned using high-quality cleaning products that will not be harmful to the materials.
The cleaners will use high quality cleaning devices to remove all fine industrial dust left behind.
Stains left behind by concrete, grout, glue, paint, or other materials will be removed from all surfaces.
All wooden items in the house will be cleaned and polished using appropriate materials.
Scrub and polish hard surfaces such as tile, concrete, metal, or plastic.
Vacuum cleaning of all carpets, rugs and upholstery, as well as mopping of the entire floor.
The cleaners will prepare the home for you and finish the service by thorough disinfection.
Request a Custom Cleaning Service quote
You can request and receive a personalised price quote over the phone. Our customer service professionals will estimate it for you by taking all cleaning activities as well as the size of the house into account. A complete bill will be supplied to you once the price has been estimated. Everything will be listed, and you will be aware exactly how much and for what you are being charged for. There will be no further costs added to your statement.
Our cleaners are well-experienced in the cleaning business and they are always able to provide you with the best service in entire Clapton.
High quality and low prices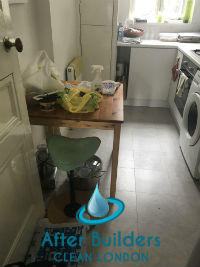 In our company we make sure to use the most efficient cleaning tools and products to make sure that the quality of our work is the highest possible. While we are not compromising with the excellency of our work we are always trying to offer the most affordable prices to our client.
"The condition of our two bedroom house required some repairs and changes which we ordered and had implemented. Thanks to the thorough and affordable after builders cleaning we received from your company we could use the rooms very fast after the project was completed. The service was professional and reliable. – Kian"
We hope that you will contact us whenever you need cleaning after your renovations. We will be more than happy to help you with our services.
Flexible work hours for your convenience
Since we know that not everyone can hire us during the weekdays we offer our after builders cleaning service during the weekends, too. We want to have the most flexible working hours as possible, so that we will be able to help our customers whenever they need us. We hope that you will also trust the services of the best cleaning company in Clapton.
"We decided to order the cleaning of our renovated house using your services to make sure we use the property faster. Your staff implemented timely, comprehensive and effective cleaning which included steam cleaning of the carpets, sanitising of the walls, furniture and rooms in our house. The service was highly professional and affordable. – Melissa"