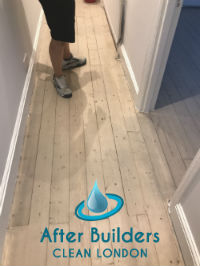 Life's just too short to spend endless hours on cleaning the building rubbish left after a home renovation – just leave it to professionals – they'll do it better, anyway.
If you don't want to deal with all the building rubbish left after a home renovation, just call us and book our professional after builders cleaning services. We have six years of working experience in the field of after builders cleaning. We're supplied with modern equipment and we're not working with any toxic chemicals, too. In fact, we use only environmentally friendly detergents and yet we can eliminate persistent building stains without any efforts.
Contact us as soon as the builders leave your property – we'll come in and disinfect the whole place thoroughly and quickly, and you'll be able to move back in after just a few hours. We're working in Dulwich only. Book us and you'll enjoy your renovated property in no time.
Experienced cleaners
Domestic Cleaning Prices
After Builders Cleaning
One Off Cleaning
Deep Cleaning
Regular Cleaning
from £23
£22
£22
£20
We're especially proud of our cleaning team. Each of them has a clean criminal record and more than three years of experience in the field of professional cleaning. Our team knows how to remove cement and plaster, erase paint stains from floors, but they also have an eye for detail and are able to refine everything in your renovated property.
After Builders Cleaning vs Deep Cleaning: What's the Difference?
Yes, after the builders cleaning is very similar to the deep cleaning service, however, it is not the same. There are many differences that include important aspects of each service. To begin with, deep cleaning focuses on managing areas which are usually overlooked during the regular cleaning process while after the builders cleaning is important for the cleanliness of the property post renovations when a lot of dust, grime and waste have been left behind. Another important thing is the set of tools and products that will be used throughout the projects. When performing the post renovation cleaning service, our cleaning professionals will use high quality tools and products in order to ensure complete elimination of all hazardous chemicals, dust and other filth that may prevent you from enjoying your new property.
Our Professional After Builders Cleaning Process
The cleaning team that will be performing at your property will arrive fully equipped with all tools and products that will help them achieve high quality results. They will be following detailed task lists which contain all tasks that need to take place as part of the service. The powerful cleaning solutions and professional grade tools and devices will help them achieve great results.
Expect dust and stain removal, as well as thorough scrubbing and disinfection of all furniture, wooden, glass and tile surfaces. Find a list of the basic chores that will be performed during your service below:
Your property will be thoroughly examined, and the best chemicals and techniques will be utilised to cure the stains you have at home. You may be confident that the best results will be delivered.
The cleaning process will begin when the professional experts get rid of all waste, large industrial debris and others.
The professionals will clean every furniture with appropriate cleaning chemicals that will not harm the materials.
The industrial fine dust will be removed with the use of high quality cleaning devices.
Stains left behind by concrete, grout, glue, paint, or other materials will be removed from all surfaces.
All wood furniture, window sills, skirting boards, and other surfaces will be cleaned and polished.
Glass and tile surfaces in the kitchen and bathroom will be cleansed and polished.
Hard floors will be thoroughly swept and mopped. Carpets and upholstery will be professionally vacuum cleaned.
All items that are handled on a daily basis will be thoroughly disinfected in time for your arrival.
Request a Custom Cleaning Service quote
We will estimate a specific pricing quote for you based on the different chores you specified, as well as the size of the home, as soon as you have determined which particular service you are interested in and customise it. Your bill will include all relevant details, and you will be able to see precisely what you are being charged for. The final pricing will be unique and produced specifically for you. It is important to know that there will be no extra costs.
Book My Cleaning Today
Contact us and book our after builders cleaning services, our technicians are the best in Dulwich.
Cleanliness that'll make your neighbors jealous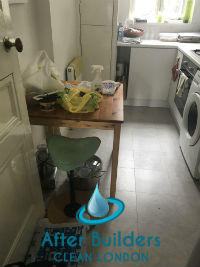 With our state-of-the-art cleaning machines and efficient Eco-friendly cleaning products, we'll completely sanitize your renovated property.
We know how much dust and rubbish remains after renovations, regardless of whether all you did was repaint a room or completely renovated the whole property. We're able to assist you in both cases. We're not exclusively able to remove dust, but we're also experienced in removing building stains, too.
"It is a pleasure to work with such company as yours. Your technicians succeeded in cleaning my home just after the reconstruction was finished. You can imagine what a chaos it was there. Luckily, your technicians were not afraid and tackled the challenge as a team. You deserve to keep on being in this cleaning industry so more people can benefit from your after builders cleaning services.- Joaquin"
Available whenever
Our professional after builders cleaning services can be delivered in SE21 only. We're working throughout the week, including on bank holidays. What's more, our professional after builders cleaning company is the only one in Dulwich whose service is guaranteed.
Book our professional after builders cleaning services and you won't regret it.
"I was looking for a professional after builders cleaning services and I booked you because of the numerous good reviews. The cleaners who came to assist me with the cleaning chores did an amazing job. They were so friendly and disciplined so I would certainly look for you again.- Lance"