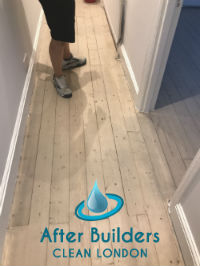 Home improvement always brings comfort. However, construction work is often linked with thick layers of industrial dust and grime. In case you are shopping around for a reliable cleaning company to sanitise your renovated home in Cricklewood, feel free to give us a call. We are able to offer you a comprehensive overall deep cleaning carried out by a team of fully trained specialists.
Our company has been cleaning post builders for a considerable amount of time already, delivering flexible and cost-effective cleaning solutions to individuals and business contractors. You can book appointments with us 7 days per week. Regardless of the size of the renovation project, every area of your property will be gleaming after our performance.
The cleaning company that understands your needs completely
Domestic Cleaning Prices
After Builders Cleaning
One Off Cleaning
Deep Cleaning
Regular Cleaning
from £23
£22
£22
£20
We are fully aware of the fact that every property requires a different cleaning approach and it is our first priority to ensure it. For this reason, all customers are encouraged to share any priority areas in advance or supply our team with a to-do list upon arrival.
After Builders Cleaning vs Deep Cleaning: What's the Difference?
A lot of people mistake the after the builders cleaning service for a deep cleaning one. Despite the fact that they both entail thorough cleaning of all areas and surfaces of the property, they serve completely distinct functions. The thorough cleaning is intended to restore the cleanliness of the home by cleaning and disinfecting hard-to-reach regions. The goal of the after builders cleaning solution is to remove industrial waste, dust, and stains from the property and prepare it for your return. Furthermore, the procedures and goods employed throughout these treatments will be very different. The products are all non-toxic and biodegradable, but during the post-renovation service, our cleaning professionals will use specific, professional grade instruments to make sure that everything that may cause irritations has been thoroughly removed.
Our Professional After Builders Cleaning Process
Our cleaners will undertake a variety of cleaning jobs in order to supply you with high-quality results. They will adhere to task lists to ensure that everything is completed successfully and no duties are neglected. High-quality tools and supplies will enable them to deliver flawless results and leave your entire house beautiful and ready for you.
Furniture, as well as all surfaces, window and door frames, as well as other areas, will be wiped down and polished. Dust and rubbish will be removed totally. Find a list of basic activities that are going to be performed as part of the service you will receive from us.
Our cleaning team will carefully inspect your home, the stains and the particular materials will be treated with suitable cleaning methods and solutions. That way, maximum efficiency is guaranteed without causing any damage.
All industrial trash and debris will be removed and disposed of, leaving the property free and clear for the service.
The professionals will clean every furniture with appropriate cleaning chemicals that will not harm the materials.
High quality professional cleaning devices will be used for the proper removal of fine dust.
No stains from paint or concrete will be left on any of the surfaces at your home.
Wooden furniture, window sills, skirting boards and other areas will be wiped down and polished.
Hard surfaces such as tile, concrete, metal or plastic will be scrubbed and polished.
Vacuum all carpets, rugs and upholstery, as well as mop the whole surface of the floor.
The property will be disinfected, organised and prepared for when you are ready to move back in.
Request a Custom Cleaning Service quote
Receive a custom price quote over the phone. Our customer service representatives will estimate it for you and will be taking all cleaning tasks, as well as the size of the property into consideration. Once the price has been estimated, a detailed bill will be provided to you. Everything will be listed on there and you will know exactly what you are being charged for. No additional charges will be placed on your bill.
After Builders Cleaning vs Deep Cleaning: What's the Difference?
If you think that the deep cleaning service and the post renovations one are quite similar, you are mistaken. Even though both of them include thorough cleaning of all areas and surfaces of the property, they have very different purposes. The deep cleaning aims to revive the cleanliness of the home by cleaning and disinfecting hidden and easy to miss areas. The after builders cleaning solution's purpose is to eliminate industrial waste, dust and stains from the property and prepare it for your return. What is more, the techniques and products that will be used during both services will be completely different. All of them are non-toxic and biodegradable, however, during the post-renovation service, our cleaning experts will utilise special, professional grade tools to be able to get rid of all hard to remove dust and grime.
Our Professional After Builders Cleaning Process
The cleaning crew will come to your place fully prepared with all equipment and supplies necessary to produce high-quality results. They will adhere to thorough task lists that include all jobs that must be completed as part of the service. They will accomplish excellent results thanks to the strong cleaning solutions and professional quality tools and gadgets.
Dust cleaning and stain removal will be performed, as well as complete cleansing and disinfecting of all furniture, floors and surfaces. The following is a list of the basic duties that will be performed throughout your service:
The inspection of the property will help our cleaning technicians select the best tools and products and achieve fantastic results. The surfaces will be deep cleaned and no damage will occur.
To prepare your home for the service, our cleaners will remove waste and debris from the entire property.
Various surfaces and furniture pieces will be carefully wiped down with high quality cleaning solutions.
If there is a large amount of fine industrial dust, we will use special devices to eliminate all of it.
All surfaces will be scrubbed and all stains will be eliminated.
All surfaces and furniture made of wood will be cleaned and polished using appropriate cleaning solutions.
Bathroom and kitchen hard surfaces will be thoroughly cleaned and disinfected.
Hard floors will be scrubbed and mopped thoroughly. Carpets and upholstery will be thoroughly vacuumed.
To finish the service and prepare the property for you, our cleaners will disinfect every item and surface.
Request a Custom Cleaning Service quote
The price for the service you receive will be estimated personally for you. All cleaning tasks that you decided to add to your service, and the size of your property will affect the cost of your project. A bill will be generated for you and you will know exactly what you are paying for. Once you receive the price estimate, the number will be final.
Your satisfaction is our main motivation. Our dedicated cleaners would always go the extra mile to make you very satisfied. Once in your property, they will clean in detail every room, ensuring an exceptional level of cleanliness.
Trustworthy and hard-working cleaning experts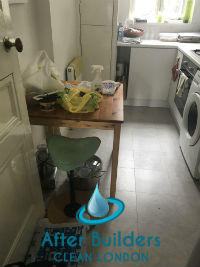 There are many reasons why we are among the leading cleaning contractors in Cricklewood. However, without our committed cleaners, we wouldn't enjoy such a huge success in the cleaning business. Being properly trained and persistent, they know how to deal with all types of building residue.
For your peace of mind, all our representatives have prior experience in the area as well as excellent cleaning profiles. In addition to this, we supply them with up to date cleaning tools and top-quality detergents.
"Our office building was renovated completely, so we booked your after builders cleaning services. The work of your cleaners really impressed us. They removed all the building waste and eliminated every layer of dust. The price that we paid for your professional service was more than reasonable. We are glad we chose your company! – Cindy"
Anytime at customers' disposal
Working with us is advantageous for everyone. We can visit you also during the weekend and you won't pay additionally for this. Plus, we have a practical price system and our rates fit easily every budget.
If you want to learn more, contact our support centre. We have enough of obliging call centre agents and they are always available to tell you more about your trusted cleaning contractor in Cricklewood.
"We heard about your company from a friend and as the builders have just left our home, we decided to book your after builders cleaning service. Now we are more than happy we did it. Your cleaners removed absolutely every trace of building materials in our house and we didn't need to pay too much for that. – Maria"