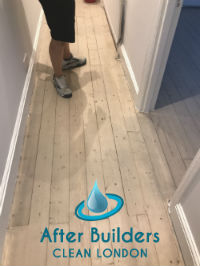 After the builders are done with their job and leave, we come in to clean up after them. They did your renovations, now we're gonna add the finishing touch. The after builders cleaning is an affordable and high quality service with very satisfying final results.
The team behind the service is made up of people who are hard working and always ready to impress all of the new clients.
They are trained for this job and a lot of them already have previous experience in the Hampstead industry so it is safe to say that you and any other client are in safe hands.
We provide a very pleasant costumer support
Domestic Cleaning Prices
After Builders Cleaning
One Off Cleaning
Deep Cleaning
Regular Cleaning
from £23
£22
£22
£20
If you select us as your service providers, you will need to contact us, that is when our work begins. Our team makes sure to explain to all of the new clients how the after builders cleaning service works from hiring to completion. We don't leave out any details that you need to know.
After Builders Cleaning vs Deep Cleaning: What's the Difference?
The after the builders cleaning service seems similar to the deep cleaning one, but it is not the same. There are several distinctions that include critical components of each service. Starting off, deep cleaning focuses on managing areas that usually go unnoticed during the regular cleaning process, but after-construction cleaning is vital for the cleanliness of the property following renovations when a lot of dust, filth, and garbage cause health issues and prevent you from moving back in. Another critical aspect is the assortment of tools and items that will be employed throughout each project. Our cleaning personnel will utilise high-quality tools and solutions specialised for the complete removal of all dangerous chemicals, dust, and other dirt that may have accumulated throughout the refurbishment process.
Our Professional After Builders Cleaning Process
We provide detailed task lists that include all tasks that must be completed as part of the service. Our cleaning professionals closely follow them to guarantee that everything is completed successfully. We can ensure the process's success by doing so because the service is complicated and comprises several jobs. We will choose the most suited crew and supply them with everything they will require to remove any dust and filth.
You may be confident that stains, paint, and garbage will be removed from all corners and surfaces of the property. We have provided you with a list of the basic tasks that will be performed as part of your project. Find it below.
Your property will be thoroughly examined, and the best chemicals and techniques will be utilised to cure the stains you have at home. You may be confident that the best results will be delivered.
All trash and industrial waste will be collected and disposed of at the very beginning of the cleaning service.
The cleaning experts will use efficient professional quality cleaning products to clean all surfaces and furniture.
If there is a lot of fine industrial dust, we will utilise special equipment to get rid of it entirely.
No stains from paint or concrete will be left on any of the surfaces at your home.
All wood furniture, window sills, skirting boards, and other surfaces will be cleaned and polished.
All tile, metal, and glass surfaces will be thoroughly cleaned and polished.
Hard floors will be thoroughly swept and mopped. Carpets and upholstery will be professionally vacuum cleaned.
All commonly touched items will be disinfected and everything will be organised for when you arrive.
Request a Custom Cleaning Service quote
The customer service representative you are working with will provide you with a price estimate for your cleaning service. The total price will be calculated for you depending on the many cleaning activities that you want to book as part of the project. We will also provide you with a bill to ensure that you understand precisely what you are paying for. Everything you will be charged for will be listed there. There will be no additional costs.
When that is done, if you have any further question we will provide you with any answer around the Hampstead area. We want to be certain that every single one of our clients is completely aware of what they want to pay for. It really isn't our style to have confused and uncertain clients paying us.
Our cleaners get to you in lightning speed and accuracy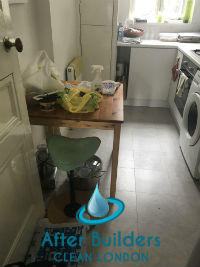 When you hire us, the real work begins. We notify the cleaners and they are going to make sure that they will arrive at your home right on time.
You would have made an appointment with us, and that appoint is going to be followed.
We expect that when our cleaners arrive at your home, you or a family member will be there to welcome them. If not, our cleaners will have to leave.
"I was searching for professional after builders cleaning services and my mother recommended your company. Your cleaners really helped me. They removed all glue stains and paint marks from the walls at home. I am also very satisfied with the price I paid for your professional cleaning. – Jenny"
This is where you and every other client are very impressed and satisfied in the end
Our cleaners will arrive at your home and get to work immediately. They will start working on one room and don't move to the next one until that one room is one-hundred percent clean.
Our cleaners work very carefully and pay attention to details. This is how professionals in the Hampstead filed do it.
"I used your after builders cleaning a couple of days ago and I am extremely satisfied with the result. Your cleaners did a great job. They carried out a comprehensive cleaning in every area of my flat. You definitely know how to make your customers happy. Next time I need after builders cleaning I will turn to you again. – Richard"