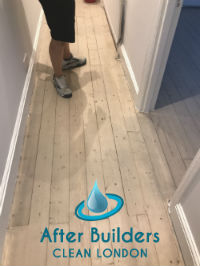 Bringing a renovated property in order is a time-consuming and difficult task. Every construction project is linked with thick layers of industrial dust, glue stains and other building leftovers. In case you are searching for a professional cleaning company to provide you with a reliable after builders cleaning, don't hesitate to dial our number.
We are able to offer you a deep overall cleaning carried out by a team of professionally trained cleaners. Our company operates in the cleaning business for several years already, providing flexible and adequate options. You can find us easily everywhere in Holloway and our rates will suit your taste completely.
Your best alternative for after builders cleaning in Holloway
Domestic Cleaning Prices
After Builders Cleaning
One Off Cleaning
Deep Cleaning
Regular Cleaning
from £23
£22
£22
£20
As a customer focused company, we take due measures to keep our vetted cleaners updated with the latest cleaning solutions. Being fully trained and armed with professional cleaning materials, they are able to deal with all types of building leftovers in a prompt and efficient manner.
After Builders Cleaning vs Deep Cleaning: What's the Difference?
Deep cleaning and after builders cleaning may appear to be identical, but they are not, as you are about to find out. The deep cleaning service comprises washing and disinfecting all areas of the property including corners and hidden surfaces that are easily missed. The post-renovation cleaning service focuses on eliminating fine dust and industrial waste left behind by the cleaning staff, which may cause allergies, irritations or even breathing issues. Another important difference is the procedures used for both services. Deep cleaning entails using powerful cleaning solutions to dissolve buildup and filth, whereas after builders cleaning necessitates the use of professional quality tools to properly remove any waste, stains, grime, and debris that prohibit you from enjoying your home.
Our Professional After Builders Cleaning Process
Our cleaners will undertake a variety of cleaning jobs in order to supply you with high-quality results. They will adhere to task lists to ensure that everything is completed successfully and no duties are neglected. High-quality tools and supplies will enable them to deliver flawless results and leave your entire house beautiful and ready for you.
Furniture, as well as all surfaces, window and door frames, as well as other areas, will be wiped down and polished. Dust and rubbish will be removed totally. Find a list of basic activities that are going to be performed as part of the service you will receive from us.
To obtain the finest end results, our cleaning professionals will carefully choose the tools and solutions that will be used during the operation based on the stains and the materials of your furniture.
All trash and industrial waste will be collected and disposed of at the very beginning of the cleaning service.
Next, all furniture will be wiped down and cleaned with appropriate cleaning materials and methods.
If there is a lot of fine industrial dust, we will utilise special equipment to get rid of it entirely.
Stains will be completely eliminated. No paint, grout or glue will be left behind on ay of the surfaces at your property.
Using suitable products, our cleaning experts will polish all wooden surfaces in the house.
Glass and tile surfaces in the kitchen and bathroom will be scrubbed and left immaculate.
Hard floors will be thoroughly swept and mopped. Carpets and upholstery will be professionally vacuum cleaned.
Faucets, light switches and door handles will be disinfected and the home will be ready for you.
Request a Custom Cleaning Service quote
Your booking agent will estimate a price for your cleaning service. The final price will be estimated personally for you based on the various different cleaning tasks that you decide to book as part of the project. To make sure that you know exactly what you are being charged for, we will also supply you with a bill. Everything you will be paying for will be there. No additional charges will occur.
Whether it goes about a simple refreshing or a major renovation project, for our dedicated representatives the work is never too much or too less. After their performance, every area of your home will be perfectly clean.
A cleaning service of high quality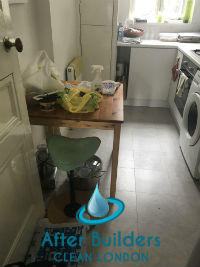 In order to make your renovated property neat and livable, our team will clean in detail every room, hoover and wash the floors, eliminate all paint marks, glue stains and other building leftovers, remove dust from all surfaces, etc. Our after builders cleaning package includes all must perform cleaning duties after a renovation project.
"My apartment was just cleaned perfectly by this company's cleaners. I booked their after builders cleaning service and the team gave me perfect results. What I enjoyed a lot was not only the hard work that I saw but also the economical price that I paid. I could not have asked for a more convenient service. -Maria"
As our main objective is to deliver you a cleaning solution in relation to your individual needs, we invite you to share any priority cleaning areas with us in advance or supply our team with a to-do list. With us you are guaranteed to receive a service of great value.
Professionalism and reliability
Leave the post-construction chaos to our skilful cleaners and you won't regret. They are fully aware of the fact that you expect nothing but scrupulous cleanliness.
"I was very happy with the service that this company provided me. They were overall great- friendly, understanding, ready to help. I hired their after builders cleaning team to help bring back order and hygiene in my apartment after, it seemed the builders wanted to make sure there was not a single clean corner. – Elizabeth"
After their performance, every room will be free of dust and grime. You can book appointments with us all week round in the entire Holloway. Hurry up and contact our responsive call centre agents.