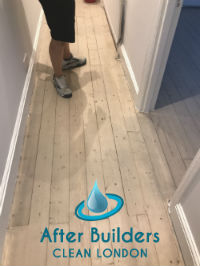 Having builders at your home can create a big cleaning job for you. Not very often, but from time to time refreshments like reconstructing or bringing down something is inevitable. Builders hardly care whether they make a big mess or not. They come and go. They break, throw on the ground and literally do not care about the mess they make and how long will it take to clean off.
Our after builders cleaning service located in West Kensington is at your service. We are available seven days a week and you can contact us anytime during our wide scheduled working hours. We guarantee to show up at your property withing a few hours or less(depending on where you live) and take the after builders cleaning off your hands.
Highly experienced cleaning technicians for astonishing results
Domestic Cleaning Prices
After Builders Cleaning
One Off Cleaning
Deep Cleaning
Regular Cleaning
from £23
£22
£22
£20
All of our cleaning technicians are background checked and have been licensed to practice cleaning in West Kensington. We personally guarantee their trustworthiness and effectiveness. They are real professionals with years of experience and hard work.
After Builders Cleaning vs Deep Cleaning: What's the Difference?
The after the builders cleaning service is often confused with the deep cleaning one. However, there are significant differences between the two and we are about to tell you about them. Your property will be thoroughly cleaned and disinfected during the deep cleaning service ( that includes hidden areas that are usually missed). When it comes to the post renovation cleaning service, expect all industrial waste, fine dust and other grime to be efficiently removed by the cleaning crew. The professional experts will be using specialised tools and methods in order to eliminate all filth that prevents you from enjoying your freshly renovated property. This is another important difference since during the deep cleaning service powerful solutions that dissolve grease and grime and are different from the ones mentioned above will be used.
Our Professional After Builders Cleaning Process
Our cleaning services are thorough and involve a wide range of cleaning tasks. To make sure that no cleaning chores have not been overlooked, we provide our cleaning professionals with thorough task lists which they will follow throughout the entire surface. High quality tools and products will be utilised and the best quality final results will be delivered to you.
Fine dust and industrial waste will be eliminated from every corner of the room. Furniture will be polished and everything will be disinfected. Below, you can find a list of all basic cleaning chores that will be included in your project.
The inspection of the property will help our cleaning technicians select the best tools and products and achieve fantastic results. The surfaces will be deep cleaned and no damage will occur.
All industrial trash and debris will be removed and disposed of, leaving the property free and clear for the service.
Various surfaces and furniture pieces will be carefully wiped down with high quality cleaning solutions.
If there is a lot of fine industrial dust, we will utilise special equipment to get rid of it entirely.
Stains left behind by paint, grout or other materials will be scraped off and thoroughly removed.
Wooden furniture, window sills, skirting boards and other areas will be wiped down and polished.
All hard surfaces, including glass tile and metal, will be cleansed and polished.
Vacuuming and mopping the floor. This includes all carpets, rugs, and upholstery.
All areas of the property will be disinfected and left immaculate for your arrival.
Request a Custom Cleaning Service quote
You can request and receive a personalised price quote over the phone. Our customer service professionals will estimate it for you by taking all cleaning activities as well as the size of the house into account. A complete bill will be supplied to you once the price has been estimated. Everything will be listed, and you will be aware exactly how much and for what you are being charged for. There will be no further costs added to your statement.
Book My Cleaning Today
Equipped with the latest cleaning equipment, we truly believe that we are the one for the job. Every week hundreds of after builders cleaning have been carried out by our diligent teams. They never miss a detail and to watch them perform is a real pleasure.
We work with materials that will in no way harm or damage your property or your health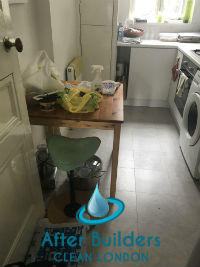 We take pride in never using chemical based cleaning solutions and materials. We use our own mixtures, perfectly safe for your home environment. While we tackle the dirt and dust out of your home, you are free to stay and watch our technicians work.
If you have any questions regarding the cleaning process they will be more than happy to answer all of them and put your mind at ease.
"The kitchen in our house used to be in very bad condition and we decided to replace the tiles around the sink and install a worktop. The technician who did this left the room quite dirty and messy. We had your company referred and decided to order the after builders cleaning we needed. Your staff did excellent work. – Robert"
No other after builders cleaning service in West Kensington will bring you the results we will
We have been operating in W14 for a long time now. We are more than familiar with the common dirt problems left by builders.
"Since we didn't have time and didn't want to burden with the cleaning of our renovated flat we decided to use professional services. The after builders cleaning we received from your company had excellent results and made the rooms rid of the plaster, cement, stains and dust. We are very delighted with your staff's sanitising work. – Jennifer"
We guarantee that our expertise is not to be taken for granted. We are your best option for an after builders cleaning!