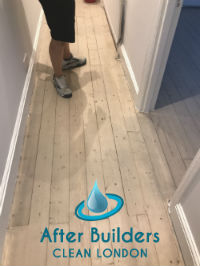 An entire team is available to those who wish to hire a little help with their home. Say goodbye to the workers who renovated your home and say hello to the cleaners who will take care of the cleaning after them.
Choosing our after builders cleaning service will leave you totally satisfied. Our team is trained in the Tooting field and has tons of experience beforehand. They are very eager to impress you with their quality of work.
A short explanation of how we do our job
Domestic Cleaning Prices
After Builders Cleaning
One Off Cleaning
Deep Cleaning
Regular Cleaning
from £23
£22
£22
£20
If you have decided to hire our services then give us a call. Since you are a new client we will provide you with all of the details about the after builders cleaning so that you are aware of what you are paying for.
After Builders Cleaning vs Deep Cleaning: What's the Difference?
Yes, after the builders cleaning is very similar to the deep cleaning service, however, it is not the same. There are many differences that include important aspects of each service. To begin with, deep cleaning focuses on managing areas which are usually overlooked during the regular cleaning process while after the builders cleaning is important for the cleanliness of the property post renovations when a lot of dust, grime and waste have been left behind. Another important thing is the set of tools and products that will be used throughout the projects. When performing the post renovation cleaning service, our cleaning professionals will use high quality tools and products in order to ensure complete elimination of all hazardous chemicals, dust and other filth that may prevent you from enjoying your new property.
Our Professional After Builders Cleaning Process
We generate thorough task lists with all chores that should be performed as part of the service. Our cleaning technicians carefully follow them to ensure the successful completion of everything. That way we are able to guarantee that the process is successful – the service is complex and involves a lot of different tasks. We will pick the most suitable team and provide them with everything they will need in order to eliminate all dust and grime.
You may rest assured that stains, paint, and waste will be removed from all corners and surfaces of the property. We have provided you with a list of the basic chores that will take place as part of your project.
To obtain the finest end results, our cleaning professionals will carefully choose the tools and solutions that will be used during the operation based on the stains and the materials of your furniture.
Our cleaners will remove rubbish and debris from the whole property to prepare it for the service.
Next, all furniture will be wiped down and cleaned with appropriate cleaning materials and methods.
The fine dust left behind all over your property will be eliminated using special high quality tools.
Stains will be completely eliminated. No paint, grout or glue will be left behind on ay of the surfaces at your property.
Using proper cleaning products, all wood surfaces and furniture will be cleaned and polished.
Glass and tile surfaces in the kitchen and bathroom will be scrubbed and left immaculate.
Vacuum cleaning of all carpets, rugs and upholstery, as well as mopping of the entire floor.
The property will be disinfected, organised and prepared for when you are ready to move back in.
Request a Custom Cleaning Service quote
The customer service representative you are working with will provide you with a price estimate for your cleaning service. The total price will be calculated for you depending on the many cleaning activities that you want to book as part of the project. We will also provide you with a bill to ensure that you understand precisely what you are paying for. Everything you will be charged for will be listed there. There will be no additional costs.
Book My Cleaning Today
If there are any questions that you might have about the area Tooting we will provide you with the answers for them.
When you hire us, we are going to arrive right on time. We are not going to make you wait. But you have to be home at the hour of the appointment as well, otherwise we are going to leave.
Professional Builders Cleaning Services in SW17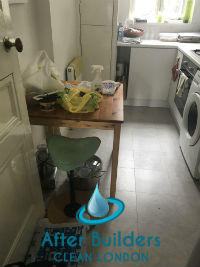 If you suggest giving us any cleaning supplies, we will kindly reject you. We carry our own which are quire recommended for the SW17 area. After we are in your home, we will get our equipment and cleaning products ready.
All of the cleaning supplies we use are completely safe and Green. We don't like attacking our clients' homes with unpleasant fumes. Also, you will not pay for the products we use.
"Thanks to your after builders cleaning services I managed to get my repaired flat sanitised in no time. Your cleaning team arrived, fully equipped with all the necessary cleaning stuff and did the job in very immaculate way. No stain of paint and no thick clouds of dust. The rates are just affordable. I definitely recommend you! – Josh"
Achievements of our team
After setting up, we start work. The plan is to make sure that every square inch of your home is completely cleaned. We don't leave even the obscure corners unchecked.
"I had thorough reconstruction of my house and it finished last Friday. I was so eager to see my new look of my home, but I was a bit disappointed. Everything was in infinite chaos, I didn't expect that. But thanks to your after builders cleaning services, my home was sanitised in a flash and I could enjoy the perfect fresh atmosphere. Thanks! – Kevin"
Every single person who has joined this team has put huge effort into making it move forward and progress into the Tooting industry. Every client, weather they are new or have used our service a couple of times, this team has worked hard to leave an impression and only satisfactory results.