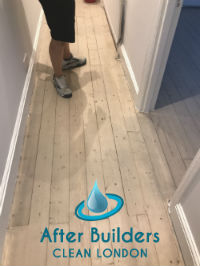 Every home owner or business contractor should really think out the whole renovation project starting from the refurbishment itself to the final cleaning after it. You know that all this massive cleaning is something for which you should take care of, right?
The builders are not supposed to help you with it because it is not included in the procedures they do- they build, they repair, they install, but most importantly they never clean. So what would you do when you are left alone with all this
industrial dust, paint and glue spills, rubble, cement and stucco debris?
We are the one in Leyton
Domestic Cleaning Prices
After Builders Cleaning
One Off Cleaning
Deep Cleaning
Regular Cleaning
from £23
£22
£22
£20
Let's be honest. You are not able to tackle all this mess and chaos all by yourself or if you do it will take you up to several days.
After Builders Cleaning vs Deep Cleaning: What's the Difference?
A lot of people mistake the after the builders cleaning service for a deep cleaning one. Despite the fact that they both entail thorough cleaning of all areas and surfaces of the property, they serve completely distinct functions. The thorough cleaning is intended to restore the cleanliness of the home by cleaning and disinfecting hard-to-reach regions. The goal of the after builders cleaning solution is to remove industrial waste, dust, and stains from the property and prepare it for your return. Furthermore, the procedures and goods employed throughout these treatments will be very different. The products are all non-toxic and biodegradable, but during the post-renovation service, our cleaning professionals will use specific, professional grade instruments to make sure that everything that may cause irritations has been thoroughly removed.
Our Professional After Builders Cleaning Process
We provide detailed task lists that include all tasks that must be completed as part of the service. Our cleaning professionals closely follow them to guarantee that everything is completed successfully. We can ensure the process's success by doing so because the service is complicated and comprises several jobs. We will choose the most suited crew and supply them with everything they will require to remove any dust and filth.
You may be confident that stains, paint, and garbage will be removed from all corners and surfaces of the property. We have provided you with a list of the basic tasks that will be performed as part of your project. Find it below.
To obtain the finest end results, our cleaning professionals will carefully choose the tools and solutions that will be used during the operation based on the stains and the materials of your furniture.
Large debris and waste will be disposed of. The property will be prepared for the actual cleaning.
Various surfaces and furniture pieces will be carefully wiped down with high quality cleaning solutions.
If there is a lot of fine industrial dust, we will utilise special equipment to get rid of it entirely.
The cleaners will scrape off and remove any stains (paint, concrete, glue, and so on).
All wooden items in the house will be cleaned and polished using appropriate materials.
Surfaces in the bathroom and kitchen will be cleaned (tile, metal, plastic or concrete).
The cleaners on our team will mop your floor after vacuuming all carpets and rugs using a special vacuum cleaner.
To finish the service and prepare the property for you, our cleaners will disinfect every item and surface.
Request a Custom Cleaning Service quote
Your booking agent will estimate a price for your cleaning service. The final price will be estimated personally for you based on the various different cleaning tasks that you decide to book as part of the project. To make sure that you know exactly what you are being charged for, we will also supply you with a bill. Everything you will be paying for will be there. No additional charges will occur.
Can you stand all this dirt for so long, having in mind that it is very dangerous to live in such polluted environment? You are going to need some professional help and luckily we are ready to give it to you for a very reasonable price.
We are not afraid of the dirt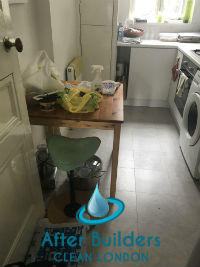 When booking with us, you do not have to worry about anything because we are the masters of cleaning and we possess all the necessary workforce and manpower to perform miracles after you renovation project.
We know that there are way too many cleaning companies in Leyton but according to a survey our achievements are unbeatable along with our prices. When it comes to after builders cleaning services, we are the only one you should turn to. We have spent plenty of years in this industry to know how to deal with various forms of dirt and stains.
"I had a small reconstruction project in the room of my kid. Everything was a real mess and since my wife and I are working, we couldn't afford to spend that much time on cleaning. We came across on your after builders cleaning services and I must say I'm really glad for your help. Thanks for being so accurate and diligent- Martin"
Always at your disposal in Leyton
We are the company that understands how hazardous it is to be surrounded by dirty and dusty air. You do not have to cause this to yourself. Just get in touch with our company and we will get you rid of the unwanted grime which is hiding in every corner of your home. For a couple of hours your home will be spotless clean.
"I have a small flat and I wanted to make my kitchen bigger. So I renovated my kitchen totally and after that I even wasn't happy at the results, because the chaos spoiled my mood. But I booked your after builders cleaning services and your cleaning team did great job. The rates are absolutely sensible and I definitely recommend you! – Anna"
Our doors are open seven days of the week. Whenever you need our after builders services, we are ready to provide you with such. Call us.