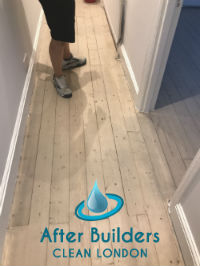 Our company is based in Hanwell and we provide reliable, cost-effective after builders cleaning services. We have committed ourselves to excellence and we guarantee the perfect post-renovation conditions of your property.
We offer a great diversity of after builders cleaning options and you can create your very own cleaning plan based on your needs and preferences.
Superb after builders cleaning services by the most reliable company in Hanwell
Domestic Cleaning Prices
After Builders Cleaning
One Off Cleaning
Deep Cleaning
Regular Cleaning
from £23
£22
£22
£20
Our basic after builders cleaning package features deep and proper cleaning everywhere in your home. We will precisely dust every surface and every piece of furniture, we will vacuum and mop the floors and will clean all living and sleeping areas with careful attention to details.
After Builders Cleaning vs Deep Cleaning: What's the Difference?
If you think that the deep cleaning service and the post renovations one are quite similar, you are mistaken. Even though both of them include thorough cleaning of all areas and surfaces of the property, they have very different purposes. The deep cleaning aims to revive the cleanliness of the home by cleaning and disinfecting hidden and easy to miss areas. The after builders cleaning solution's purpose is to eliminate industrial waste, dust and stains from the property and prepare it for your return. What is more, the techniques and products that will be used during both services will be completely different. All of them are non-toxic and biodegradable, however, during the post-renovation service, our cleaning experts will utilise special, professional grade tools to be able to get rid of all hard to remove dust and grime.
Our Professional After Builders Cleaning Process
To guarantee that we offer high-quality outcomes, we provide our cleaners with detailed lists outlining all of the processes they must take when executing a service. That way, you can be confident that nothing has been forgotten or ignored. We will utilise all of our expertise and experience, as well as professional tools and materials, to remove all traces of dust, filth, and stains from all areas of your house.
The cleaning service comprises dust and stain removal, vacuuming of carpets and upholstery, polishing and disinfecting of various surfaces, whether they are made of wood or glass, disinfection, and organising. The house will be ready for your arrival. Here's what to expect:
The cleaning experts will carefully inspect the entire property and its condition. They will select the most suitable cleaning methods that will resolve all problems in the best way possible.
First, the cleaners will remove any rubbish and bigger debris from the premises in order to prepare the area for the actual cleaning.
Furniture throughout the room will be thoroughly cleaned inside and out with suitable cleaning products.
Industrial fine dust will be cleaned using high-quality cleaning equipment.
Every surface with stains will be scrubbed and left spotless.
All wood furniture, window sills, skirting boards, and other surfaces will be cleaned and polished.
All tile, metal, and glass surfaces will be thoroughly cleaned and polished.
Vacuum all carpets, rugs and upholstery, as well as mop the whole surface of the floor.
All surfaces and commonly handled items in the house will be disinfected for your arrival.
Request a Custom Cleaning Service quote
All the different cleaning chores, as well as the size and condition of the property will be factors which will influence the price of your service. You will also be provided with a bill. That way, you will know exactly what you need to pay for. No additional charges will be placed on your bill and you may rest assured that you will only have to pay for the tasks you receive.
Book My Cleaning Today
We will make your bathrooms and kitchen sparkling clean and you will enjoy the fresh and healthy atmosphere of your newly renovated home.
Convenient after builders cleaning services, guaranteed customer satisfaction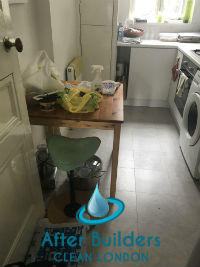 Our main goal is your satisfaction. We organize the cleaning process in a way that is most convenient for you and we make sure you don't face any worries or complications at all. Our team will come to your home on time, professionally equipped and will get the job perfectly done in just a couple of hours.
"We ordered this company's after builders cleaning which we had recommended by a friend and are very pleased with its results. Our bedroom was left in very messy condition after replacing the wallpapers. Now it is in perfectly clean and neat condition thanks to the work of your staff. – Matthew"
We work with high end professional equipment and we use eco friendly cleaning products. We are the first company in Hanwell that has incorporated the green cleaning practices and standards in their work.
Cutting edge cleaning technologies, eco friendly cleanup methods
Our cleaning professionals are qualified and experienced and will deliver the most appropriate service for your needs. They will go above and beyond to meet all your expectations, so trust us, let us handle all arduous cleaning chores.
"We use this company's after builders cleaning services for a year after repairs and renovations and are very pleased with the work of the cleaners. They work with powerful and tested preparations and machines that remove plaster, cement, glue and splatters from all surfaces without residue or damaging them. – Ellie"
We are available 7 days a week and we can schedule a cleaning visit at a time that suits you best. Our services come at affordable rates and we offer great discount packages, so hurry up, take an advantage! We will deliver polite and friendly service and you will be astonished with the results!