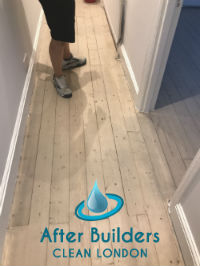 Most people do not take into account what happens after their home has undergone some renovations and then find themselves in a dead end situation because their home is all covered in debris and waste left by the builders.
We offer you to book our specially designed after builders cleaning services to assist you with eliminating all the leftovers and dust and bring your home back in order.
The best after builders cleaning services
Domestic Cleaning Prices
After Builders Cleaning
One Off Cleaning
Deep Cleaning
Regular Cleaning
from £23
£22
£22
£20
We have established our company in Hammersmith and we have been carrying out professional after builders cleaning sessions for many years now. We can help you bring back the cleanliness and hygiene in your property, no matter residential or commercial.
After Builders Cleaning vs Deep Cleaning: What's the Difference?
Yes, after the builders cleaning is very similar to the deep cleaning service, however, it is not the same. There are many differences that include important aspects of each service. To begin with, deep cleaning focuses on managing areas which are usually overlooked during the regular cleaning process while after the builders cleaning is important for the cleanliness of the property post renovations when a lot of dust, grime and waste have been left behind. Another important thing is the set of tools and products that will be used throughout the projects. When performing the post renovation cleaning service, our cleaning professionals will use high quality tools and products in order to ensure complete elimination of all hazardous chemicals, dust and other filth that may prevent you from enjoying your new property.
Our Professional After Builders Cleaning Process
We provide high-quality cleaning services that include a wide range of activities and methods. To assure their high quality, we supply our cleaning professionals with comprehensive work lists that they must adhere to during the job. Everything will be completed properly – strong cleaning chemicals and high-quality equipment will be utilised. You will receive fantastic outcomes.
We will remove all hazardous material, dust, and garbage that the restoration staff has left behind. The room's furniture and different surfaces will be polished and cleaned. All of the basic duties that are included in your service are outlined here.
Our cleaning professionals will assess the issue in order to provide high-quality outcomes. The best methods, tools, and goods for the job will be chosen. Everything will be spotless.
Our professionals will collect and dispose of industrial waste pieces, as well as large debris that cannot be vacuumed.
All furniture and surfaces in the home will be cleaned down and dusted. Products that are appropriate for the materials in question will be utilised.
If there is a large amount of fine industrial dust, we will use special devices to eliminate all of it.
No stains from paint or concrete will be left on any of the surfaces at your home.
Using proper cleaning products, all wood surfaces and furniture will be cleaned and polished.
Glass and tile surfaces in the kitchen and bathroom will be cleansed and polished.
Vacuum cleaning of all carpets, rugs and upholstery, as well as mopping of the entire floor.
Faucets, light switches and door handles will be disinfected and the home will be ready for you.
Request a Custom Cleaning Service quote
We will estimate a specific pricing quote for you based on the different chores you specified, as well as the size of the home, as soon as you have determined which particular service you are interested in and customise it. Your bill will include all relevant details, and you will be able to see precisely what you are being charged for. The final pricing will be unique and produced specifically for you. It is important to know that there will be no extra costs.
Book My Cleaning Today
What we offer you is to book our after builders cleaning services for very reasonable price and be sure that all signs of the refurbishment will be long gone. We are reliable cleaning company in Hammersmith with great experience in the house cleaning so you can undoubtedly place your trust in our cleaners.
Cost-effective after builders cleaning services in entire Hammersmith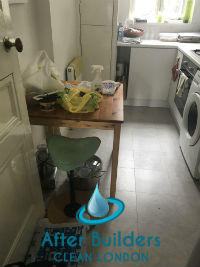 Speaking about our cleaners, let us tell you something more about them. They have been working for our excellent company for several years. We have checked their backgrounds prior to hiring and we made sure that they posses the necessary interpersonal skills and talents.
We have provided them with introductory intensive training practices to enable them to deliver outstanding after builders cleaning services.
"Our house needed repair of the radiators which we had implemented by two handyman and had to deal with the cleaning. Since we wouldn't cope with the work alone decided to use the after builders cleaning provided by this agency. The work of the cleaners was professional and effective. – Sarah"
Please, feel free to establish a contact with our company today and you will get free estimate. Our call centre is available for you in the entire area around the clock. From Monday to Sunday we are waiting to give you an assisting hand.
Profound after builders cleaning services
Our after builders cleaning service is profound and includes eliminating of all spots and dirt. We can also get rid of the industrial dust which collects in almost every nook and cranny along with glue stains and paint spills which are so hard to remove without the necessary equipment.
"The loft we converted and now use as an extra bedroom is cleaned and rid of the dust, plaster and grime which were left from the builders and decorators. We had it cleaned by your staff who did excellent work and made the room spotless after a few hours. – Connor"
Our service is customisable so we can follow your instructions or specific requests. We are waiting for your call.