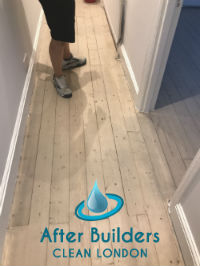 Whenever you're renovating a commercial building where people work, you undoubtedly want to make that building usable again as soon as possible, right?
Renovation is associated with a lot of things – from enhancing the area under renovation through making it more modern and fancier. That's not all, though – renovation often is quite costly and leads to dust and dirty everywhere.
And you should know that the construction company isn't obliged to clean. Of course, they'll remove big rubbish and sweep the place, but you can't expect them to sanitize the place.
Book us – the dust eliminators
Domestic Cleaning Prices
After Builders Cleaning
One Off Cleaning
Deep Cleaning
Regular Cleaning
from £23
£22
£22
£20
You're utterly wrong if you think the cleaning done by the building team will be enough. Uncleaned dirt will slow down the working process of your employees. And that's why you need to make sure the place has been properly cleaned before employees return at work.
After Builders Cleaning vs Deep Cleaning: What's the Difference?
The after-builder cleaning service can at times be confused with the thorough cleaning service. However, there are important distinctions between the two, which we will get into for you. During the deep cleaning service, your property will be completely cleaned and disinfected (this includes hidden places that are sometimes overlooked). When it comes to post-renovation cleaning, expect the cleaning staff to efficiently remove any industrial waste, fine dust, and other filth. The specialists will use specialised tools and procedures to remove all dirt that prevents you from enjoying your newly refurbished house. Strong solutions that dissolve grease and dirt are used during the deep cleaning procedure – they are different from the ones used during the post renovation service, making this another significant difference.
Our Professional After Builders Cleaning Process
We offer high quality cleaning services which involve a lot of different tasks and methods. To ensure their high quality, we provide our cleaning experts with detailed task lists which they follow throughout the service. The proper completion of everything is guaranteed – powerful cleaning products and high grade equipment will be used. You will be provided with wonderful results.
We will eliminate all harmful debris, dust and waste left behind by the renovation crew. Furniture and various surfaces in the room will be polished and disinfected. Find all basic tasks included in your service listed below.
To achieve the best final results, our cleaning experts will carefully pick the tools and products that will be used during the procedure based on the stain origins and the materials of your furniture.
All industrial waste and debris will be collected and disposed of, leaving the property clear and ready for the service.
The cleaning experts will use efficient professional quality cleaning products to clean all surfaces and furniture.
To remove all fine dust from all sections of the property, high-quality instruments will be employed.
We will clean all materials removing stains left by paint or other products.
Wooden furniture, tables, skirting boards and door and window frames will be polished with a suitable product.
All tile, metal, and glass surfaces will be thoroughly cleaned and polished.
Hard floors will be scrubbed and mopped thoroughly. Carpets and upholstery will be thoroughly vacuumed.
All items that are handled on a daily basis will be thoroughly disinfected in time for your arrival.
Request a Custom Cleaning Service quote
The price for the service you receive will be estimated personally for you. All cleaning tasks that you decided to add to your service, and the size of your property will affect the cost of your project. A bill will be generated for you and you will know exactly what you are paying for. Once you receive the price estimate, the number will be final.
We can return your commercial building to it's previous glory. We'll dust and wipe clean every inch of your building making it squeaky clean. Book our after builders cleaning services today, we're available in Greenwich.
We have a working knowledge on how clean buildings without leaving any spot untreated. We'll eliminate all stucco, cement, paint – anything that shouldn't be left after a renovation. Our professional equipment will help us reach even places out of reach.
We should be next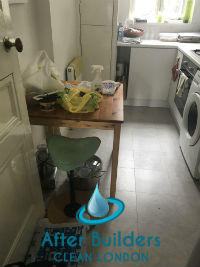 We can make your commercial building usable again, just call us and book our professional after builders cleaning services today.
It doesn't matter whether you're the one doing a renovation or not, or whether you renovate your home or workplace – dust, dirt and clutter just can't be avoided. That's why you should book our services as soon as the renovation is over. We'll make your property squeaky clean.
"I contacted you when I needed a professional post-builders clean up. You sent me a team on the next day, for which I am extremely grateful! The cleaners put a lot of efforts and removed all building waste from our home. I will certainly use your services again! – Melanie"
Available, affordable, admirable
We're working in Greenwich and we have the best cleaning equipment. Choose us to make your home clean again.
We offer after builders cleaning services in Greenwich 7 days a week and even on bank holidays. Our services have appealing performance-price ratios and we're admirable because we never make our clients wait. Book us and see for yourself.
"After the overhaul our house was full of dust and glue stains. The neighbour recommended your company and we decided to give it a try. Thanks to your diligent cleaners our home now is clean and disinfected. We will recommend your after builders cleaning service to everyone. – Sharlot"