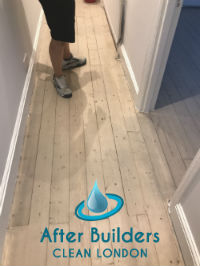 If your house has just undergone repairs and now there is plaster, concrete deposits, rubble and paint spills all over the walls and floors, contact our company and we will send you a team of cleaning specialists to handle the job. We are the most reliable and professional cleaning supplier in Earl's Court. Our post builder cleaning services are suitable for every household or office. What is even more, they are very affordable!
Trustworthy after builders cleaning services in all of Earl's Court
Domestic Cleaning Prices
After Builders Cleaning
One Off Cleaning
Deep Cleaning
Regular Cleaning
from £23
£22
£22
£20
You can absolutely put your trust in us because we have been improving our post builders service since its creation many years ago. Our hundreds of customers prefer this service of ours because it proved to be the most effective when it comes to cleaning after a refurbishment.
After Builders Cleaning vs Deep Cleaning: What's the Difference?
Even though the cleaning after renovations and the deep cleaning services are similar and readily confused, they are not the same. While the key objective of both is to clean and disinfect all places and surfaces properly, the thorough cleaning involves corners that are sometimes overlooked, whereas the post-renovation cleaning is more concerned with proper removal of industrial waste and dust, as well as toxic material that may be causing allergic responses or irritations. Another significant distinction is the equipment and products utilised in both jobs. To eradicate dust, mould, germs, and other contaminants, high grade non-toxic materials will be used throughout the deep cleaning service. When completing the after builders cleaning service, our cleaning professionals will utilise specialised equipment to remove debris and dust.
Our Professional After Builders Cleaning Process
We provide high-quality cleaning services that include a wide range of activities and methods. To assure their high quality, we supply our cleaning professionals with comprehensive work lists that they must adhere to during the job. Everything will be completed properly – strong cleaning chemicals and high-quality equipment will be utilised. You will receive fantastic outcomes.
We will remove all hazardous material, dust, and garbage that the restoration staff has left behind. The room's furniture and different surfaces will be polished and cleaned. All of the basic duties that are included in your service are outlined here.
To obtain the finest end results, our cleaning professionals will carefully choose the tools and solutions that will be used during the operation based on the stains and the materials of your furniture.
First, the cleaners will eliminate all waste and larger debris from the premised.
The cleaners will wipe down all furniture using suitable cleaning products that will not damage the materials.
Fine dust will be removed using high-quality professional cleaning equipment.
All surfaces will be freed of stains left behind by concrete, grout, glue, paint or other materials.
Our cleaning professionals will polish all wooden surfaces in the house with appropriate materials.
Bathroom and kitchen surfaces will be deep cleaned and polished.
After vacuuming all carpets and rugs using a special vacuum cleaner, the experts on our team will mop your floor.
Everything will be disinfected and the property will be organised and prepared for your arrival.
Request a Custom Cleaning Service quote
All the different cleaning chores, as well as the size and condition of the property will be factors which will influence the price of your service. You will also be provided with a bill. That way, you will know exactly what you need to pay for. No additional charges will be placed on your bill and you may rest assured that you will only have to pay for the tasks you receive.
Book My Cleaning Today
Our devoted cleaners are always willing to perform amazingly and are able to exceed your expectations. Call us to book an appointment and you will be fascinated by the final results.
High-end after builders cleaning services for a low price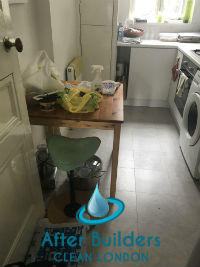 In the after builders service that we offer to either private residents or business contractors in Earl's Court a deep cleaning of the entire premise is included – kitchen, bathroom, bedroom, closet, patio. We will remove dust from all appliances and furniture and we will hoover all carpets.
We are confident that we can perfectly clean your entire property and leave it deeply disinfected and grime-free, because over all these years we have managed to set high standards of cleaning performance. Do not waste more time and get in touch with our company and we will provide you with the most outstanding after builders cleaning for an affordable price.
" I could not have found a better after builders cleaning service. We recently moved houses and did a big reconstruction on the second floor. And when the second floor is under construction the entire house gets covered in dust and footprints. The team came and cleaned it the entire house perfectly. -Lily"
Our company's after builders cleaning service before every other
Our mission is to deliver an amazing service to our customers which meets their needs and expectations. We can assure you that our cleaners are qualified because they have undergone trainings and can operate with highly advanced technology. We have supplied them with environmentally friendly and chemical-free cleaning equipment and materials to completely remove all building debris from your home or office.
" I want to recommend this service because they do a great job and because they have very practical prices. I had never thought that I could find a professional cleaning service with such a reasonable price. Everyone should give them a chance! Their results are very nice as well. -Adam"
Please do not hesitate to give us call.