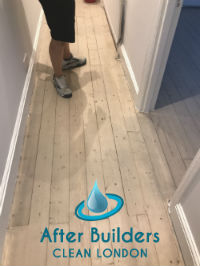 Refurbishment and repairs of the home is the one to blame for all the accumulated dust and dirt. At our company we have technicians who are experts in the post builders cleaning. They are able to leave your home sparkling and tidy, just in the way you have always dreamed of.
We have specifically prepared a thorough check list which can cover every nook and cranny in the renovated property. However, if you have some specific requirements, feel free to share them with us and we will cover them as well.
The highest levels of performance and the guaranteed satisfaction help us to keep on improving and developing our services. We know how important it is to live in a clean and healthy environment and that is why we put as many efforts as necessary to give you such.
Remarkable after builders cleaning services
Domestic Cleaning Prices
After Builders Cleaning
One Off Cleaning
Deep Cleaning
Regular Cleaning
from £23
£22
£22
£20
Our services are always proper and always professional. We will make sure that your property is dust and grime free, eliminating all debris, rubble or stucco leftovers, paint or glue stains, bad smells, etc. We will clean everything starting from windows and skirting through all surfaces to all floors.
After Builders Cleaning vs Deep Cleaning: What's the Difference?
Deep cleaning and after builders cleaning may appear to be the same thing, but they are not, and we will explain why. The deep cleaning service includes cleaning and disinfection of all corners of the property (particularly those that are frequently disregarded during the normal cleaning schedule). The post-renovation cleaning service concentrates on removing fine dust and industrial debris that the cleaning crew has left behind that may cause allergies or other health issues. Another notable distinction is the techniques employed for both services. Deep cleaning involves the use of powerful cleaning solutions that dissolve buildup and filth, whereas after the builders cleaning requires the use of professional grade instruments to efficiently remove any rubbish, stains, grime, and debris that prevent you from enjoying your home.
Our Professional After Builders Cleaning Process
We generate thorough task lists with all chores that should be performed as part of the service. Our cleaning technicians carefully follow them to ensure the successful completion of everything. That way we are able to guarantee that the process is successful – the service is complex and involves a lot of different tasks. We will pick the most suitable team and provide them with everything they will need in order to eliminate all dust and grime.
You may rest assured that stains, paint, and waste will be removed from all corners and surfaces of the property. We have provided you with a list of the basic chores that will take place as part of your project.
Before the actual cleaning begins, the cleaning experts will carefully inspect the area. They will pick the best cleaning solutions and methods that will work best for the type of stains and grime you have at home.
Industrial rubbish and large debris that cannot be vacuumed will be collected and disposed of by our specialists.
All furniture and surfaces in the home will be cleaned down and dusted. Products that are appropriate for the materials in question will be utilised.
The industrial fine dust will be removed with the use of high quality cleaning devices.
Stains left behind by paint, grout or other materials will be scraped off and thoroughly removed.
All surfaces and furniture made of wood will be cleaned and polished using appropriate cleaning solutions.
All tile, metal, and glass surfaces will be thoroughly cleaned and polished.
The cleaners on our team will mop your floor after vacuuming all carpets and rugs using a special vacuum cleaner.
Thorough disinfection of all surfaces will take place at the end of the cleaning service.
Request a Custom Cleaning Service quote
To customise the service even further, we will also provide you with a price estimate that has been customised for you. You may rest assured that you will know exactly what you are being charged for. We will estimate the cost of the service based on the size of your property, as well as the many different tasks you chose to include as part of your project. No hidden charges will be further placed on your bill.
Book My Cleaning Today
Since our establishment so many years ago, we have managed to built big reputation. We have won recognition as reliable and efficient cleaning provider in Rotherhithe that stops at nothing especially when the hygiene and the cleanliness of your home are on the line.
One of a kind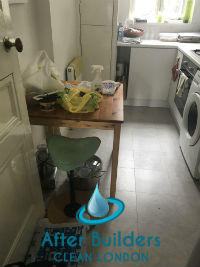 Our professional after builders cleaning services are specially tailored to meet your needs and preferences.
We have surely reached the highest achievements in this cleaning industry but this does not mean that we would stop. We will keep on improving ourselves and our services because your satisfaction matters! We are not afraid of the other companies in Rotherhithe because they will never reach us.
"I recommend this company to everyone. Their cleaners are masters at cleaning post builders. They were at home on Wednesday and cleaned deeply the entire house. The price that we paid for their professional help was pretty decent. We are extremely satisfied with this after builders cleaning and would use it again! – Gary"
Advanced cleaning equipment
We operate only with the latest cleaning materials and machinery to ensure that our cleaners have all the necessary equipment to perform outstandingly. All the products are modern, eco friendly and non-harsh.
Please make sure to call and book your first after builders cleaning service from anywhere in Rotherhithe.
"I was searching for professional after builders cleaning and a friend recommended your company. I called you and on the next day the cleaners were at home. Extremely polite and tactful fellows. They worked hard and cleaned deeply the entire property for just a couple of hours. – Roland"